It's busy summer for fans of fiber art. We have more must-see exhibitions to bring to your attention, from the long-awaited (at least by us!) A Dark, A Light, A Bright: The Designs of Dorothy Liebes  in New York to Beauty and The Unexpected in Stockholm, Sweden and some additional images from Denver, Riga and Portneuf.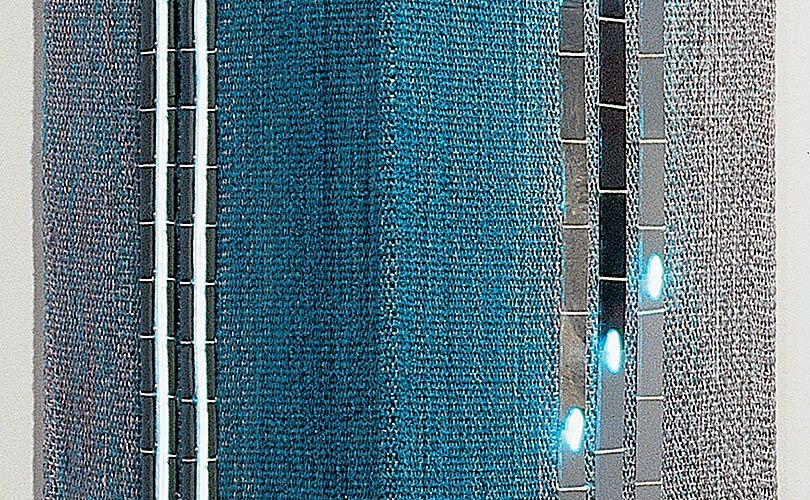 New York, NY
A Dark, A Light, A Bright: The Designs of Dorothy Liebes 
through February 4, 2024
Cooper Hewitt
2 East 91st Street
New York, NY 10128
https://www.cooperhewitt.org/channel/dorothy-liebes/
From the 1930s through the 1960s, American textile designer, weaver, and color authority Dorothy Liebes (1897–1972) collaborated with some of the most prominent architects and designers of the time, including Frank Lloyd Wright, Henry Dreyfuss, Donald Deskey, Raymond Loewy, and Samuel Marx. Fashion designers, including Pauline Trigère, Adrian, and Bonnie Cashin, also used her fabrics, yielding some of the most distinctively American fashions of the mid-20th century. Artist Glen Kaufman and Mariette Rousseau-Vermette worked in her studios in New York and San Francisco. The "Liebes Look"—which combined vivid color, lush texture, and often a glint of metallic—became inextricably linked with the American modern aesthetic. This exhibition features more than 175 works—including textiles, textile samples, fashion, furniture, documents, and photographs — to highlight the powerful — but largely unacknowledged impact she has had on 20th-century design.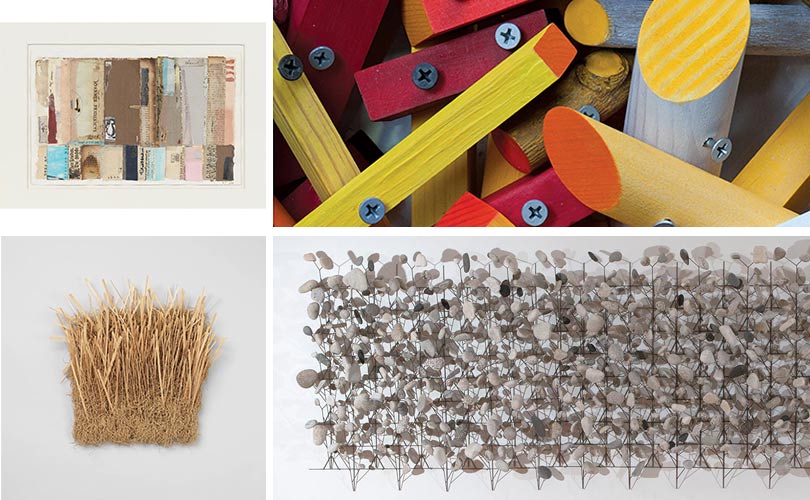 Stockholm, Sweden
Beauty in the Unexpected: Modern and Contemporary Crafts
through January 21, 2024
Södra Blasieholmshamnen 2
Stockholm, Sweden
https://www.nationalmuseum.se/en/exhibitions/beauty-and-the-unexpected
Nationalmuseum has invited Helen W. Drutt English, pioneering craft educator and gallerist of American Modern and Contemporary Crafts since the 1960s, to assemble a collection of objects drawn from the field of "American Crafts". The selection of 81 works from the 1950s until today will in future enrich Nationalmuseum's collections and will provide a possibility to look at American Crafts in the Nordic context. Fiber artists have a good representation – Lenore Tawney,Lewis Knauss, Warren Seelig, Gyöngy Laky, Yvonne Bobroowicz, Deborah Rappoport, Nancy Worden, Rise Nagin, and Ted Hallman are all included in the collection.
Washington, DC
Shared Honors and Burdens: Renwick Invitational
through March 31, 2024
Renwick Gallery of the Smithsonian American Art Museum
1661 Pennsylvania Ave., NW
Washington, DC
https://www.si.edu/exhibitions/sharing-honors-and-burdens-renwick-invitational-2023:event-exhib-6575
The Renwick Invitational 2023 features artists Joe Feddersen (Arrow Lakes/Okanagan), Lily Hope (Tlingit), Ursala Hudson (Tlingit), Erica Lord (Athabaskan/Iñupiat), Geo Neptune (Passamaquoddy), and Maggie Thompson (Fond du Lac Ojibwe). Together, these artists present a fresh and nuanced vision of Native American art. The artists were selected for their work that expresses the honors and burdens that Native artists balance as they carry forward their cultural traditions. These artists highlight principles of respect, reciprocity, and responsibility through their work that addresses themes of environmentalism, displacement, and cultural connectedness.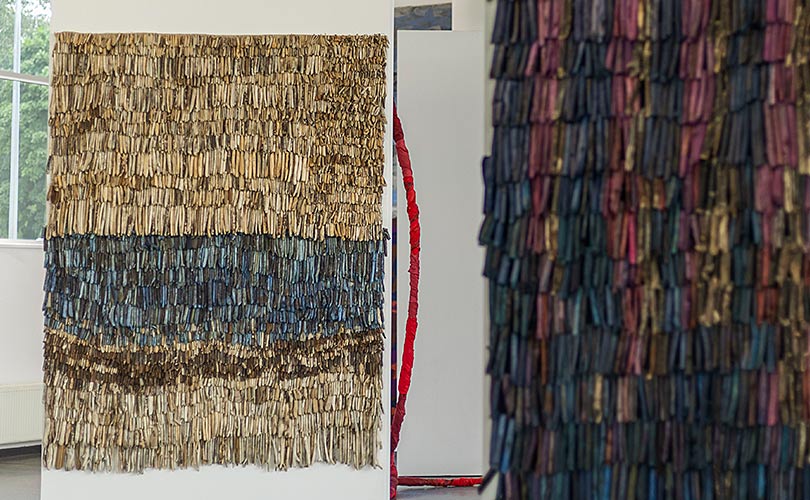 Riga, Latvia
Exodus: Baiba Osite
7th Riga International Textile and Fiber Art Triennial
through September 19, 2023
Dubulti Art Station
Riga, Latvia
https://www.lnmm.lv/en/museum-of-decorative-arts-and-design/news/programme-of-the-7th-riga-international-textile-and-fibre-art-triennial-quo-vadis-139
Baiba Osīte's wide-scope solo exhibition Exodus is part of the 7th Riga International Textile and Fiber Art Triennial QUO VADIS? The curator, Inga Šteimane, writes about Osite's "paintings" made of pieces of wood washed out of the sea – "both landscape and abstract in conjunction, as well as archaic and modern ecological. The personal exhibition Exodus was created in a similar synthesis – the historical and the philosophically abstract are together, just like the experienced, felt and imagined." For the artist, exodus [leaving] is a biblical theme that tells the story of the people of Israel coming out of slavery in Egypt, passing through the sea, escaping their persecutors and gaining their land and freedom. Osite says she has always been interested in this topic from the perspective of an individual's life, but currently it is particularly relevant to the fate of one nation and humanity globally." She sees parallels with what's happening in Ukraine right now. "[T]hey're fighting for their freedom," she notes, "for their independence, for their respect among other nations. They're just fighting it out in a very hard fight. And I think it doesn't leave anyone indifferent."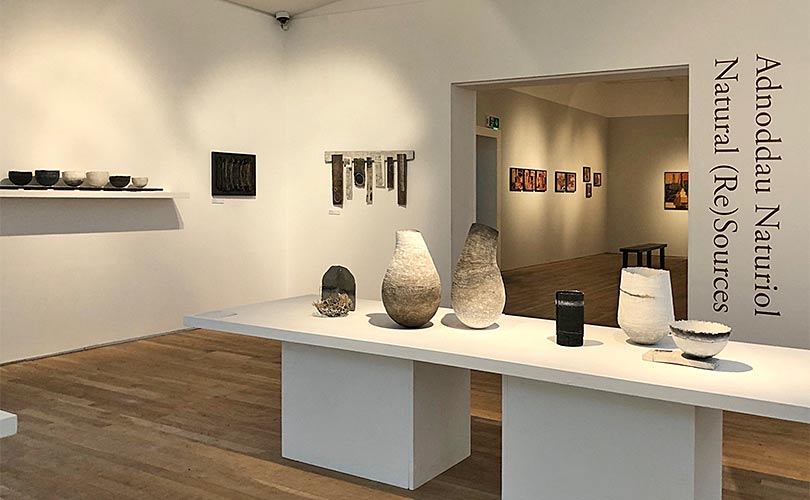 Denbighshire, UK
Natural (Re)Sources
through September 24, 2023
Ruthin Gallery
Gallery 1
Denbighshire, UK
through September 24, 2023
http://ruthincraftcentre.org.uk/whats-on/coming-soon-gallery-1/
Natural (Re)Sources looks at the origin of an artist's chosen materials. This doesn't mean that the finished work looks as if it has just been collected from a forest floor, or dug from the ground without intervention, but rather that the material basis for work that is "of the earth" in various forms. The exhibition is curated by Gregory Parsons and includes work by Laura Bacon and Gizella K Warburton.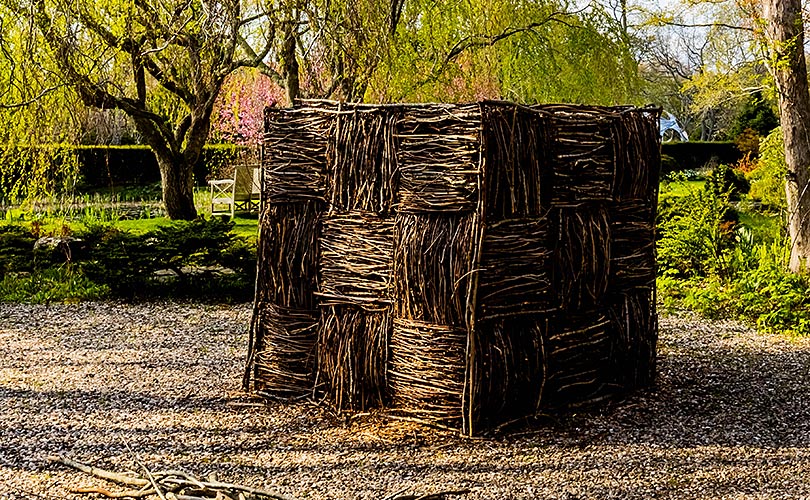 East Hampton NY
Maren Hassinger: Monuments
through December 31, 2023
LongHouse Reserve
133 Hands Creek Road
East Hampton NY
Artist: Maren Hassinger
A native of Los Angeles, Maren Hassinger (b.1947) is a multimedia artist whose practice bridges fiber arts, installation, performance, and sculpture. Incorporating everyday materials such as wire, rope, newspapers, plastic bags, petals, and dirt, Hassinger's art explores the subjects of movement, family, love, nature, the environment, consumerism, identity, and race.
East Hampton NY
A Summer Arrangement: Object & Thing
weekends through December 31, 2023
LongHouse Reserve
133 Hands Creek Road
East Hampton NY
Exhibition: A Summer Arrangement
While you are at LongHouse, visit A Summer Arrangement: Object & Thing at LongHouse features works by several artists and designers, including works from the collection of LongHouse founder Jack Lenor Larsen (1927-2020).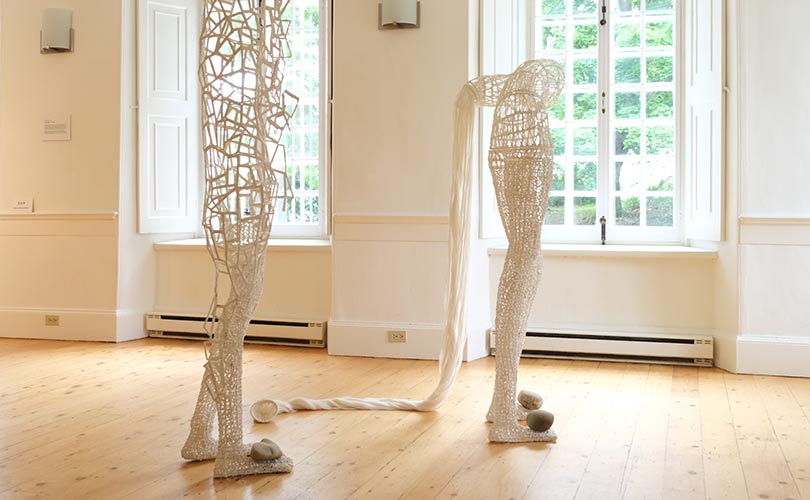 Quebec, Canada
International Linen Biennial in Portneuf (BILP)
through October 1, 2023
Heritage sites throughout Deschambault-Grondines
Quebec, Canada
https://www.artemorbida.com/biennale-internationale-du-lin-de-portneuf-bilp-2023/?lang=en
Anneke Klein (the Netherlands) Blair Tate (United States of America) Stéphanie Jacques (Belgium), Carole Frève (Québec) are all participants in the international Biennial of Linen in Portneuf, Canada now on view. The BILP is a cultural event showcasing works of professional artists exploring new ideas inspired by linen and flax, covering both technical and conceptual aspects. The subject of flax and linen is addressed through themes as varied as contemporary visual arts, crafts and design. The event takes place in different heritage sites of Deschambault-Grondines every odd year, since 2005.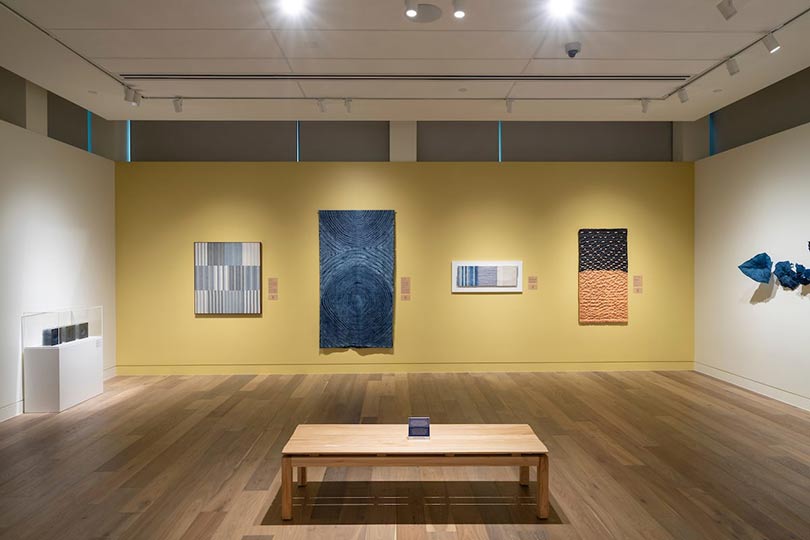 Denver, Colorado
Indigo
Denver Botanic Garden
York Street Location
Denver, Colorado
through November 5, 2023
Open now, the Indigo exhibition at the Denver Botanic Garden features work by Polly Barton, Eduardo Portillo and Mariá Dávila, Chiyoko Tanaka, Hiroyuki Shindo, and Yeonsoon Chang, as well as other artists from across the globe.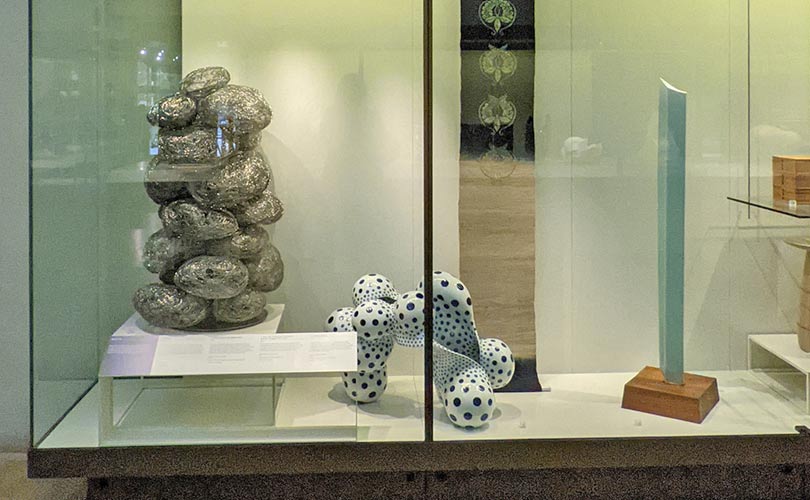 London, UK
Japanese Contemporary Craft
Victoria & Albert Museum
Japan, Room 45, The Toshiba Gallery
Cromwell Road
London SW7 2RL
through July 2025
https://collections.vam.ac.uk/item/O1731010/memory-sculpture-kumai-kyoko/
The V&A's spectacular Japan collections feature ceramics, lacquer, arms and armour, woodwork, metalwork, textiles and dress, prints, paintings, sculpture and modern and contemporary studio crafts. Currently on display, Memory by Kyoko Kumai.
Enjoy!