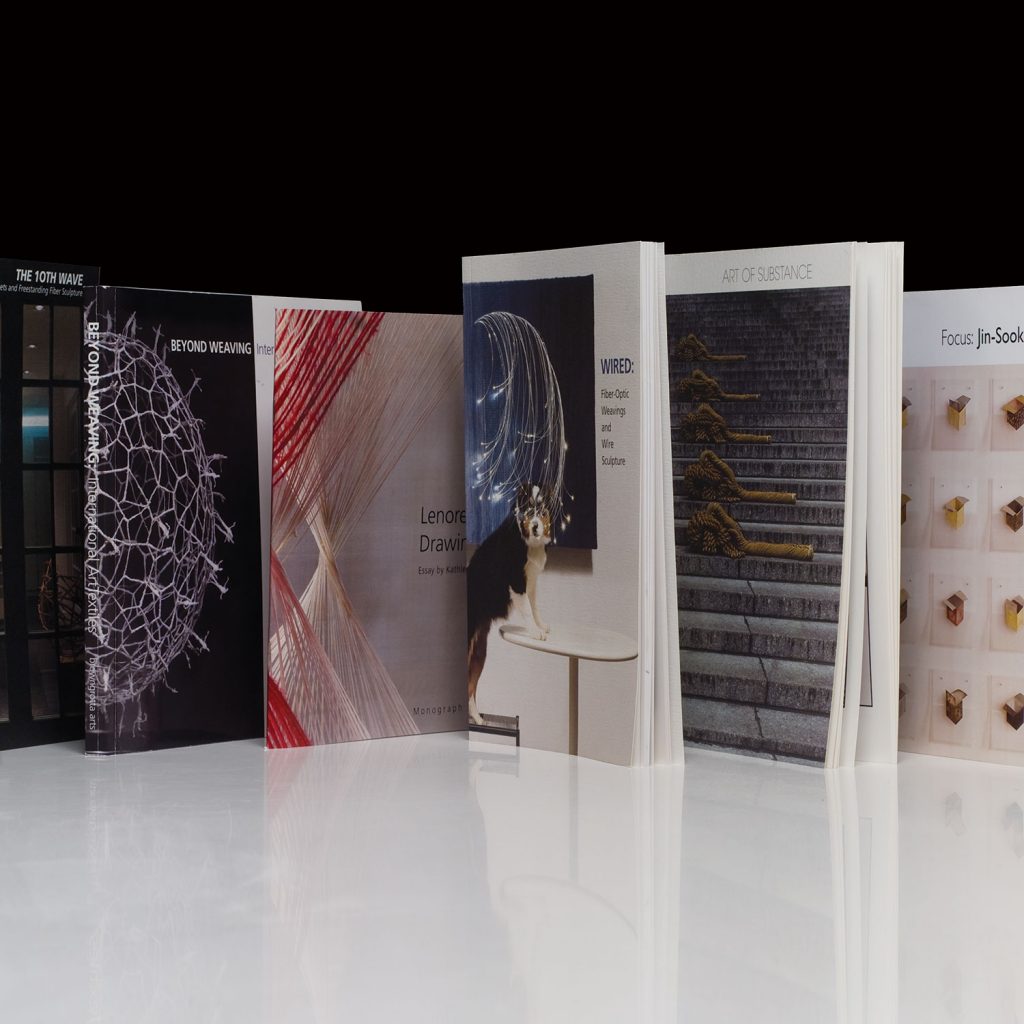 The reviews are in — our modest, but relentless, efforts to document the contemporary fiber and textile arts field since 1992 have been well received. Fifty volumes later, we have a library available about exhibitions (Of Two Minds, Stimulus, Influence and Evolution), artists (Sheila Hicks and Seven Friends from Japan, Lenore Tawney: Celebrating five decades of work, Three California Basketmakers) even materials (On Paper, Wired). You can have a library, too. Through December 31st, buy any 3 catalogs and receive 10% off. Or buy a full house — a copy of each of the 47 catalogs we have that are still in print for $1,175.00. Available in our online shop at http://store.browngrotta.com/catalogs/.
Glenn Adamson, former Director Museum of Arts and Design (2020): I have in front of me a stack of all the browngrotta arts publications, 49 in all, dating back to 1991. The pile is about 11 inches high, coming up to just below my knee. That doesn't sound like very much, perhaps, until you start thinking about what is held within. Well over a hundred artists represented by the gallery, and dozens of others have showed here more transiently. The books include thousands of photographs, beautiful and atmospheric, most of them taken by Tom Grotta himself. Think of this, too: textiles, basketry and fiber sculpture are arts of compression, lengths of material shaped into meaningful form. To make this 11-inch pile, it took innumerable miles of linen and silk and cotton thread, bamboo, felted wool, tree cuttings, paper fibers, wire, and other materials. Innumerable hours, too, of skill patiently applied.
Collector, Lloyd Cotsen (1999): A principal guide for both my "learning" and "collecting" in this area was to come from the pages of brown/grotta's catalogs and the personal tastes of the owners of that gallery. Today, I am still on my own journey of touching and being touched by what contemporary international contemporary creative artists are doing in this field, and my "baedeker," or passport, to this world, continues to be browngrotta art's catalogs, and the vision of the owners to present the newest and best of contemporary talented artists.
Designer, Jack Lenor Larsen (1999): The catalogs produced by brown/grotta, and the photography therein, have become so superior, they are an important part of our literature. I congratulate them, and if  I were able, I would give them a prize.  
Curator, Lotus Stack, Minnesota Institute of Art (1999): A good catalog is a tool used to stimulate the reader and extend understanding of the subject. It is an invaluable aid to those not able to attend the exhibition and of course it provides a historic record of the exhibition. There are a few catalogs which go beyond the intellect to convey the spirit
of the exhibition objects. The fine images of the browngrotta arts publications capture the dimension of the objects, something often lacking, yet totally necessary to the appreciation of fiber. Their publications seem to consistently engage much more than readers' minds.