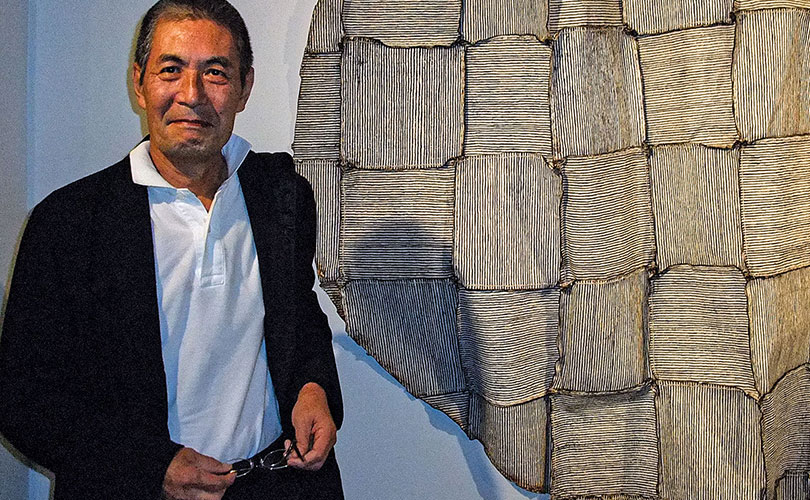 Japanese artist Hideho Tanaka, now in his 80s, explores contradictory elements in his work, using time, which he sees as an agent of change, as one guide to his aesthetic choices.
Tanaka studied industrial art and design at the Musashino Art University, in Tokyo. Beginning in 1972, Tanaka taught art, while participating in solo and group exhibitions As a teacher, Tanaka explained, he worked to nurture younger generations, as artists, to think not only of soft cloth, but also less-used materials such as wood, paper pulp and stainless steel thread.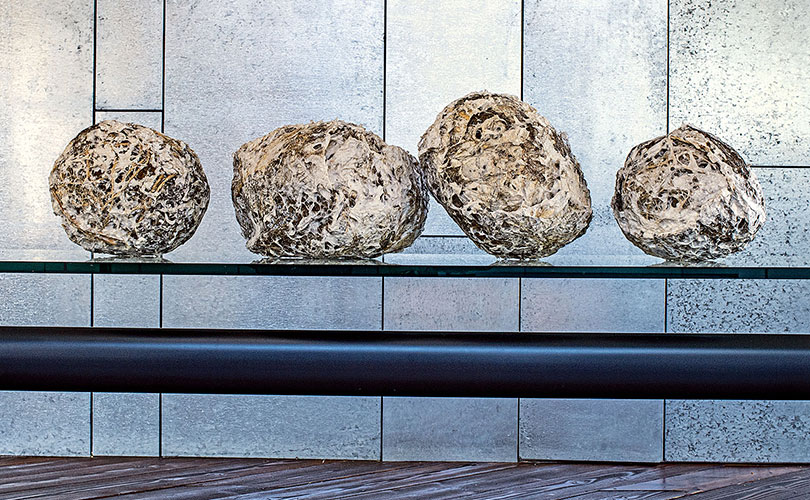 In the 1980s, Tanaka expanded the scale of his activities and began large-scale outdoor performances and installations in which he covered dunes with cloth which he burned. In subsequent years, under the theme of Vanishing & Emerging (disappearance and transformation), he continued these explorations — burning metal fibers and other aspects of his works. "He uses fire to suggest destructive force or benign transformation .… He often creates simple solids, opposing the specificity of the materials to the generality of the forms and burning holes in the cloth or singeing the edges of the solids to invade their geometric austerity." Janet Koplos, Contemporary Japanese Sculpture (Abbeville Press, New York, NY, 1991).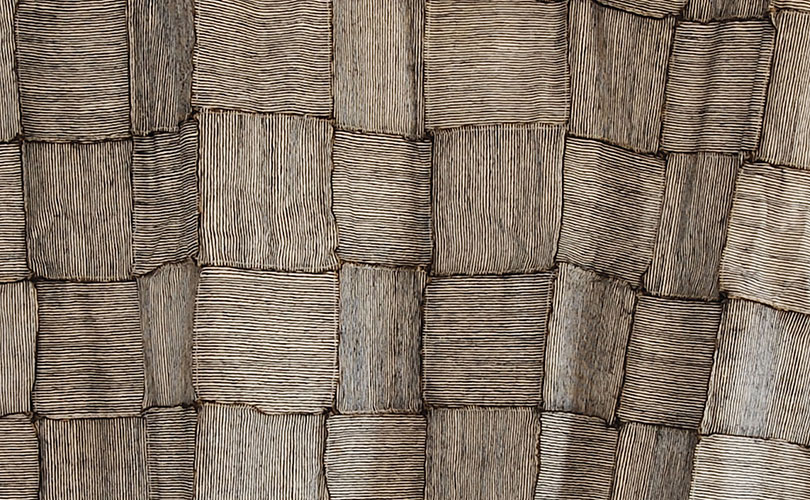 Tanaka also expanded his art practice in the 80's to include the creation of art textiles using paper — Tanaka also expanded his art practice in the 80's to textiles using paper — creating dynamic works by virtue of the material used in the works and their sense of scale. The artist explained his interest in fiber in the catalog for Fiber Futures: Japan's Textile Pioneers (Japan Society, New York, distributed Yale University Press 2011) an exhibition that travelled internationally in Europe, the US and Europe. "Why did I start thinking about fiber art as a medium? It was partly because I was attracted to the idea of expressing myself in a subtle yet intractable material, but I was also intrigued by the challenge of turning something accidental into a deliberate work of art," he said. "I'm acutely aware of accidents that actually help me achieve the expression I was striving for and other accidents that take my work in a completely different direction."
The sculptural sense of Tanaka's art is exciting — the works are light and yet have enormous presence. In his smaller objects, several layers of thin wire have been loosely bound, sometimes with piles of light-colored fibers, sometimes coated with paper pulp. He creates a contrast between the stiff wire and the short pieces of malleable fiber, the uniform wire and pulp in freeform. The large elliptical wall hanging, Vanishing and Emerging, wall (2009), takes a different approach. "Intricately crafted from ink-lined squares of paper, it is a kind of ode to the natural weight, thickness and movement of the cotton, flax and paper fibers from which the panels are made, emphasizing the material's natural flow so that the piece seems to have a life of its own. The result is a subtle trick of the eye: The textile is at once rippled and featherlight yet geometrically robust with parallel and perpendicular lines that appear to be woven together like a dense and tidy network of veins in a leaf," wrote Alexandra Zagalsky, "Hideho Tanaka Carefully Stitched Together Pieces to Make this Sculptural Textile," Introspective Magazine, September 22, 2021.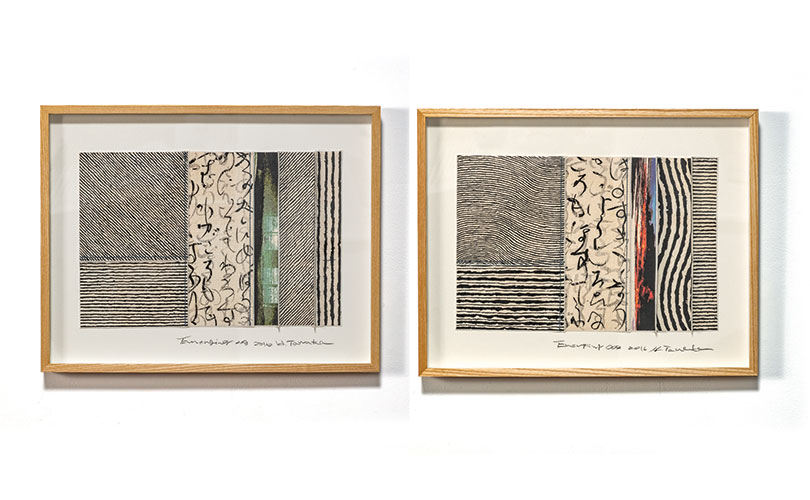 Tanaka's work "deals with both philosophical and metaphysical ideas, and he often endeavors to connect the realm of the physical world with unseen spiritual planes. He attempts to bridge this gap through forms that suggest the frailty and transience of the human experience," writes the Minneapolis of Art which has acquired his work. "The medium of fiber is versatile and allows Tanaka creative freedom." His work seamlessly spans the categories of fiber art and sculpture.