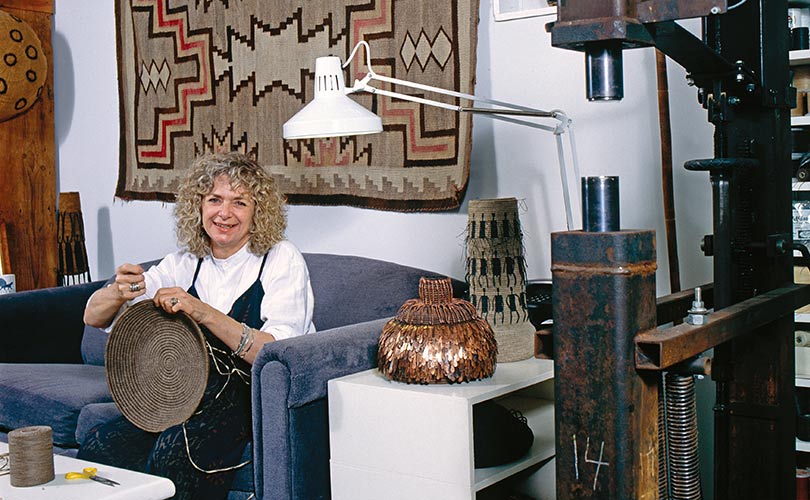 Renowned for her exceptional fiber art, artist Mary Giles blended organic textures with meticulous craftsmanship, carving out a memorable niche for herself in her lifetime. Mary Giles' artistry centered in the realm of fiber art, a space in which she has had a profound impact. Fiber art encompasses textiles, natural fibers, and innovative techniques to create striking three-dimensional forms. Giles studied fiber technique with artists such as Ferne Jacobs, Lissa Hunter, Diane Itter, Jane Sauer and John McQueen.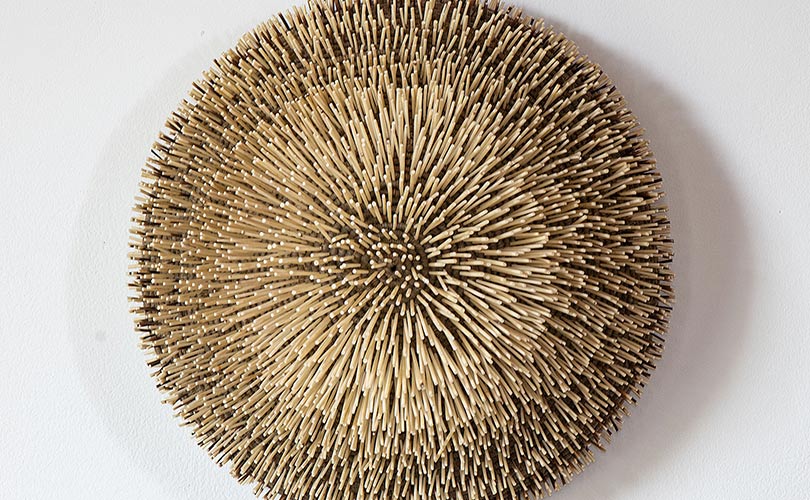 Giles' unique ability to manipulate materials such as waxed linen, porcupine quills, metal, paper, silk, and copper wire allowed her to craft intricate sculptures and vessels that blur the lines between the natural and the imagined. This juxtaposition exudes messages of both strength and fragility, inviting viewers to contemplate the symbiosis of these elements. Throughout her diverse portfolio, this contrast is oftenfound. For example, in her piece titled "A Gathering Bowl", she utilized woven waxed linen along with copper to help achieve this effect — using a hard material to create a remarkably sensuous form.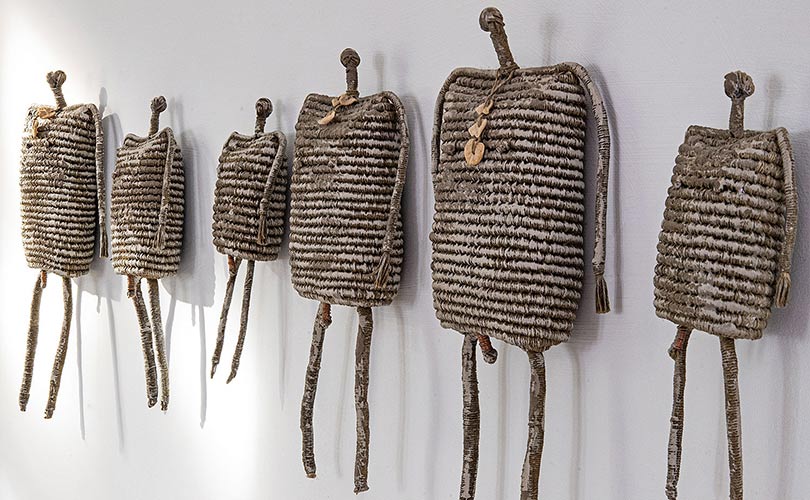 Giles' fascination with the natural world played a significant role in shaping her art. She explained when she received the Master of the Medium Award for Fiber from the James Renwick Alliance, that "my ideas are an accumulation, my sources most often from nature and my palette is drawn from the colors of earth, water, wood and stone." Natural formations; the fluid curves of a leaf, the intricate patterns of a spider's web, or even the rugged textures of tree bark and bouldershave all found their way into her creations. Her distinctive approach involved incorporating thin metal strips to create texture, light and shadow, and often, small human figures, as in Anointed Rank. It enabled Giles to breathe life into organic forms through her artistic expression.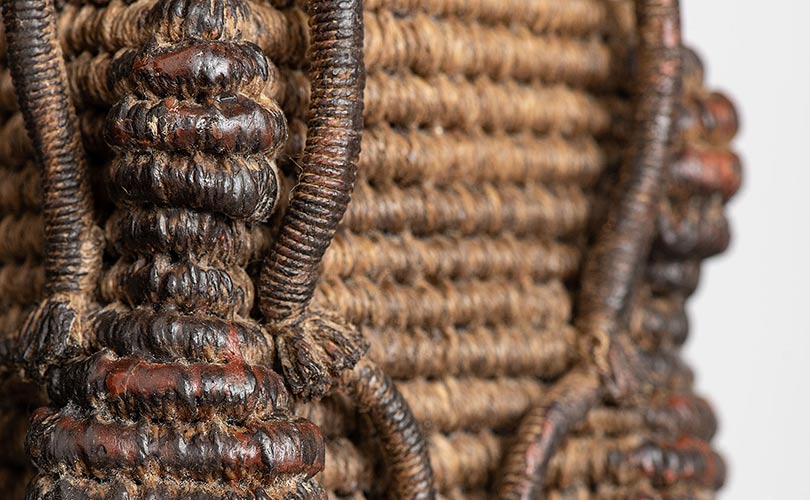 Growing up in a rural setting, she developed an early connection with the Earth's elements. Giles said in 2013, "I've been drawn to the woods most of my life, from childhood summers at a log cabin in northern Minnesota, to the redwoods of northern California, to the tropical jungles of Costa Rica, and now at our current home on the banks of the St. Croix River." Her art often serves as an homage to the natural world.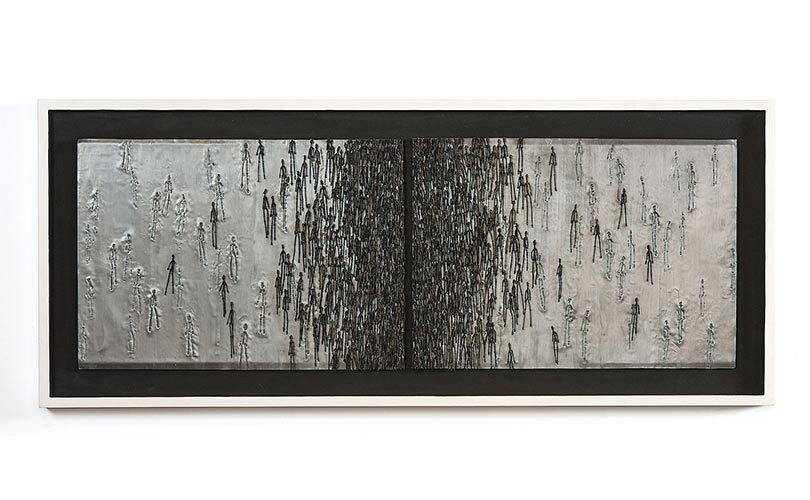 Giles found solace and strength through her craft. Her art became a sanctuary—a place where she could confront her vulnerabilities and transform them into something beautiful and resilient. Giles observed about her work, "I interpret and express explored communication and intimacy in relationships. The results are reflected in my figural work. I admire the directness and honesty I see in tribal art and I try to incorporate those qualities in my own." This intimate relationship between her life and art allowed her to create pieces, like Lead Relief, which resonate on a deeply personal level with audiences, evoking emotions and contemplation. In the piece, dozens of tiny figures cluster around the center seam, while fewer individual figures stand alone in the periphery, seemingly lost, amongst faint marks where figures had once been. The work conjures thoughts about connection, community, identity purpose, and more.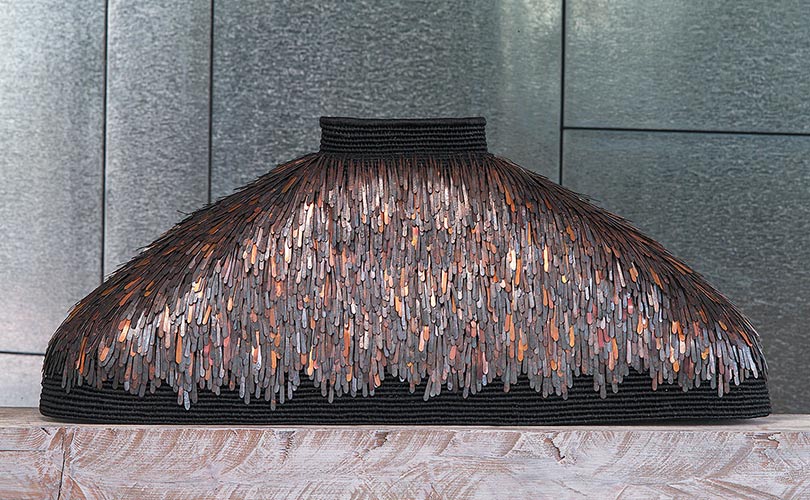 Mary Giles' artistic legacy extends beyond the boundaries of her individual works. "She is one of the people who took the concepts of basketry technique and pioneered using them to make sculptural work," Lois Russell, artist, collector, and former president of the National Basketry Organization has noted. Giles played a role in elevating the profile of fiber art, garnering recognition and respect for this unique form of expression. Her artwork is featured in a number of museum collections, including that of the Minneapolis Institute of the Arts, Racine Art Museum, Wisconsin, Contemporary Art Museum, Honolulu, Hawaii, Detroit Institute of Arts, Michigan., the Yale Art Gallery, New Haven, Connecticut and the Museum of Arts and Design, New York, New York.
Giles work will be featured in browngrotta arts' Fall Art in the Barn series, Vignettes: three exhibitions, one venue, from October 7 – 15.