The late Judy Mulford was an artist known for her deeply personal and autobiographical approach to the creative process. This is reflected in her artwork, which serves as a testament to her life experiences, and the love she had for family. Mulford's studio was located in Carpinteria, California, and acted as somewhat of a museum. The space was decorated with artifacts, baskets, and dolls from all over the world, which greatly influenced her artistic journey. Her artwork is a reflection of the unique storytelling ability that she possessed, manifested through a combination of various mediums and techniques and influenced by African and New Guinean artists.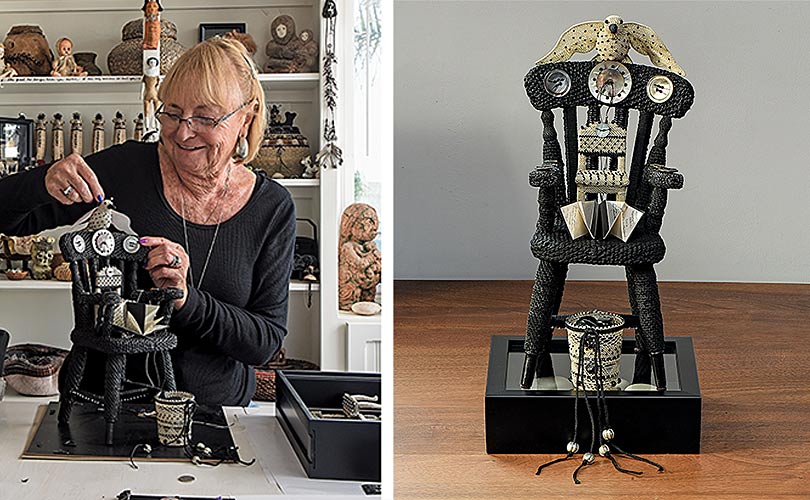 Mulford's compulsion to create was deeply rooted in her identity, as she explained, "I have to create. I cannot not create." For her, art was a force that completed her being, and kept her calm and centered. She considered her art to be an autobiographical scrapbook, celebrating the essence of family, which she cited as the primary influence in her life. This influence was clearly visible in her studio space, which was adorned with pictures of her loved ones, serving as a constant inspiration for her work. "My work is personal, graphic, and narrative. Each piece I create becomes a container of conscious and unconscious thoughts and feelings, one that references my female ancestral beginnings."
Mulford's work was initially informed by her studies of the basketmaking culture of Micronesia, particularly on the islands of Truk and Ulithi. She was the author of Decorative Marshallese Baskets (1991) and other books about Micronesian material culture. Her array of artifacts, baskets, and dolls, displayed the cultural diversity that impacted her perspective as an artist. Her collection of over 200 dolls also served as a reflection of her emotional connection to motherhood and grandmotherhood. For Mulford, each doll carried its own story, and represented a "rescue" from being forgotten.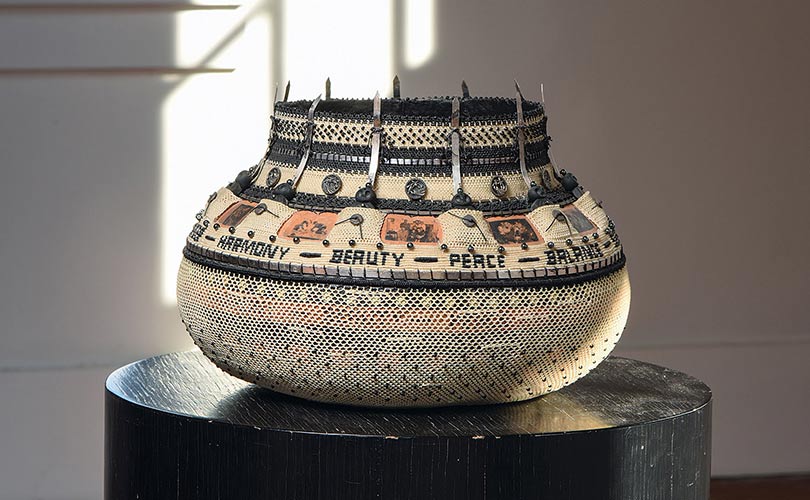 Mulford created natural material basketry, including pine needle baskets, in the 1970s. From there, her artistic practice evolved, and she expanded her repertoire to include clay, script, animals, and people. Eventually, Mulford settled on knotless netting (looping) as her signature technique, which she described as an obsession that pushed her passion to create even further.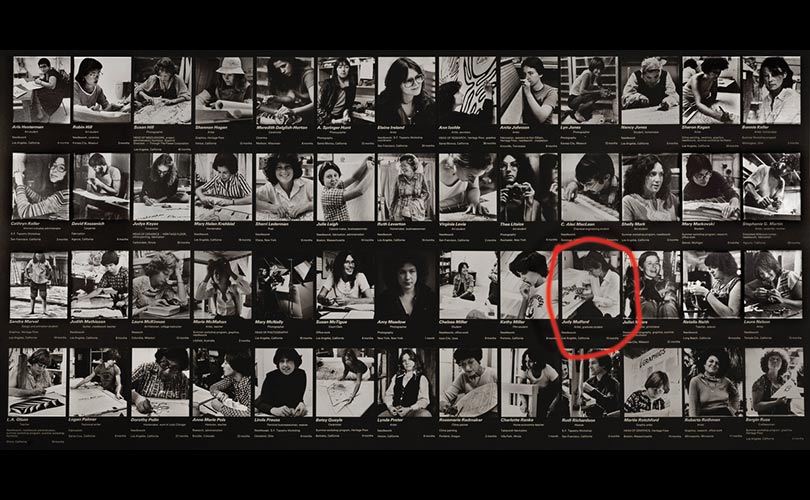 Mulford embedded meaningful content in her pieces with each element. She was active in California in the years that feminist art was on the rise. Mulford was one of a group of women to work on Judy Chicago's seminal work, The Dinner Party, in the 70s. Several of Mulford's works offer an explicit take on women's rights and family issues. In Help, Mulford included bullet casings, to make a statement about the plight of mothers in war zones. In Plan Your Parenthood/Overpopulation she referenced the old woman in the shoe to reflect her concerns about population and choice. Beaded babies burst from every room and even the roof of the tall thin house she built and embellished with wooden dollhouse chairs, a knitting needle and a rock. "I have one choice and it is pro-choice," she said.
Another significant influence on Mulford's artwork was her location on the California Coast. Living in a rustic beachside cottage in Carpinteria, the ocean and coastal surroundings inspired many of the materials visible in her work. The connection between her artwork and the environment is apparent in the themes of much of her work, including her mixed media piece, Aging By the Sea. Made up of materials such as shells, waxed linen, silver, beads, pearls, sand, and more, this captivating piece reflects the very environment it was created in.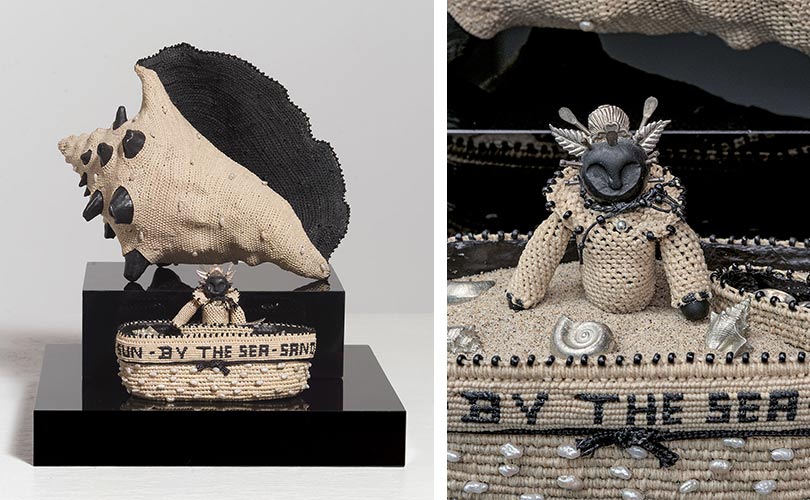 In her later years, her focus shifted to chairs as containers for people, covered in looping, and accompanied by dolls, artifacts, and buttons. She saw chairs as containers for people at meals, work, celebrations, for visiting, or just reading. These chairs celebrated lost loved ones, while simultaneously allowing viewers to reflect on their own stories and memories. Bird Memory Chair, for example, evokes the memory of a loved one who has passed on. It includes a handwritten journal with notes on the piece and process, as Mulford's works often do. In this case, the journal is left blank in part, so the person who acquires the work can add notes of his or her own. In celebration of her 80th birthday, Mulford completed 80 Empty Chairs, accompanied by a book about them.
Judy Mulford exhibited widely, including at the Renwick Gallery, Smithsonian American Art Museum, Museum of Arts and Design, New York, the Mint Museum of Craft + Design, Charlotte, North Carolina, the Textile Museum, in Washington, D.C. and abroad, including the 12th International Biennial of Tapestry in Szombathely, Hungary.  Much of her work was housed in her studio, a private space that she shared with few people. She viewed this space as a sanctuary where she could immerse herself in her creative process. Her artwork is best described as a visual narration of her life experiences, inviting viewers to connect with her stories and relate them to their own. Mulford hoped that others would find resonance through her art and come away with their own narratives.
Mulford is one of the artists that will be included in browngrotta arts' 2023 Art in the Barn exhibition, Vignettes: one venue, three exhibitions, October 6 – 15, 2023.
by Michael Propersi