We were greatly saddened to learn of the passing of celebrated artist Adela Akers on August 9, 2023 after a long illness.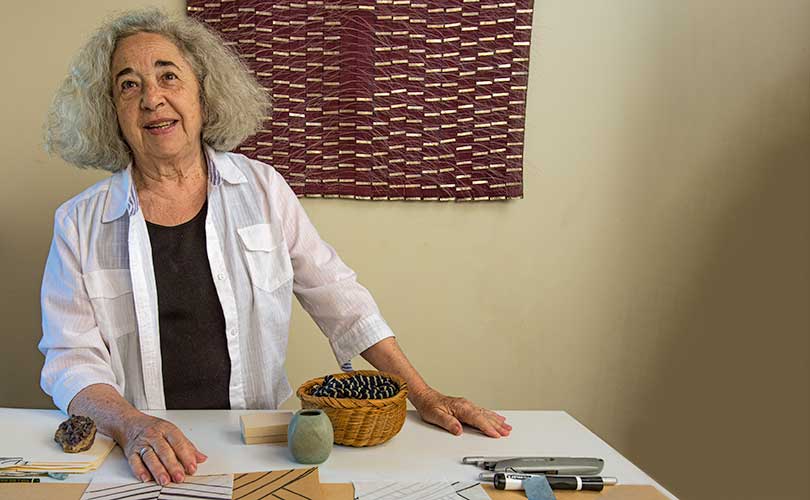 Akers' journey to the US and to fiber arts was an extraordinary one. "During the Civil War in Spain my family left Spain and everything behind in 1937," she told us in 2022 as we prepared for Allies for Art: Work from NATO-related Countries. "A right wing coup led by Francisco Franco and aided by Hitler and Mussolini. It was a brutal war, but soon was overshadowed by the World War II that it helped introduce. My family relocated in Havana, Cuba. A tale of idealism, suffering tragically doomed yet a noble cause …. I definitely grew up being very aware of wars and emigration."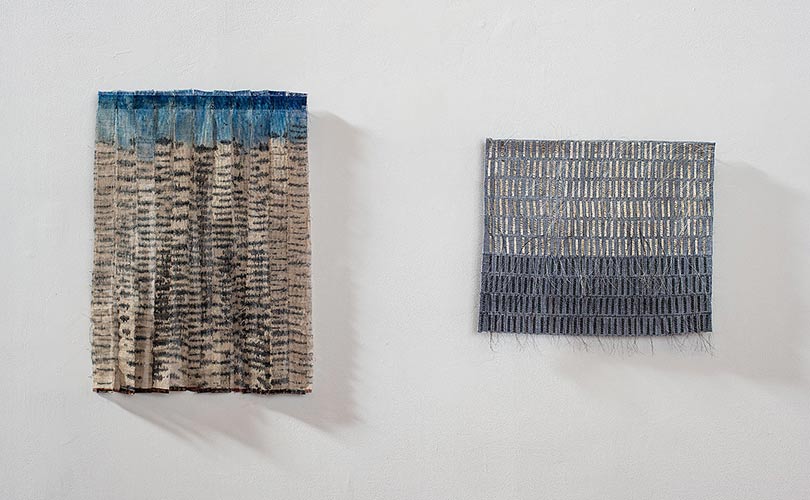 Akers studied to be a pharmacist in Cuba, but began taking art courses while in Havana. Her family supported her switch to art. She came to the US and studied at the Art Institute of Chicago, then the Cranbrook Academy of Art in Michigan, was weaver-in-residence at the Penland School of Crafts in North Carolina, and then taught at Tyler School of Art in Philadelphia for 23 years before relocating to coastal California. Her students included Lewis Knauss, John McQueen, and Deborah Warner.

Akers' affinity for math and geometry shaped her artwork. Akers was very attached to using a loom because the process of weaving is linear and mathematical." [W]eaving combines structure and order, and offers me the best way to put together my visions," she observed.  In 1965, Akers traveled to Peru as a weaving adviser to the Alliance for Progress Program and studied early Indian weaving techniques there. Pre-Columbian textiles, especially, appealed to Akers because of their mathematical and geometric properties. Her tapestry forms incorporated the subtle shaping and striping, slits, and tabs that she studied there. Architecture, especially doors which she saw as slites and walls which she saw as weaving, travel, particularly to the sea, Scandinavian weaving, the paintings of Mbuti women and Agnes Martin, and a book called The World From Above by Hanns Reich are among the many other influences Akers cited in her oral interview with Mija Reidel for the Smithsonian Archives of American Art.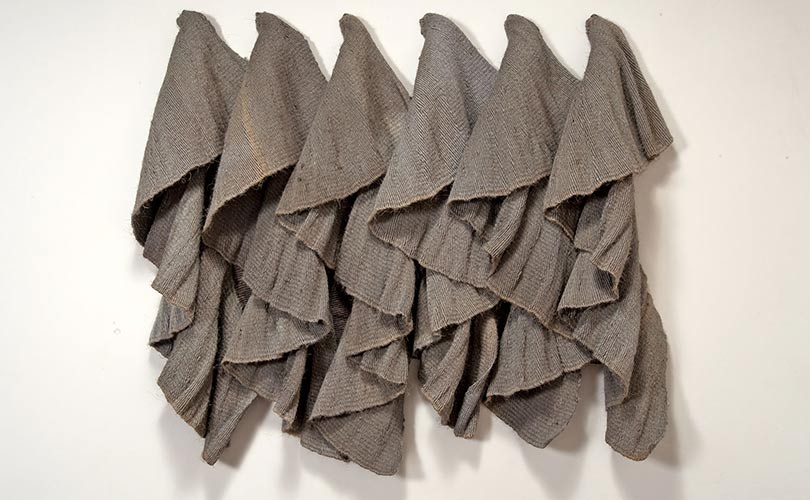 The artist's work evolved and advanced throughout her career. In 2015, Ezra Shales noted the sweeping impact of Aker's ouevre: "This one artist suggests the immensity of pleasures and productive capacities for what fiber art might be and where it might go," he observed, comparing works from 1977, 1988, and 2014 (Influence and Evolution: Fiber Art … then and now, browngrotta arts, Wilton, CT, 2015). In the 60s, Akers' works grew larger and incorporated multiple units. In the 70s, she added sisal and jute for greater haptic and structural effects. Work from the 70s and 80s was monochromatic in subdued colors, black, brown, gray, maroon.  By the late 80s and 90s, color had returned along with a unique approach in which she created two views, each of which can only be seen clearly from opposite vantage points. When spliced together and arranged in an accordian shape, the overall images in these works shift as viewed from different angles. After leaving Tyler in 1995, Akers moved from large works of heavy fibers to more delicate materials including horsehair, linen, and recycled metal foil, which she painstakingly wove and stitched into repetitive, optical wall-works, often incorporating painting on their wefts. Shales described this body of work, "From afar, the surface image … is illusionistic and self-referential to the process of interlace, while up close a rhythm of metallic rectangles, quieter incidents that are the wrapping off of wine bottles, keeps the surface lively and unpredictable."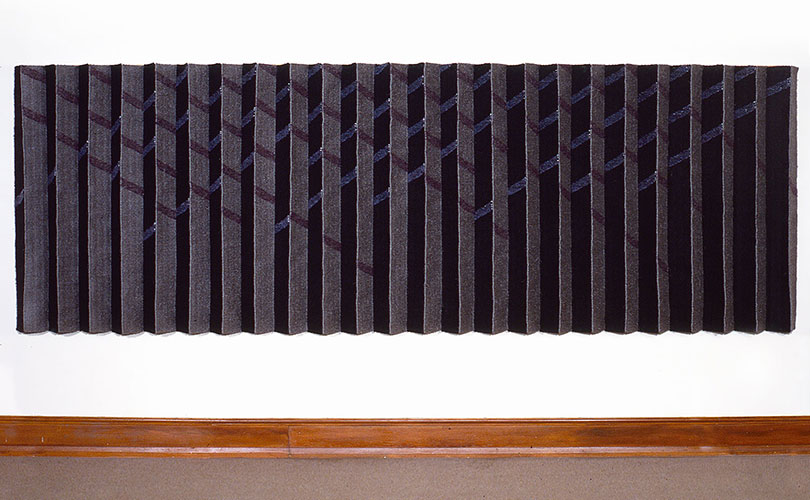 Adela Akers' mastery has been widely recognized through grants and collections. In 2014, Akers was an Artist in Residence at the de Young Museum, San Francisco, CA. She was named a Fellow of the American Crafts Council in 2008. Fellowships, awards and grants include: Pollock-Krasner Foundation Grant (2008); Flintridge Foundation Award (2005); Faculty Award for Creative Achievement, Temple University (1995); Pennsylvania Council on the Arts Grant (1989 and 1983); National Endowment for the Arts Award Individual Artist Fellowship (1980, 1974, 1971, 1969); New Jersey State Council on the Arts Grant (1971); and Cintas Foundation Fellowship (1968 and 1967). Her papers are at the Archives of American Art. Her works are found in numerous permanent collections including the Metropolitan Museum of Art, New York, New York; Renwick Gallery, Smithsonian American Art Museum, Washington, DC; Everson Museum of Art, Syracuse, New York; Museum of Arts and Design, New York, New York; Minneapolis Institute of Art, Minnesota; de Young Fine Arts Museum, San Francisco, California; Museum of Art, Providence, Rhode Island; Detroit Institute of Art, Michigan; Cleveland Museum of Art, Ohio; Philadelphia Museum of Art, Pennsylvania; Sonoma County Museum, California; Cranbrook Art Museum, Bloomfield Hills, Michigan.