---
This Fall, art involving weaving, embroidery and crochet is showing up in unexpected venues in New York, possibly answering the question, at last: Is craft art? One gallery disavows any connection: "Olek's use of crochet has no relation to the world of craft, rather it is used as an alternative to other artistic mediums such as oil or acrylic on canvas." the press materials assert. But we can't help but wonder: Does the gallery protest too much??
In any event, Here's a list of three intriguing exhibitions featuring artists who use cotton viscose, silk and recycled material, woven and crocheted, in their work as well as acrylic, ink, enamel and glass.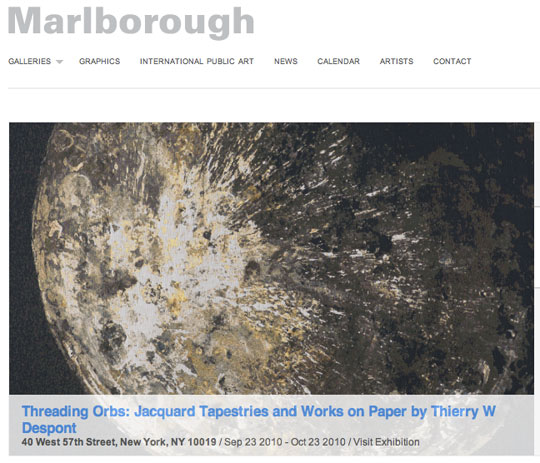 threading orbs
An Exhibition of Recent Tapestries and Works on Paper by Thierry W. Despont
Marlborough Gallery, Inc.
40 West 57th Street
New York, NY 10019
t. 212.541.4900 f. 212.541.4948
www.marlboroughgallery.com
September 23rd – October 23, 2010
The Marlborough Gallery mounts an exhibition of tapestries and works on paper by renowned artist, architect and designer Thierry W. Despont The show will mark the public debut of Despont's work in tapestry. Eight monumental tapestries will be displayed. Despont is recognized for his paintings on wood panel or on copper mounted on wood panel that depict nebulas, celestial bodies and planets. These works are executed in mixed media with such materials as enamel, asphaltum, acrylic, ink, glue, epoxy resin, paper, alumichrom, and oil stick. By using contemporary Jacquard looms, Despont as translated these richly detailed, highly expressive paintings into woven tapestries that seem to glow with light.
Despont comments on this new body of work: "… I like to think of my orbs as floating in space, and tapestry, with its three-dimensional aspects, is a fantastic medium for them…. I am fascinated by our universe filled with billions of galaxies, of stars and planets, by the idea of being drawn into space and floating away. The tapestries display this poetic notion of floating with these orbs, as the light bounces off softly. … People are drawn to them…. It is an emotional force; they exert their own kind of gravity."
In addition to his familiarity with tapestries as a child in France, Despont became engaged with the medium of tapestry — its beauty, artistic qualities and installation — through his restoration of Clayton, the Frick family mansion in Pittsburgh, and his design for the Decorative Arts Galleries of the J. Paul Getty Museum in Los Angeles, where numerous tapestries of the Seventeenth and Eighteenth Centuries are on view. He joins a number of contemporary artists who have used the new, technologically advanced Jacquard looms to create lasting work of power and intricate visual poetry.
An illustrated catalogue featuring an interview with the artist will be available at the time of the exhibition.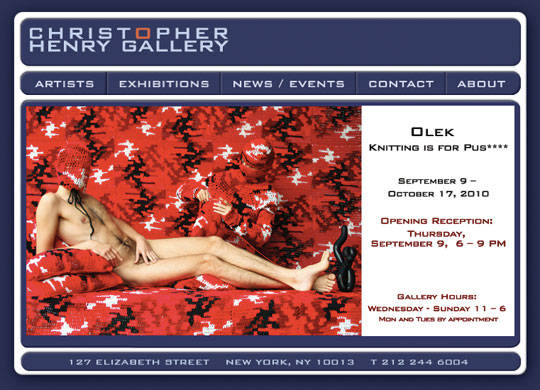 "OLEK: Knitting is for Pus****"
Christopher Henry Gallery
127 Elizabeth St., (Broome)
New York, NY
t.212.244.6004
www.christopherhenrygallery.com
Through October 17, 2010
Polish-born artist, Olek creates wild, and occasionally functional, structures from hundreds of miles of crocheted, woven, and often recycled materials, forms, and spaces. For this exhibition,the ChristopherHenry Gallery serves as the "home base" for Olek's exhibit, a multi-media sculptural environment, featuring an entire room completely covered in crochet. Viewers may also follow her threads out of the gallery using a map to discover new objects she has crocheted and intertwined throughout the neighborhoods of NOLITA and L.E.S.
"Olek's use of crochet has no relation to the world of craft," reads the gallery's press materials, "rather it is used as an alternative to other artistic mediums such as oil or acrylic on canvas. Its use can be interpreted as a metaphor for the complexity and interconnectedness of the body, its systems and psychology, and, in a broader sense, it can represent humanity itself. The connections are stronger as one fabric, as opposed to separate strands, but, if you cut one, the whole thing will fall apart. It also serves as a literal extension of the body, a second skin that can be stretched and reshaped. Olek's use of crochet is not a feminist critique – her obsessive use of the medium, often denigrated as "women's work", combined with Olek's recurring camouflage motif and the impressive scale of her projects, challenges traditional notions of gender, as she aggressively re-weaves the world as she sees fit. In a new series of text based works Olek contrasts the convenience and spontaneity of "txt msgs" to her time-consuming, laborious crochet, reevaluating the notions of privacy, communication, and technology while immortalizing the intense yet fleeting sentiments of modern relationships."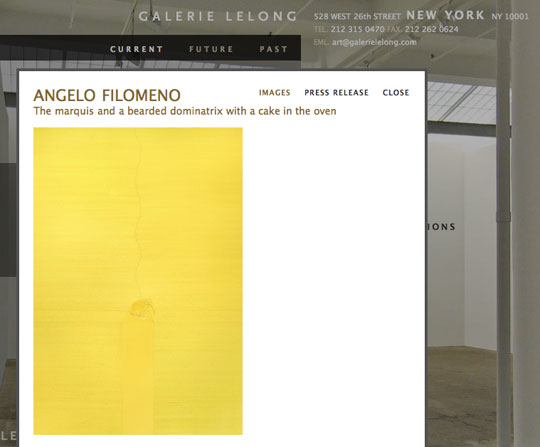 ANGELO FILOMENO:
The marquis and a bearded dominatrix with a cake in the oven
Galerie Lelong
528 W. 26th St.
New York, NY
t.212.315.0470
www.galerielelong.com
Through October 23, 2010.
In The marquis and a bearded dominatrix with a cake in the oven, Angelo Filomeno presents new embroidery paintings and sculpture that exemplify his signature technique and fascination with the macabre. Fantastical and allegorical in imagery, and intricate in technique, Filomeno's works are deeply informed by his upbringing in Italy. Filomeno learned to embroider from his mother and began apprenticing for a tailor when he was 7; his father was a blacksmith. From a young age, Filomeno formed a keen awareness of texture, composition, detail, and craftsmanship. He also developed an interest in the darker facets of the human condition: mortality, isolation, compulsion, fragility. These stark themes have pervaded his work, juxtaposed with the use of alluring, sensuous materials such as silk, black glass, and crystals.
In his newest exhibition, Filomeno pares down the ornate approach for which he is best known and presents sparser, more concise works that evoke the artist's common themes with minimal means. Included are two large-scale mandalas, embroidered mosaics of stitched silk and satin in varying shades of yellow. The concentric rings of geometric patterns and bright yellow hues beckon the viewer to gaze deeper and deeper in to the piece, only to be confronted by a sinister skull and hoards of cockroaches hidden in their centers. Also on view will be a triptych of detached, decomposing heads of men he deems 'philosophers,' a character that he has revisited throughout his career as a paradigm of the harsh aspects of mortality and reflection. "The irony," Filomeno has said, "is that these portraits represent death, but they are still thinking about their own existence."
Maybe we'll see you there.
---
---
---
---