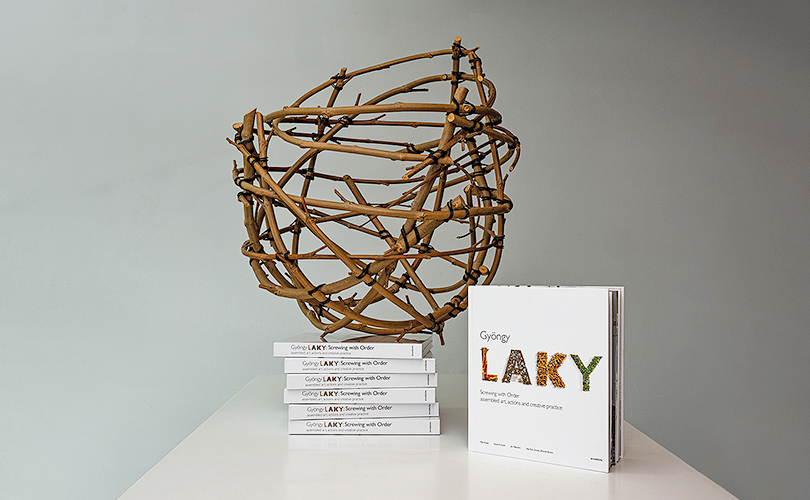 We are thrilled to report that copies browngrotta arts' latest book, Gyöngy Laky: Screwing With Order, Assembled Art, actions and creative practice, have arrived in the US from our publishing partner arnoldsche art publishers in Stuttgart, Germany. Order a copy on our website: http://browngrotta.com. Designed by Tom Grotta, with text edit assistance from Laky and Rhonda Brown, and featuring Tom's photography and that of several other photographers, the book examines the career of renowned textile artist and sculptor Gyöngy Laky from three perspectives. First, is Laky's personal story of immigration and education narrated by arts and culture writer, Mija Reidel. Second, is an assessment of the evolution and impetus for Laky's artwork by David M. Roth, editor and publisher of Squarecylinder, a San Francisco Bay Area online visual art magazine. Third, are images of forms, vessels and wall works, 249 pages, divided into seven sections: Drawings in Air, Grids, Vessels, Words & Letters, Signs & Symbols, Site Installations, and Abstractions.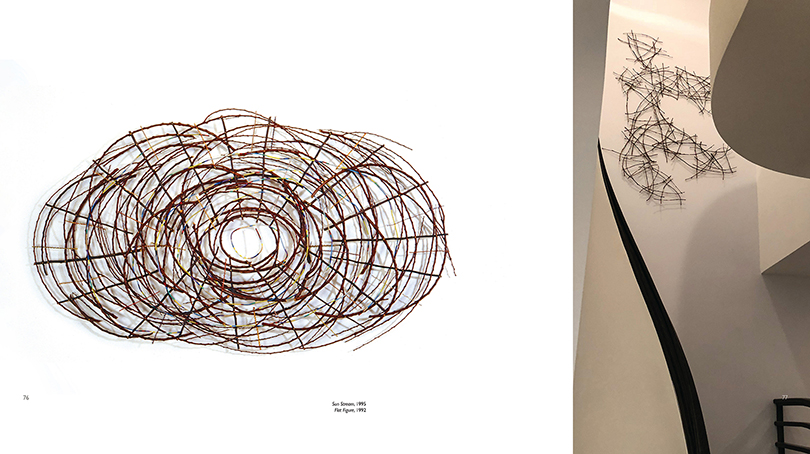 Laky has been described as a "wood whisperer." Her highly individual, puzzle-like assemblages of timber and textiles helped propel the growth of the contemporary fiber-arts movement. Laky's art reflects an extraordinary personal story: Born amid the bombings of World War II, escaping from post-war, Soviet-dominated Hungary to a sponsor family in Ohio, attending grade school in Oklahoma, studying at the University of California, Berkeley and in India, then founding Fiberworks Center for Textile Arts in the 1970s and fostering innovations as a professor at the University of California, Davis. And, since the late 60s, she has been creating individual works and installations in the US and abroad.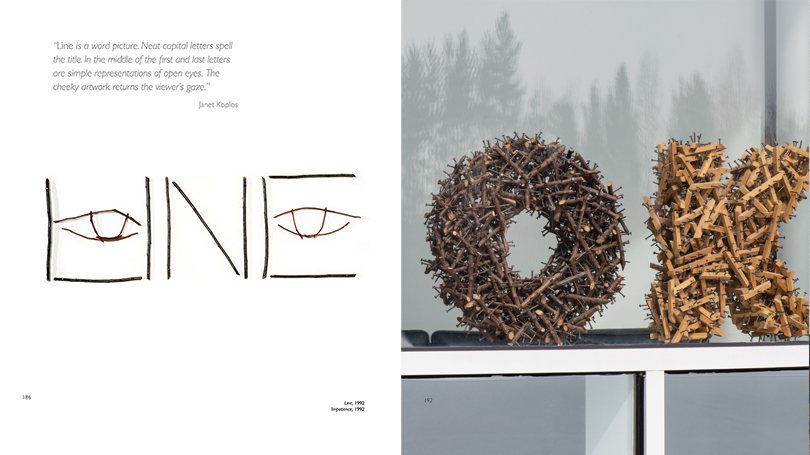 Laky's oeuvre, which reflects those experiences, "defies easy classification," writes David M. Roth. "It draws on the history of indigenous people using found or harvested objects to create art and basic necessities; the 20th-century tradition of using found objects in collage,assemblage and sculpture; and the design and engineering principles that undergird contemporary architecture." Symbols and three-dimensional words feature in much of Laky's work — using wood in this way, Roth posits, is akin to learning a foreign language, and Laky is conversant in more than a dozen,"becoming conversant in the dialects 'spoken' by each species." Pieces like Line have been described as "cheeky." Letters in works like Lag can be read in more than one way — in this case, as "Gal," a statement on the hiring of women faculty at the University of California. "[It's] an intellectual kind of play," says Bruce Pepich, executive director and curator of collections at the Racine Art Museum, in Wisconsin."It's not a conventional sense of humor, but it's the kind one gets from walking into various layers that exist in objects …You can take them at face value, but the more questions you ask, the deeper your engagement goes." You can engage with more of Laky's story and her art in Screwing with Order. The book provides insight into Laky's studio practice, activism, and teaching philosophy, which champions sustainable art and design, original thinking, and the value of the unexpected.