Our Japandí exhibition features 39 artists from Japan, Finland, Norway, Denmark and Sweden and over 150 individual works. Here are details about just a few of the artworks that the exhibition includes.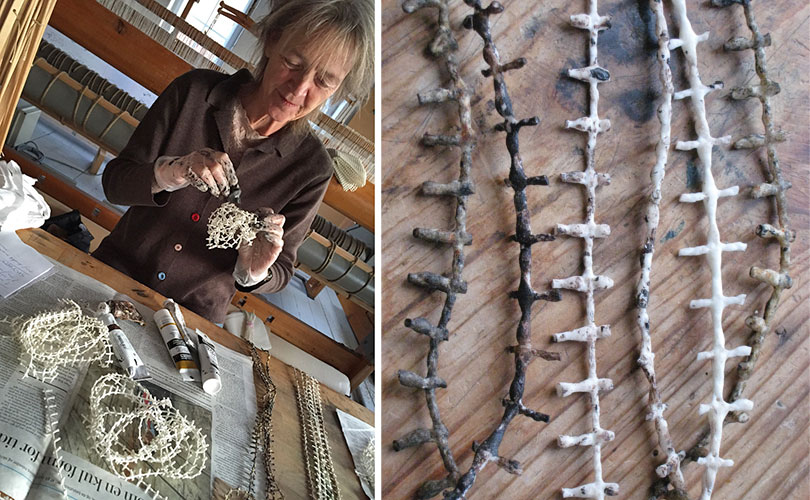 A striking wall work, Reserve, by Ane Henriksen of Denmark is featured in Japandí. Henriksen originally found the material covered with oil spots, washed up along the sea by the west coast of Denmark – fishermen use it, on the table in the galley, so the plates don't slide of when they are on the high seas. The piece also incorporates webbed, rubber matting, colored with acrylic paint. The warp is silk glued together with viscose (from Japan). "Nature is threatened," says Henriksen. "I hope this is expressed in my image, which at first glance can be seen as a peaceful, recognizable view of nature, but when you move closer and see the material, it might make you uneasy, and and spur thoughts of how human activity is a threat against nature. By framing the nature motif museum-like in a solid oak frame, I try to make you aware how we store small natural remains in reserves – in the same way we store exquisite objects from our past history in our museums."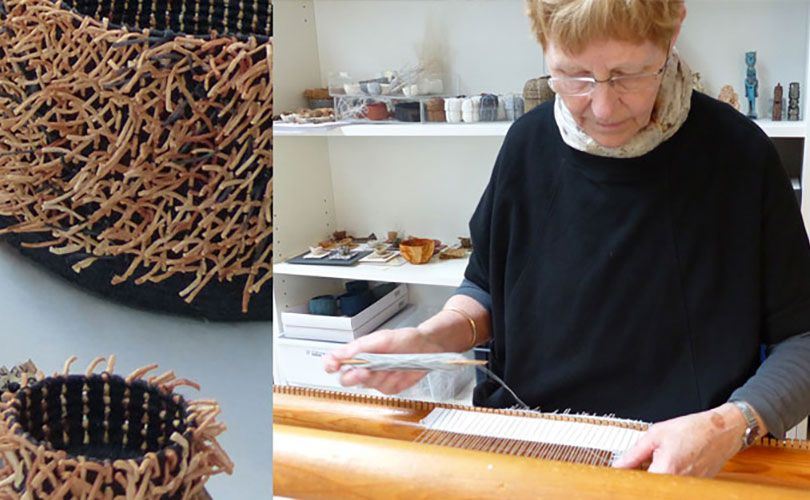 Also included in the exhibition are baskets by Danish artist Birgit Birkkjaer. They are made of black linen and Japanese tatami paper yarn (black and hand dyed with rust). "The technique I used for the structure is rya," she reports, "which was known in Scandinavia already in the Viking Age — and from the 1950s until the 1970s as a trend started by Danish/Finnish artist collectives. So, the baskets have roots in both Japan and Scandinavia."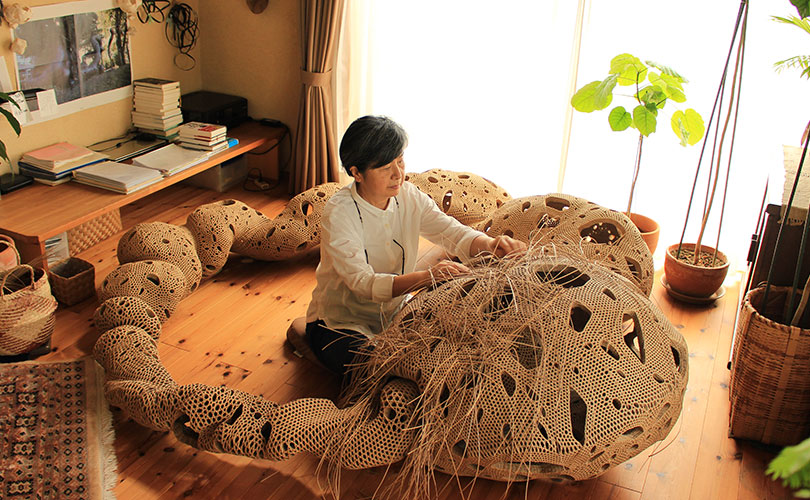 Among the works on display from Japan are intricately plaited objects created by Norie Hatakeyama. The artist works with factory-made paper-packing tape to realize her geometric concerns. It is an experimental material that enables her to break free from traditional limitations.
"My work stems from an impulse to redefine both material and method," says Hatakeyama. Her intricately plaited, three-dimensional works possess the energy of growing organisms. "The works 'defy the viewer to imagine how they were accomplished,'"art critic and author Janet Koplos has observed.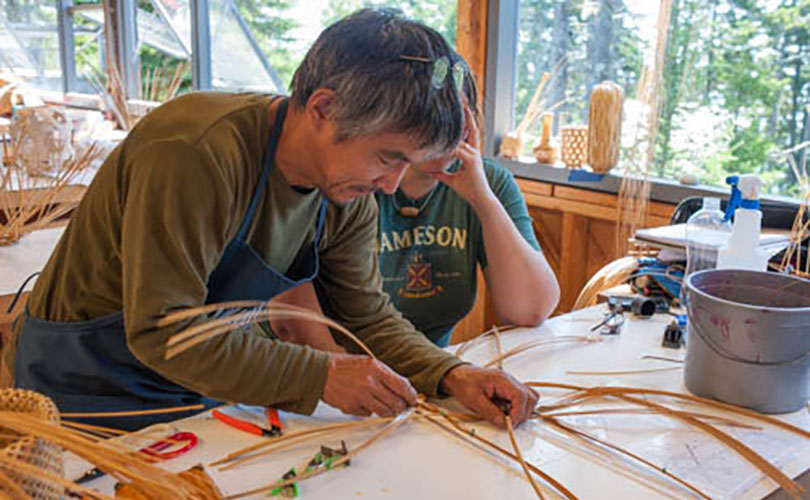 Jiro Yonezawa is also represented in Japandí with several works. Yonezawa is known for innovative bamboo basketry based on traditional techniques. He says that his recent baskets "represent a search for the beauty and precision in nature and a way to balance the chaos evident in these times." The search for balance and harmony is one of the elements attributed to Japandi style.
Please join us!
The hours of the exhibtion are:
Opening and Artist Reception: Saturday, September 25th: 11 to 6
Sunday, September 26th: 11 to 6
Monday, September 27th through Saturday October 2nd: 10 to 5
Sunday, October 3rd: 11 to 6
Advanced time reservations are mandatory; Appropriate Covid protocols will be followed. Masks will be required. There is a full-color catalog, Japandi: shared aesthetics and influences, prepared for the exhibition available at for pre-order at: https://store.browngrotta.com/japandi-shared-aesthetics-and-influences/