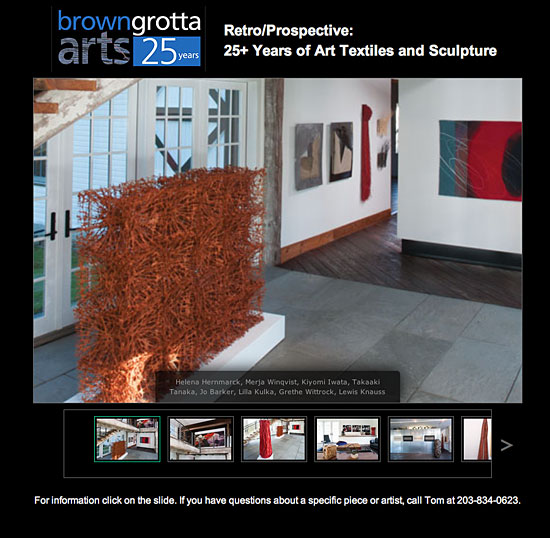 On Monday, November 26th, browngrotta arts will present an online version of our 25th anniversary exhibition,Retro/Prospective: 25+ Years of Art Textiles and Sculpture at browngrotta.com. The comprehensive exhibition highlights browngrotta arts' 25 years promoting international contemporary art. Viewers can click on any image in the online exhibition to reach a page with more information about the artists and their work.
"Some works in Retro/Prospective: 25+ Years of Art Textiles and Sculpture reflect the early days of contemporary textile art and sculpture movement," says Tom Grotta, founder and co-curator at browngrotta arts. "There are also current works by both established and emerging artists, which provide an indication of where the movement is now and where it may be headed."
Since Monday the 26th is CyberMonday this year, sales of art, books, catalogs, videos or dvds placed online or by telephone that day will be discounted 10% (excluding tax and shipping). In addition, bga will make a donation to the International Child Art Foundation for each sale made from November 24th through December 31, 2012. Visit browngrotta.com. For more information call Tom at 203.834.0623 or email us at art@browngrotta.com.