US or abroad we've got lots of suggestions — 10 in fact — of exhibitions you can visit in June and beyond.
1) Christine Joy and Sara Mast: Passage
Yellowstone Art Museum
Billings, MT
through July 16, 2023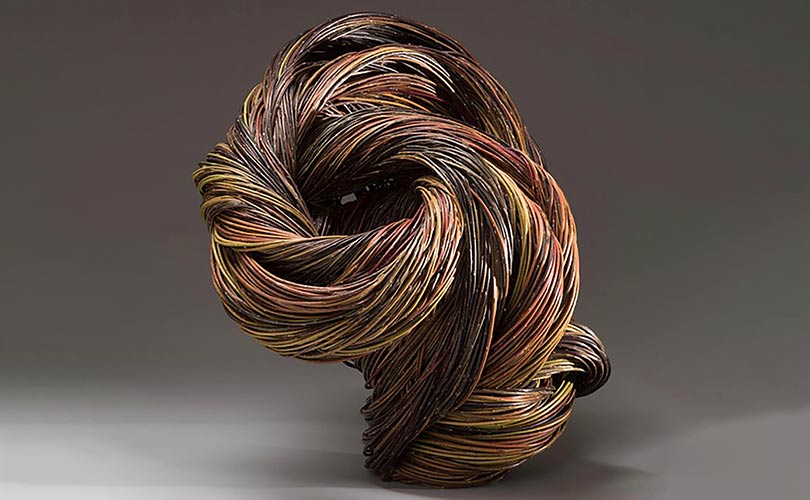 https://www.artmuseum.org/project/christine-joy-and-sara-mast-passage/
Christine Joy and Sara Mast explorethe mystery of nature through the transformation of materials, texture, and form.
The large, twisted willow forms by Christine Joy are the result of a rhythmic process beginning with the hunt and harvest of willow in autumn — followed by sorting, bunding, and storing. Joy began rug braiding in the 1970s. Over time, Joy moved on from rug braiding, leading her to a period of experimentation, and ultimately to reclaiming and reorienting her love of gathering and process with willow, grounding her to the earth. Sara Mast, a descendant of miners from Cornwall, England, resides on the site of Storrs, Montana, an early Anaconda Company mining town. Today, she incorporates PEM (plasma enhanced melter) glass into her work. PEM is a byproduct of plasma gasification, an advanced waste management technology that turns any kind of trash into inert, non-toxic glass and clean fuels. Mast writes, "PEM glass is not just another art material, but represents a profound paradigm shift in using technology to heal our environmental dilemma by keeping waste out of landfills and greenhouse gases out of the air. My use of PEM glass is one way I am able to reclaim a healthy relationship with the earth."
2) International Linen Biennial in Portneuf (BILP)
Heritage sites throughout Deschambault-Grondines
Quebec, Canada
June 18 – October 1, 2023
https://biennaledulin.com/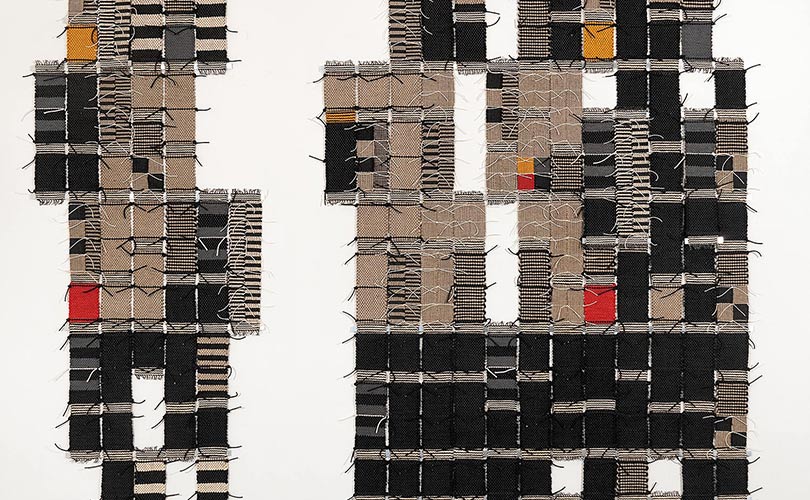 Anneke Klein (the Netherlands) Blair Tate (United States of America) Stéphanie Jacques (Belgium), Carole Frève (Québec) will all participate in the upcoming biennial of Linen — the 10th in Portneuf. The biennial will feature two exhibitons; the work of 20 professional artist; 20 emerging artists; multiple mediation activities and a day of converences.
3) Couples in Craft
Craft in America Museum
Los Angeles, CA
through September 24, 2023
https://www.craftinamerica.org/exhibition/couples-in-craft/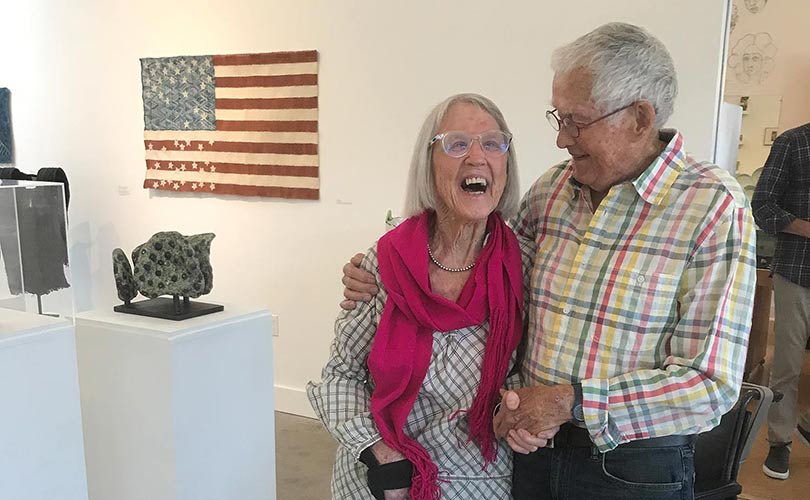 Couples in Craft highlights artist couples that specifically work in fiber and ceramics, either collaboratively or independently. While very different in their physical qualities—malleable and rigid, vegetable and mineral—both media require methodical construction processes that can take years to master. Many of these artist couples met during their formative educational years and thus share a lifelong dedication to each other and to their respective craft. These partners support and inspire each others' extensive pursuit of mastering materials and continued exploration of their potential. Their intuitive knowledge of process allows for layers of meaning to become integrated into the works as they are made.
Among the artists included in this exhibition are Veralee Bassler and Jim Bassler. Veralee Bassler graduated from the UCLA Art Department with a concentration in ceramics. She shared her passion for creativity, teaching, and ceramics with the students of the Los Angeles School District for 25 years. Jim Bassler graduated from UCLA with an MA in Art in 1968 and later served there as professor and department chair between 1975–2000. Jim, recipient of the American Craft Council 2022 Gold Medal, is a renown weaver whose work adapts ancient Peruvian techniques and explores a range of materials and concepts. Veralee and Jim live and work in Palm Springs, CA.
4) At Own Pace: Włodzimierz Cygan
7th Riga International Textile and Fibre Art Triennial
Mentzendorff's House
Grēcinieku iela 18, Riga, Latvia
through July 27, 2023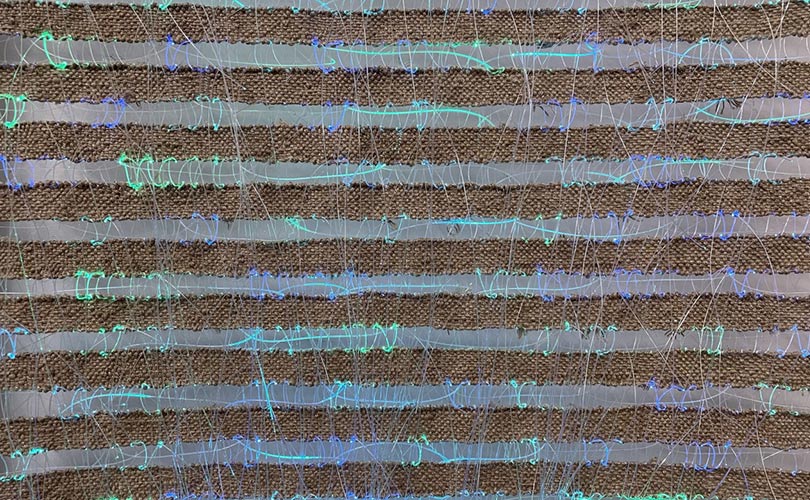 https://www.lnmm.lv/en/museum-of-decorative-arts-and-design/news/programme-of-the-7th-riga-international-textile-and-fibre-art-triennial-quo-vadis-139
Baiba Osīte: Exodus
7th Riga International Textile and Fibre Art Triennial
Art Station Dubulti
Z. Meierovica prospekts 4,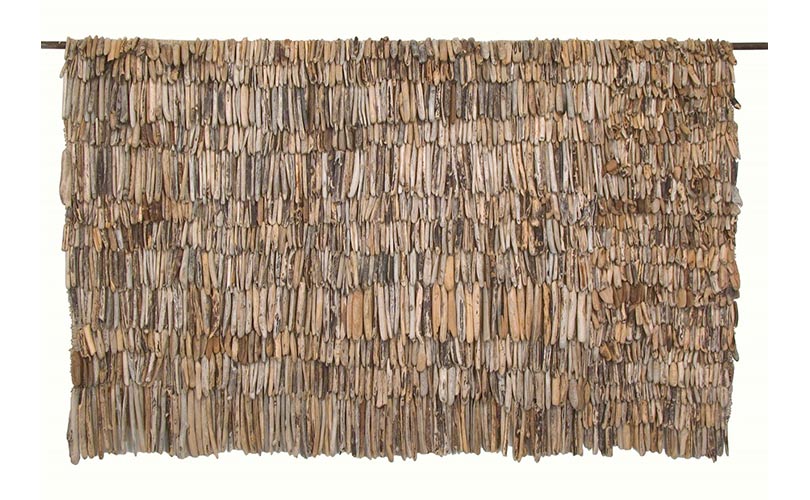 Jūrmala, Latvia https://www.lnmm.lv/en/museum-of-decorative-arts-and-design/news/programme-of-the-7th-riga-international-textile-and-fibre-art-triennial-quo-vadis-139
The 7th Riga International Textile and Fibre Art Triennial, QUO VADIS? unites 79 artists from 30 countries who were selected by an international jury from 237 submissions. Responding to the motto of the triennial, QUO VADIS? (Where Are We Going?), the authors, through their works, partake in conversations about the evolution of art and this particular field today as well as global geopolitical and social problems, engaging in self-reflection through the perspective of their time and art form.
The Triennial features an exciting solo exhibition by the internationally acclaimed Polish guest-artist Włodzimierz Cygan at the Mentzendorff's House in Riga and one featuring Latvian artist Baiba Osite.
5) Ferne Jacobs: A Personal World
Claremont Lewis Museum of Art
Claremont, California
through September 24, 2023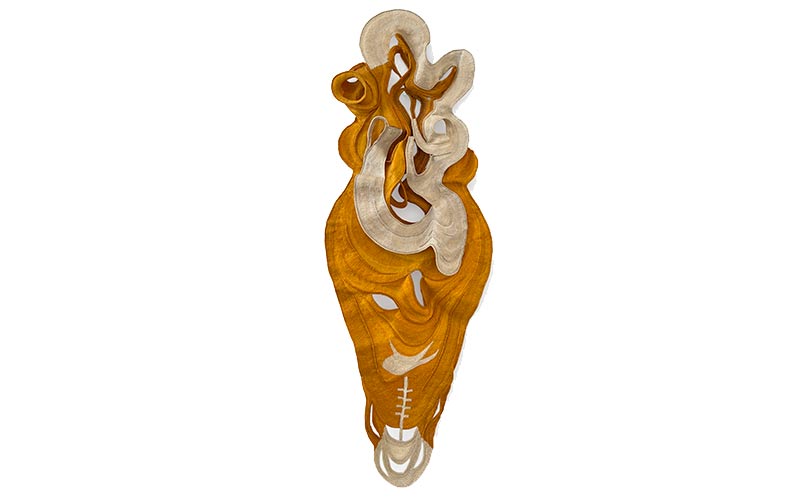 https://clmoa.org/exhibit/ferne-jacobs-a-personal-world/
Ferne Jacobs: A Personal World at the Claremont Lewis Museum of Art presents the work of Ferne Jacobs, a pioneer in fiber arts who creates unique three-dimensional sculptural forms using ancient basket-making techniques. Ferne Jacobs: A Personal World features a broad selection of her sculptures as well as books of her psychological drawings and collage diaries. 
6) Jane Balsgaard
Galleriet Hornbæk
Hornbæk, Denmark
Summer 2023
http://xn--galleriethornbk-bmb.dk/category/jane-balsgaard/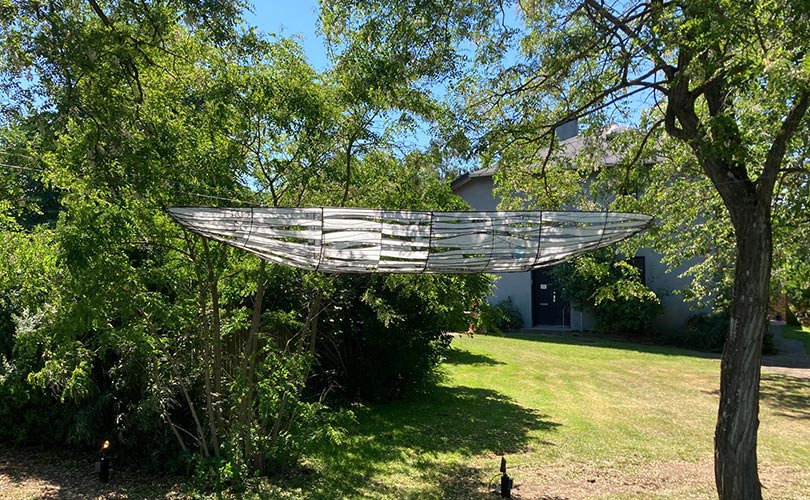 Jane Balsgaard's work is available this summer at Susanne Risom's Galleriet Hornbæk in Denmark.
7) Scandinavian Design and the United States, 1890 – 1980
Milwaukee Art Museum
Milwaukee, Wisconsin
through July 23, 2023
https://mam.org/exhibitions/scandinavian-design/
Scandinavian Design and the United States, 1890–1980 is the first exhibition to explore the extensive design exchanges between the United States and Denmark, Sweden, Finland, Norway, and Iceland during the 20th century. It includes works by Helena Hernmarck who moved from Sweden to the US, and Lenore Tawney, who studied with noted Finnish weaver Martta Taipale at Penland School of Crafts in North Carolina.
8) Indigo
Denver Botanic Garden
York Street Location
Denver, Colorado
July 2 – November 5, 2023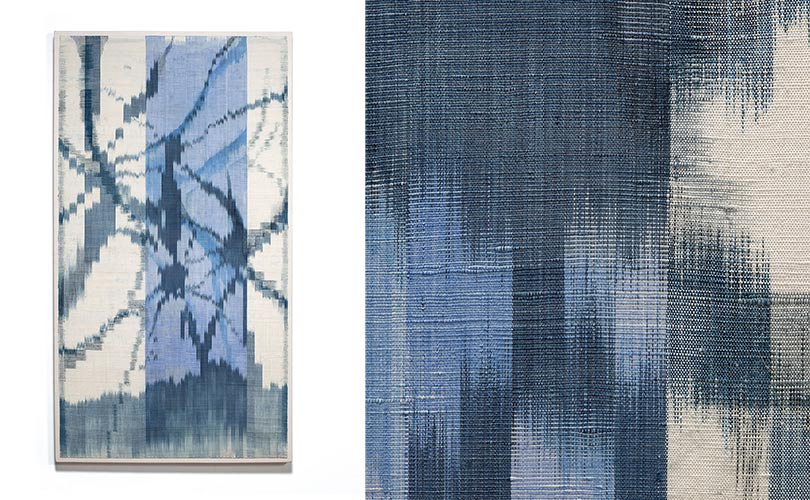 https://www.botanicgardens.org/exhibits/indigo
Rich and alluring, the striking blue color known as indigo has inspired weavers, dyers, designers, and sculptors across the globe. This exhibition, which contemporary artists from the United States, Nigeria, Japan and South Korea Includes several works loaned by browngrotta arts from artists Polly Barton, Eduardo Portillo and Mariá Dávila, Chiyoko Tanaka, Hiroyuki Shindo, and Yeonsoon Chang.
9) Shaped by the Loom: Weaving Worlds in the American Southwest
Bard Graduate Center Gallery
New York, New York
through July 9, 2023
https://www.bgc.bard.edu/exhibitions/exhibitions/117/n-a
Shaped by the Loom: Weaving Worlds in the American Southwest invites you to explore the world of Navajo weaving. This dynamic gallery and online experience presents never-before-seen textiles created by Diné artists. These historic blankets, garments, and rugs from the American Museum of Natural History are situated alongside contemporary works by Diné weavers and visual artists, such as Barbara Teller Ornelas and Lynda Teller Pete.
10) Expressing Cloths: Oceanian Modeling and Shigeki Fukumoto/Shigeko Fukumoto
Aomori Contemporary Art Center
Aomori, Japan
through June 14, 2023
https://acac-aomori.jp/program/2023-1/
This exhibition features Fukumoto, who has pursued an expression that can only be achieved through "dyeing" through his insight into the theory of craftsmanship in Oceania and Japan, and handcrafted fabrics that have been handed down since before textiles, such as tapa (bark cloth) and knitted fabrics from Melanesia in the South Pacific. In recent years Shioko Fukumoto has developed works using old natural fabrics that were made and used in rural life and labor. Three works. By group, we will think about the expression that can only be achieved with cloth, and the possibilities of cloth as a medium of expression. Both Fukomotos have visited Papua, New Guinea on more than one occasion.