We don't get the chance to see art exhibitions in person as often as we'd like. So we were quite pleased last month to be able to grab some museum time between closing our last exhibition, The Grotta Collection and prepping for our annual spring event, Volume 50: Chronicling Fiber Art for Three Decades.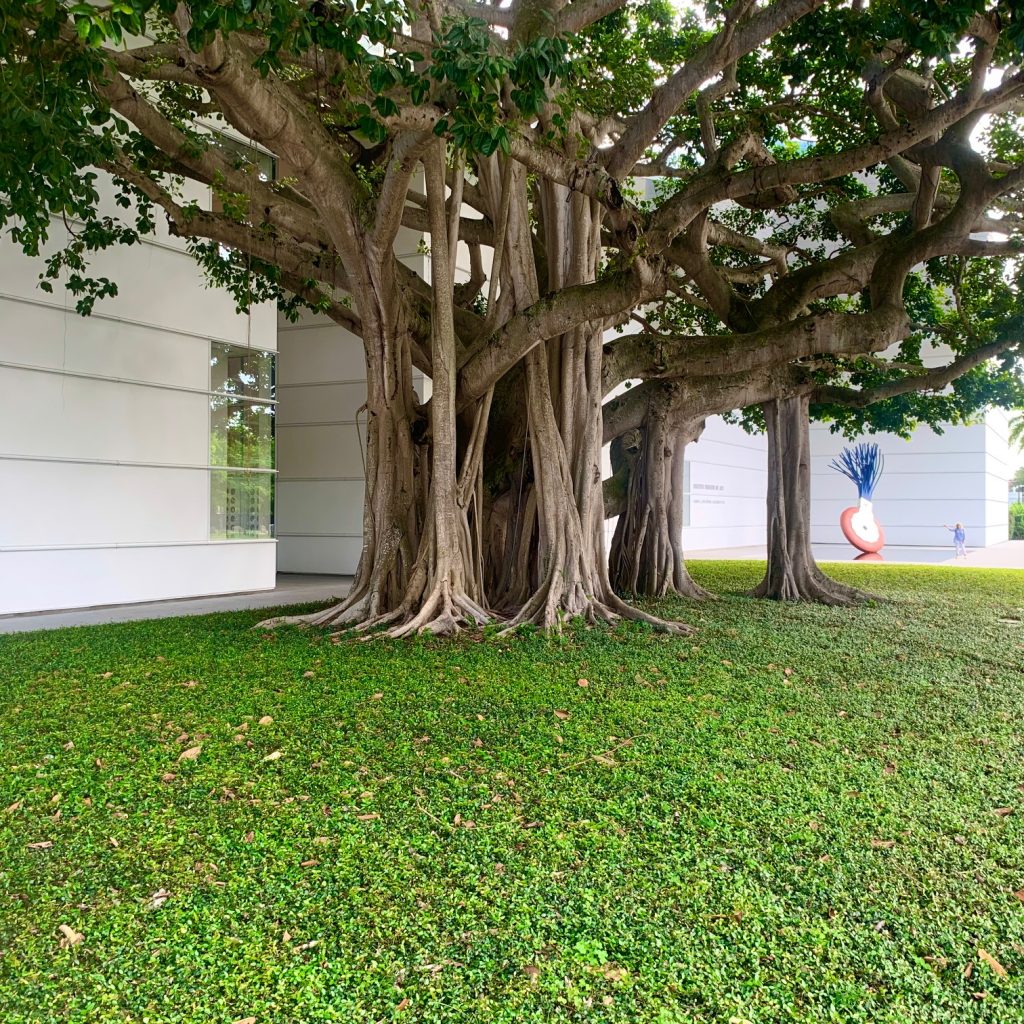 We found ourselves first at the Norton Museum of Fine Art in Palm Beach, Florida. The museum has been newly and elegantly renovated. Viewers first see an extraordinary banyan tree incorporated into the entrance. Inside there are exhibitions of the Museum's permanent collections and a specially commissioned work by Dale Chihuly. We were pleased to see the traveling exhibition, Georgia O'Keeffe: Living Modern. The exhibition addresses how the artist proclaimed her progressive, independent lifestyle through a self-crafted public persona, using her art, her clothing, and the way she posed for the camera. Early on, she fashioned a signature style of dress — much of which she created herself — that dispensed with ornamentation, which evolved in her years in New York—when a black-and-white palette dominated much of her art and dress—and then her time in New Mexico, where her art and clothing changed in response to the colors of the Southwestern landscape. After locating in the Santa Fe, an amazing array of photographers visited her and solidified her status as a pioneer of modernism and contemporary style icon. In addition to O'Keeffe's paintings and clothes, the exhibition included photographs of the painter by noted artists Ansel Adams, Alfred Stieglitz, Andy Warhol, and others. You have through February 2, 2020 to see it: https://www.norton.org/exhibitions/georgia-okeeffe-living-modern.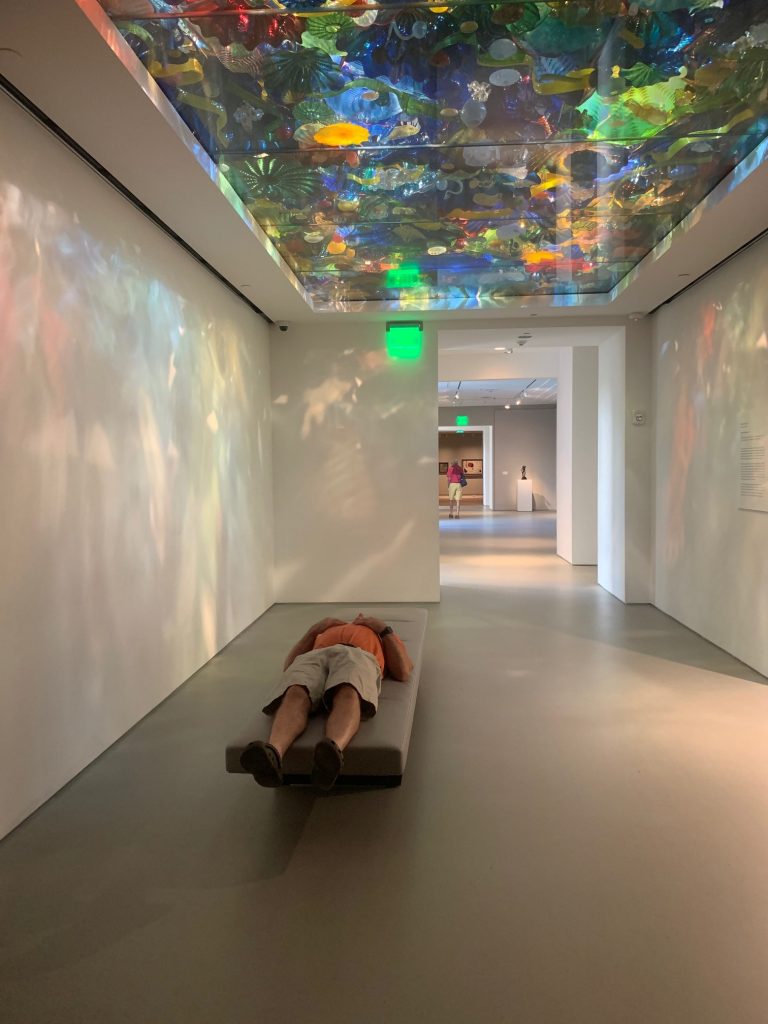 Two weeks later we were able to visit the new Westport Museum of Contemporary Art (formerly the Westport Arts Center) to see its inaugural exhibition of two works by remarkable artist Yayoi Kasuma. Part one, Where the Lights in My Heart Go, one of Kasuma's mirrored boxes, is a work with two distinct characters. While its mirrored exterior both reflects and appears to merge with its surroundings, punctured with small holes it becomes, on the inside, a fathomless space punctuated by dots of daylight.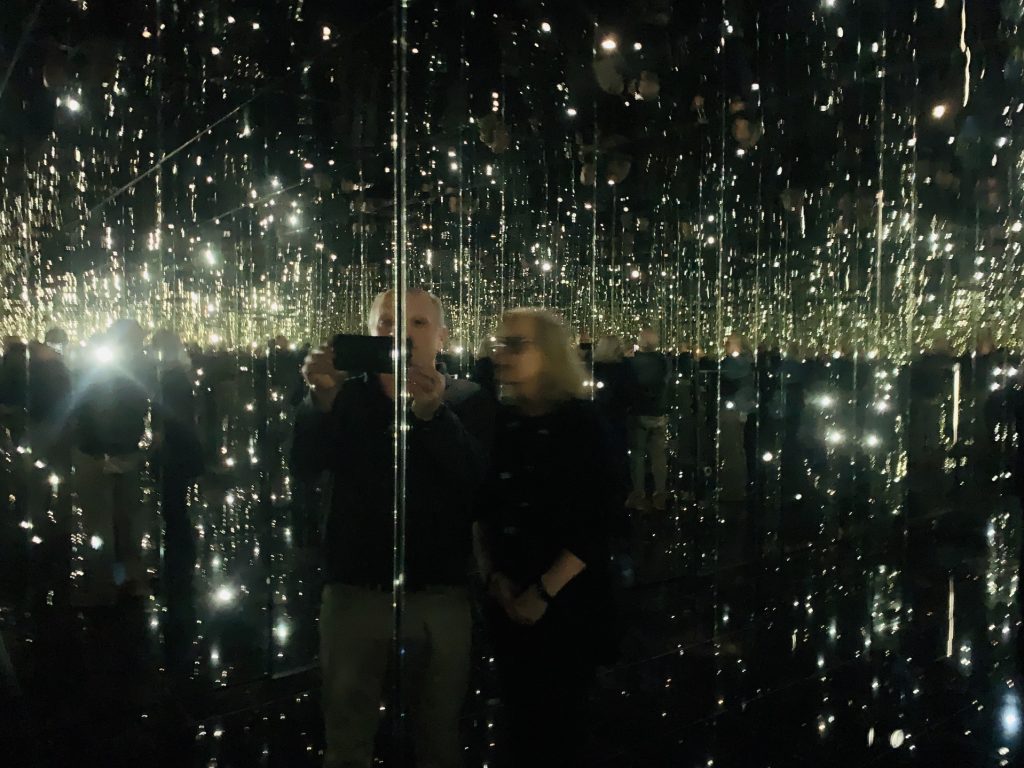 Where the Lights in My Heart Go draws parallels with the ritualistic aspect and formality of Japanese culture, MoCA explains. To enter, visitors must bow their heads, humble themselves in preparation for what they are about to experience. As one's eyes adjust slowly to the play of light across its perforated walls, an ever-changing constellation reveals itself. Kusama has referred to the effect the work produces as a "subtle planetarium" – a space in which to ponder the mysteries of the physical and metaphysical universe. Different for each viewer, Where the Lights in My Heart Go also changes with each fresh experience of it. It is immeasurable yet intimate. Kusama's art may possess a kind of universal language, but it speaks to us one by one. Our moments inside the artwork were truly magical — we were so pleased to have that experience before it closed.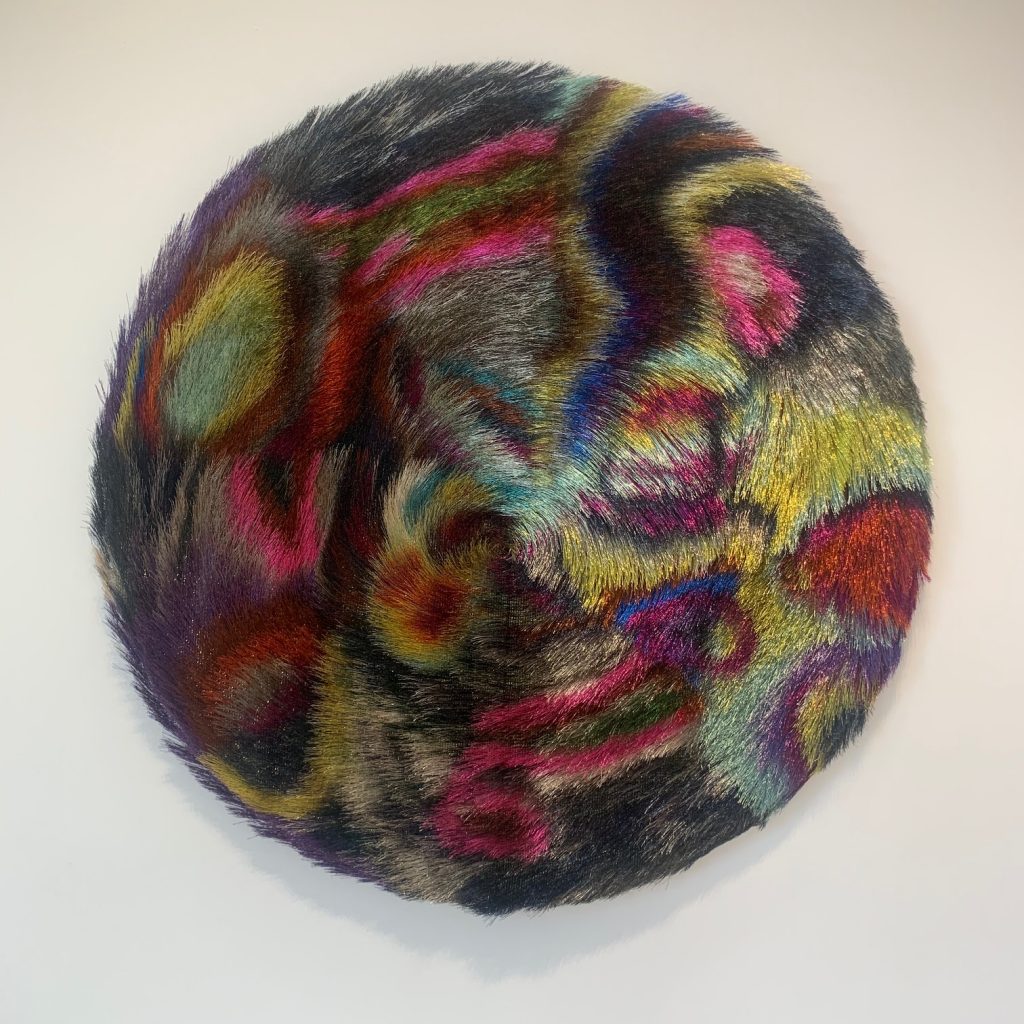 Also on exhibit is Kusama's installation Narcissus Garden which originated in 1966, when the artist first participated, albeit unofficially, in the Venice Biennale. This expansive and immersive work comprises mirrored spheres displayed en masse to create a dynamic reflective field. In Venice, Kusama installed the spheres on a lawn in front of the Italian Pavilion. Signs placed among them were inscribed with the words 'Narcissus Garden, Kusama' and 'Your Narcissism for Sale'. Kusama, dressed in a kimono, remained with the installation, offering individual spheres for sale (at $2, or 1,200 lira a piece). This succès de scandale was both revolutionary – a comment on the promotion of the artist through the media and a critique of the mechanization and commodification of the art market – and deeply connected to history, evoking the Greek myth of Narcissus, who fell in love with his own reflection (and paid the price for doing so). Tom and I found the exhibition so engaging we went right home and watched the documentary about the artist on Amazon Prime: Kusama: Infinity. Narcissus Garden is on view through February 16, 2020 https://mocawestport.org/experiences/.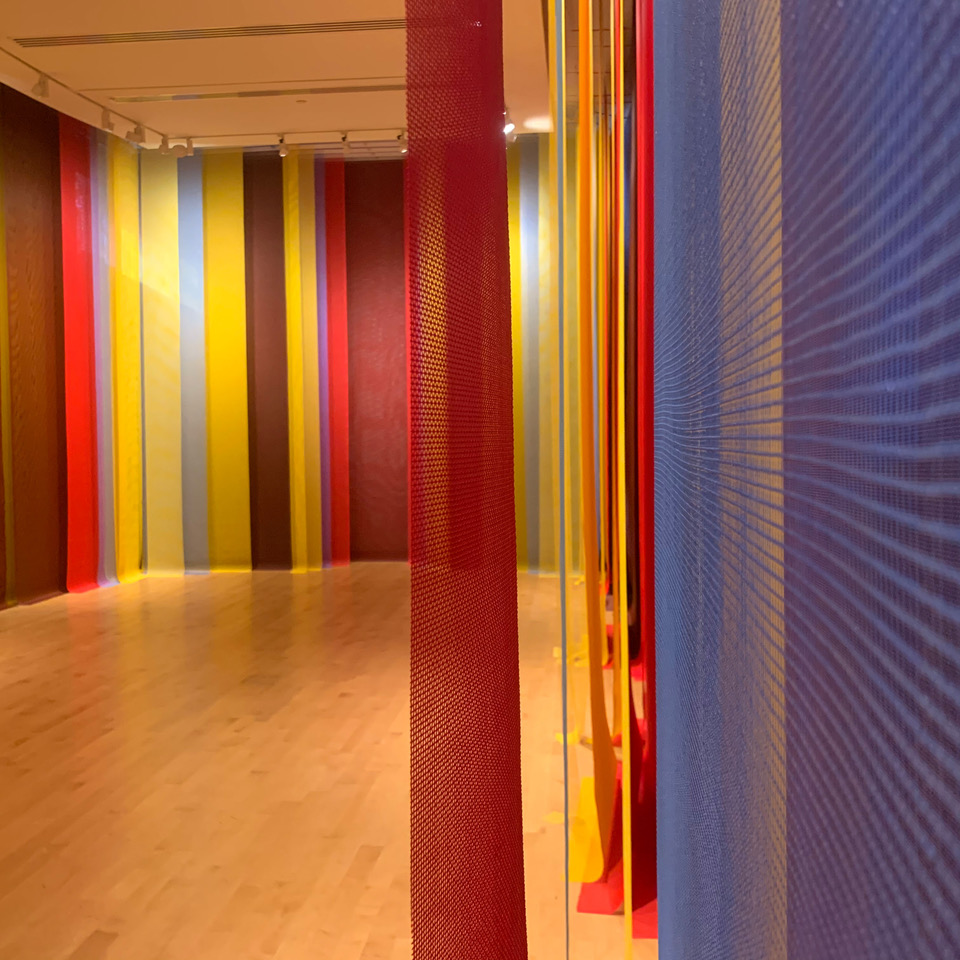 Our last stop was at the Aldrich Museum of Art in Ridgefield, Connecticut. There are three exhibitions there well worth seeing, including a colorful site-specific installation, Untitled (Mesh A-J) by Eva LeWitt. "LeWitt's sculptural practice explores the visual interconnection of color, matter, shape, light, and gravity. Using materials she can control and manipulate with supporting and opposing attributes – rigid/pliable, opaque/transparent, airy/substantial, and handmade/machine built – LeWitt creates exuberant configurations that vaunt a buoyant physical agency," says the Museum signage. Zoë Sheehan Saldaña has mounted an exhibition of 50 of her hand-made artifacts, There Must Be Some Kind of Way Out of Here, curated by Glenn Adamson. "Even her most elaborate undertakings, such as a reverse-engineered Strike Anywhere match or a hand-woven terrycloth towel, masquerade as objects you might toss away thoughtlessly, or stick in a drawer and forget. Underneath these acts of artistic camouflage lies a deep well of conviction, a drive to take full responsibility for things."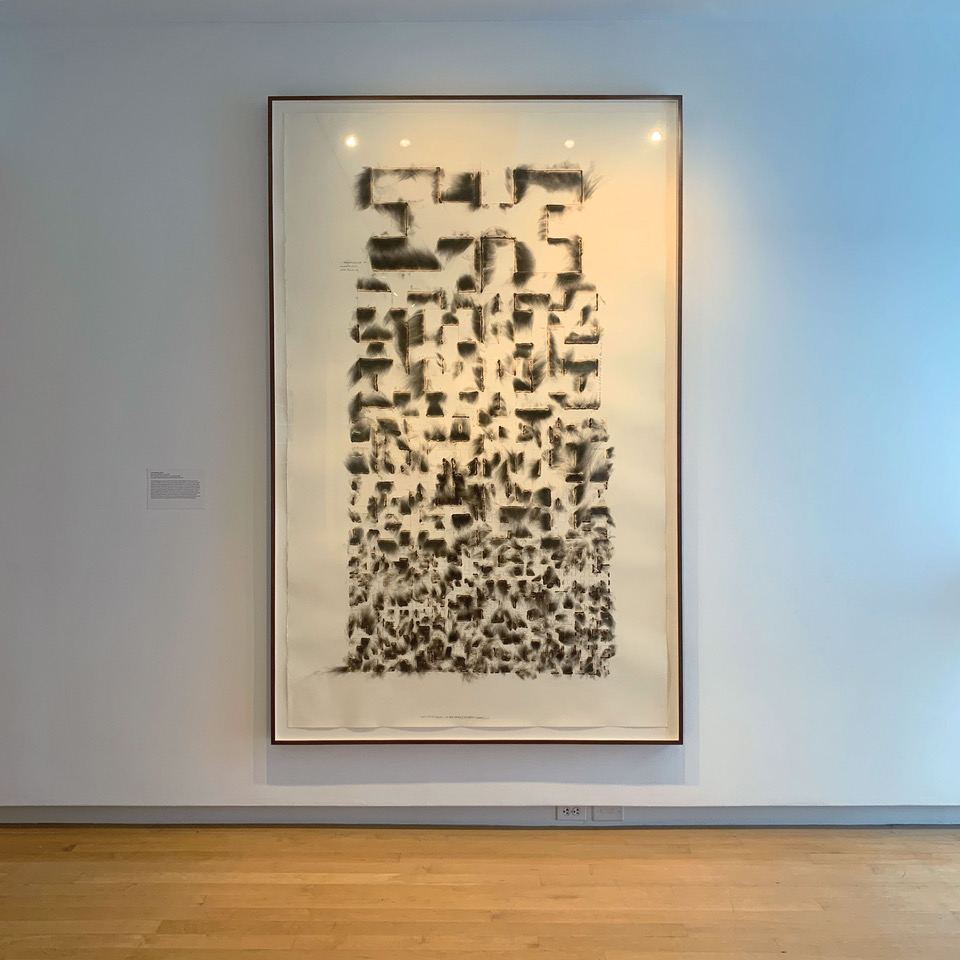 We were most captivated, however, by Weather Report, a group exhibition curated by Richard Klein. Weather Report brings together that work of 21 artists and three researchers to explore the ways that our immersion is the atmosphere — what can only be considered the most remarkable feature of our planet — has influenced visual culture in the 21st century. The range of ways in which they depict weather phenomena is remarkable. In Fly to Mars 2 by Jennifer Steinkamp the artist has created a video version of the axis mundi, the mythic tree at the center of the universe. Nick Cave created a series of images based on Doppler radar images of cataclysmic weather and brain scans from black youth suffering PTSD from gun violence, presenting gun violence as uncontrollable as a hurricane. In Wind Study, Jitish Kallat has "drawn" with soot, blown by prevailing winds, making a statement about winds and wildfires worldwide.

The exhibitions are all open for a few more months (April, May and March, respectively). From more information, visit the Museum's website. http://aldrichart.org