We are excited to include the work of five artists new to browngrotta arts in our upcoming exhibition, Allies for Art: Work from NATO-related countries (October 8-16). Among these artists are Anneke Klein of the Netherlands and Aby Mackie who lives and works in Spain.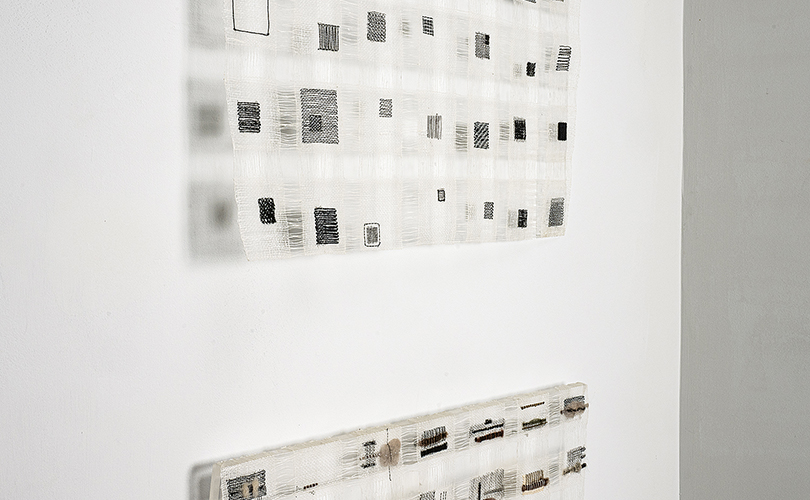 Anneke Klein of the Netherlands was originally educated as a goldsmith. Her passion for weaving was born from her struggle with hard and cold materials. In order to pursue her preference for warmth and softness in materials, she retrained herself as a weaver.  After a period of designing and manufacturing clothing, she worked on a commission for the American minimalist Richard Tuttle for his exhibition in the Vleeshal of the Frans Hals Museum and for Alexis Gautier in the Bozar Museum Brussels. She developed her own style for wall objects. As a goldsmith she learned to express in miniature. It suits her, and she often applies that approach in her textile works as an element for rhythm and repetition. "I create a variety of shapes, textures and structures to express my imagination of social themes," she says. "It is an ever-growing process inspired by instinct and intuition, an investigation, a translation, as if looking through a symbolic lens at the everyday and the things that touch me emotionally. It stimulates social awareness in myself and probably the viewer, too."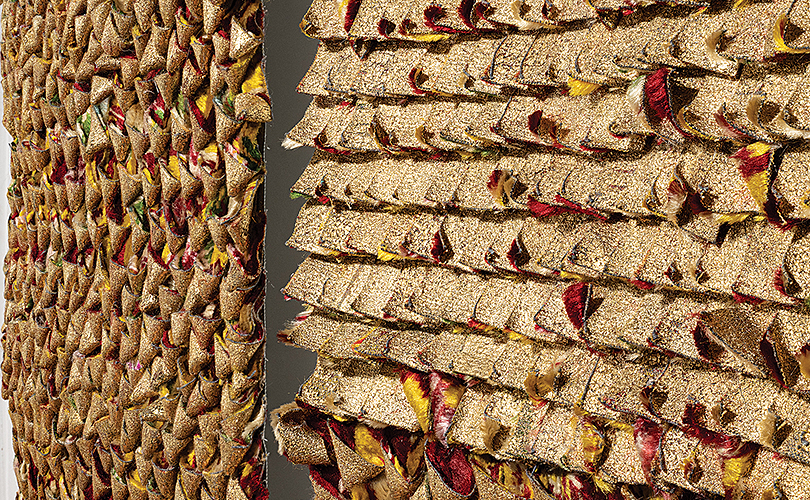 For Aby Mackie, an emerging artist who lives and works in Spain, the very act of making artwork is political. Mackie responds to current economic and social inequities in her country, particularly in housing and food, by confronting consumerism head on. "Everything I buy, from the materials for my artwork to the clothes that I wear, the furniture in my house to the books that I read, I buy second hand — recycling, reusing, reimagining — standing against the insane consumerism that adds to that sense of us all living in a system that is broken." Mackie reconstructs textiles — cutting, painting, stitching, weaving and gilding them … a process of deconstruction and transformation. "The materials that I use," she says, "are sourced from the local flea market, a practice that was born out of necessity to find cheap (but unique, high quality, interesting, often sumptuous) and free materials to use in my artwork. I go at the end of the day and buy up all the unwanted antique cloth, clothing, and domestic textile, collecting the discarded, such as flamenco dresses, Spanish plates, antique dolls, horse collars integrating them into my practice." In Mackie's hands, these "discards" are given a new life as elegant and engaging artworks. A rich mix of influences can be seen in Mackie's work in terms of concept (the found object sculpture of Picasso, Miro, Tapies, Grau-Garriga), techniques and materials (Anatsui) and subject matter and aesthetic sense (Basquiat, Schwarz), inviting the viewer to create their own connections and interpretations and encouraging a personal storytelling through materiality.
Join us at browngrotta arts in Wilton, CT
for Allies for Art: Work from NATO-related countries (October 8-16):
Exhibition Schedule:
Opening & Artists Reception (300-Visitor Cap)
Saturday, October 8th: 11AM to 6PM  
Viewing Dates & Times (40 visitors/ hour)
Sunday, Sunday October 9th: 11AM to 6 PM
Monday, October 10th – Saturday, October 15th: 10AM to 5PM 
Final Day (40 visitors/ hour)
Sunday, October 16th: 11AM to 6PM  
Address
276 Ridgefield Road Wilton, CT 068977
Safety protocols
Eventbrite reservations strongly encouraged • We will follow current state and federal guidelines surrounding COVID-19 • As of August 1, 2022, masks are not required • No narrow heels please (barn floors)
RESERVE YOUR TIME: https://www.eventbrite.com/e/allies-for-art-work-from-nato-related-countries-tickets-392833123447
Contact Information
P: 203.834.0623
E: art@browngrotta.com