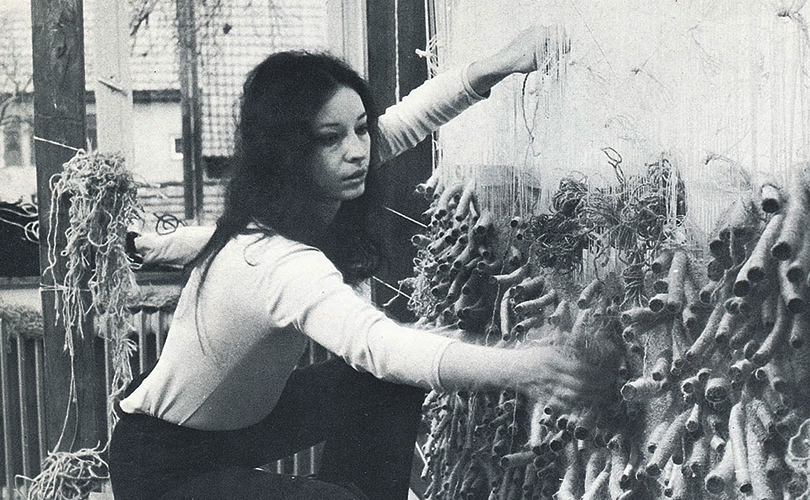 We write with sadness about the loss of prominent fiber sculptor, Ritzi Jacobi this past June. Along with artists such as Magdalena Abakanowicz and Jagoda Buic, Ritzi Jacobi was one of the European pioneers of textile art, who has established work with textile fibers in expansive, gestural, impulsive installations internationally since the 1960s. Jacobi was born in Bucharest, Romania in 1941, and studied at the arts academy there. The reliefs and objects she created together with her husband Peter Jacobi caused a sensation as early as the 1969 International Tapestry Biennal in Lausanne, Switzerland (the first of 11 in which she participated) and the 1970 Venice Biennial. The works were densely woven from vibrant fibers, and their "shaggy" mass and monumental size convey a rough physicality and are reminiscent of the mountains of their Transylvanian homeland. They represented nature and the archaic and at the same time dealt with conscious and unconscious elemental experiences. Much of the freshness of the "new tapestry" movement resulted from this juxtaposition of layers, and focus on materials, Giselle Eberhard Cotton observed ("The Lausanne International Tapestry Biennials (1962-1995) The Pivotal Role of a Swiss City in the 'New Tapestry' Movement in Eastern Europe After World War II," Giselle Eberhard Cotton, Textile Society of America, Symposium, September 2012).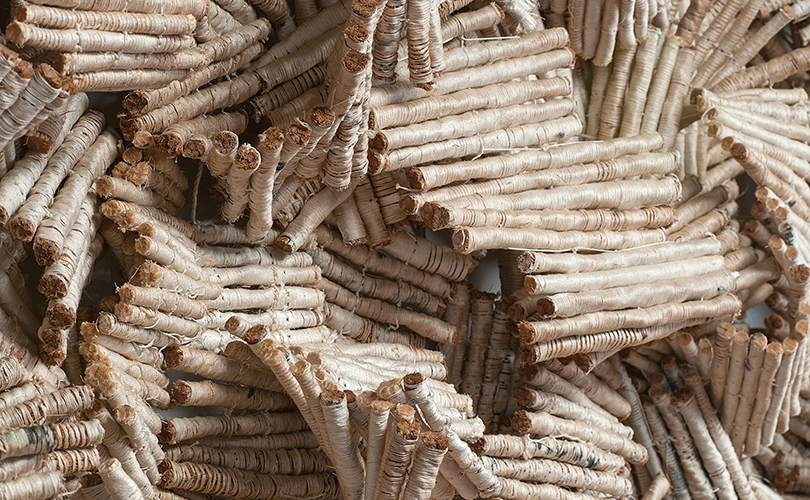 After moving to Germany in 1970, Ritzi and Peter Jacobi initially continued their work together with the various textile fibers and layers of fragile paper and then turned to other fields of work separately. In her own work, Ritzi Jacobi continued to create large reliefs that underscored the sculptural possibilities of fiber, drawing in three dimensions, creating light and shadow with fiber cables and bundles of wrapped fibers. Ritzi Jacobi also worked with large, untreated cardboard elements, that conquered the surrounding space in a succinct and determined manner. Since the 1990s, she had been expanding her material repertoire to include metal and here, too, she showed abstract hatching and layers between surface and space, concentration and dissolution. Solo exhibitions and some together with Peter Jacobi, have taken place at the National Gallery of Victoria in Melbourne, the Musée d'Art Moderne in Paris and the Cleveland Institute of Arts in Ohio. Works by the artist can be found in major museums around the world. In recent years, Ritzi Jacobi has mainly worked on large-format tapestries, partly as commissioned works, and has been in demand internationally as an expert in juries and committees. Her last solo exhibition took place at Galerie Diehl in Berlin in 2019. She died in Düsseldorf, where she has lived since 2000, after a long, serious illness.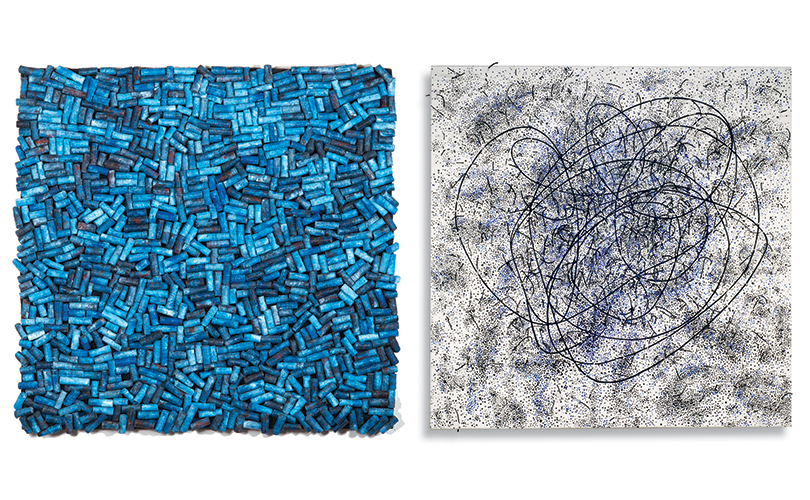 Adapted from an obituary by Thomas Hirsch.