We are excited to be exhibiting two basketworks by Joe Feddersen in our upcoming exhibition An Abundance of Objects (October 7-18).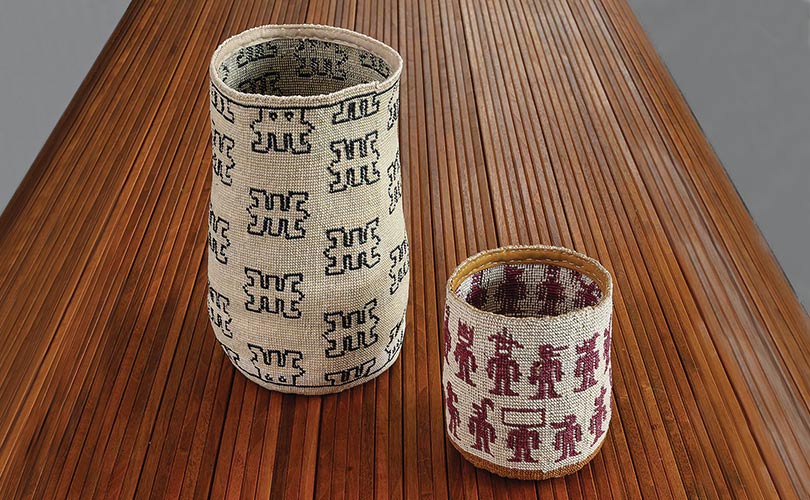 Fedderson is a widely known, highly respected, multimedia artist and member of the Confederated Tribes of the Colville Reservation. His fine art prints, paintings, baskets, glass vessels, installations, and photography, are found in several prominent museum collections, including, that of the National Museum of the American Indian. He is one of six artists featured in Sharing Honors and Burdens at the Renwick Gallery at the Smithsonian through next March. The works in the Shared Honors and Burdens exhibition are culturally specific, yet communicate across cultural boundaries, weaving together stories of resilience, heritage, and shared experiences.
Feddersen's work has been featured in several solo and group exhibitions, and has been written about in a number of essays, catalogs, and books including a major retrospective and monograph titled Vital Signs at the Missoula Museum in Montana in 2008. "Arising from Plateau Indian iconographic interpretations of the human-environment relationship, Curator Rebecca J. Dobkins wrote in the exhibition notes, "Feddersen's prints, weavings, and glass sculptures explore the relationships between contemporary urban place markers and indigenous design." From the artist's perspective, she says, Plateau basketweaving designs have resulted from generations of people living on the land and interpreting their relationship with the land through abstraction.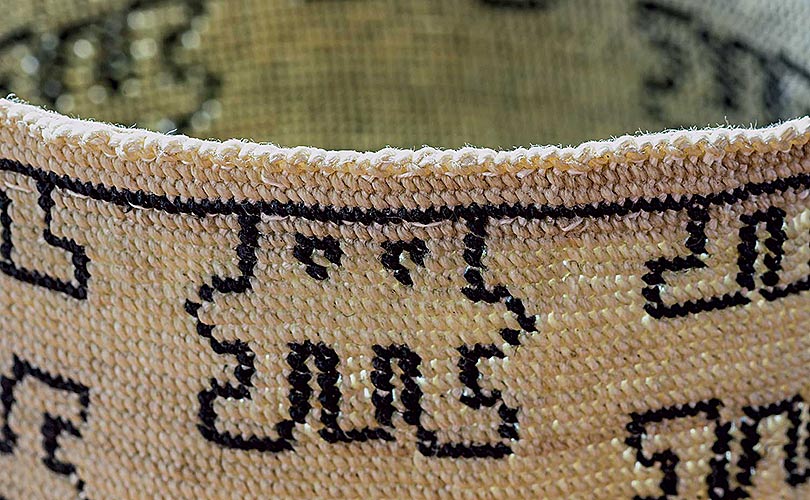 As he continued developing his Plateau Geometrics series, which was featured in Vital Signs, Feddersen decided he needed a fuller understanding of basketry and began learning from his friend Elizabeth Woody, an artist and poet who was a student of weaving. He returned to the Colville Reservation and talked, too, with renowned weaver Elaine Timentwa Emerson about basket designs. Dobkins writes, "For Feddersen, her assertion that design meaning was deeply rooted in location stood out above all else. In other words, the meaning of designs depends upon who the interpreter is and where he or she is from — a very local form of indigenous exegesis. To someone else, in the next valley, the same design may have a different meaning."
Feddersen has spoken about imagery he uses. In, Roll Call he told Cecile Ganteaume in his interview for the Archives of American Art (Oral history interview with Joe Feddersen, 2021 April 29 and May 6. Archives of American Art, Smithsonian Institution) the imagery "is about the world around us" like "just stopping and thinking about what's around you." He cites a poem by William E. Stafford, called "Tracks." The poet was on a train and saying, "Who's around us?" On a fresh snow, you would see the tracks. And he would say, like, "Fox is here," and so on. To Feddersen, it was "kind of who has survived." And so he created the uniquely modern figures in Roll Call. "[W]e have like a television person here, and an android," he said ,… "kind of a narrative about who's here. And it also makes me think of those high school pictures, where they have the class pictures."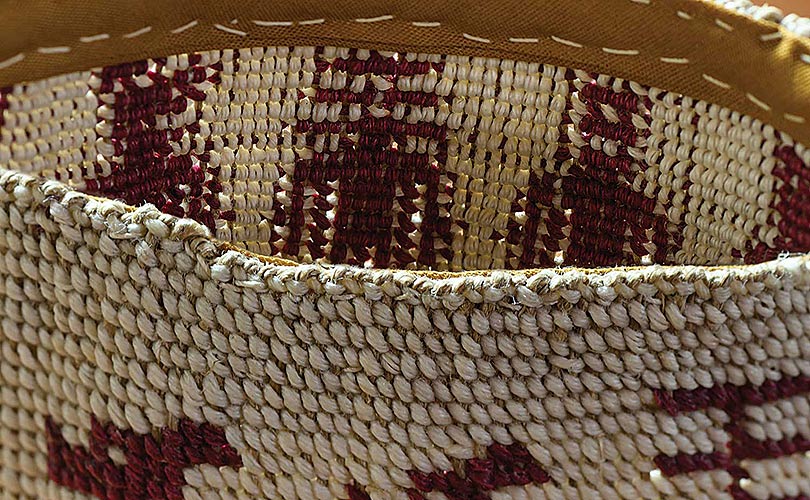 You can see Small Roll Call in person at An Abundance of Objects at browngrotta arts October 7 through 15. Schedule your visit here. 
Can't make the exhibition? You can see the works in the An Abundance of Objects catalog, available at browngrotta.com.