In our upcoming An Abundance of Objects exhibition (part of Vignettes: one venue, three exhibitions) October 7 – 15, we are pleased to include work by two well-known Japanese basketmakers, Aya Kajiwara and Kogetsu Kosuge.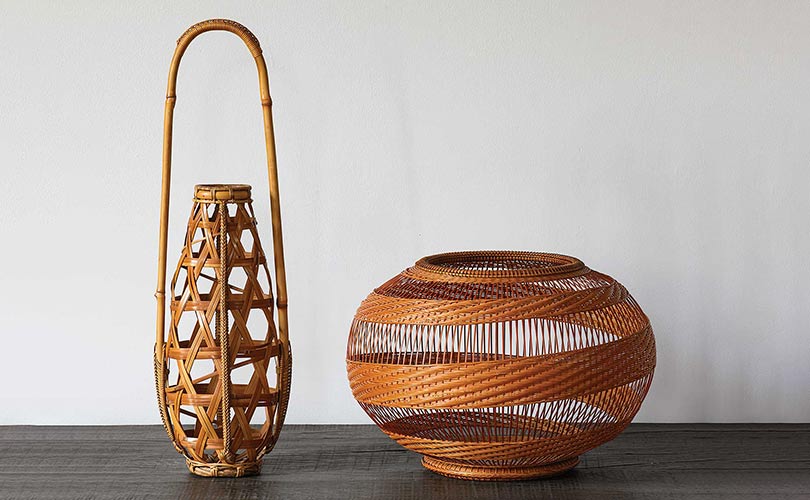 In 2000, Aya Kajiwara became the first woman admitted as a full member of the Japan Art Crafts Association. She attended the Beppu Occupational School, the foremost art school with a bamboo curriculum, studying with teachers who themselves were pupils of Living National Treasure artists (those certified as "Preservers of Important Intangible Cultural Properties"). Kajiwara's work follows the tradition of the hanakago, baskets made for holding flower arrangements for special ceremonial ikebana. In Ikebana, these baskets are viewed as sculptures, rather than utilitarian objects. Many of her titles allude to landscape or parts of nature. Her works are composed of very narrow splits of bamboo, Kajiwara's work has been included in the prestigious Traditional Craft Arts Exhibition several times.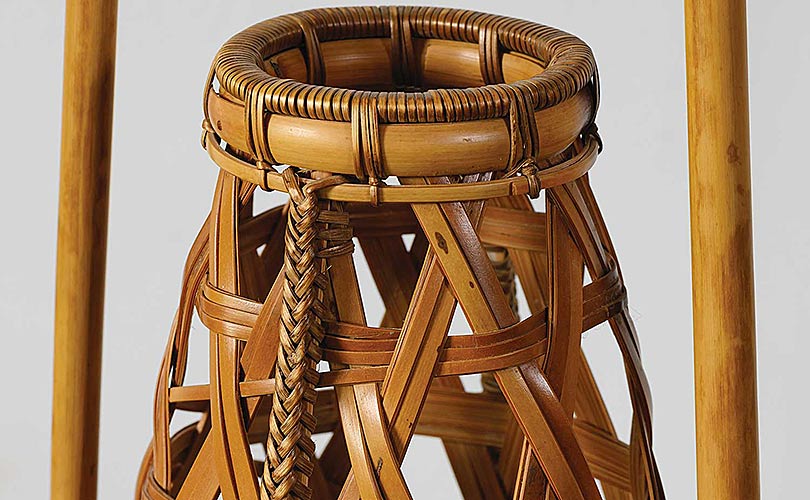 Kogetsu Kosuge, who died in 2016, was the son of Chikudo Kosuge, a well-known bamboo artist on the Island of Sado. As a boy, Kogetsu spent many hours in his father's studio learning bamboo basketry. In 1972, the Niigata Governor commissioned the artist to create a basket as a gift to the Emperor of Japan and six years later he became a full member of the Japan Craft Art Association.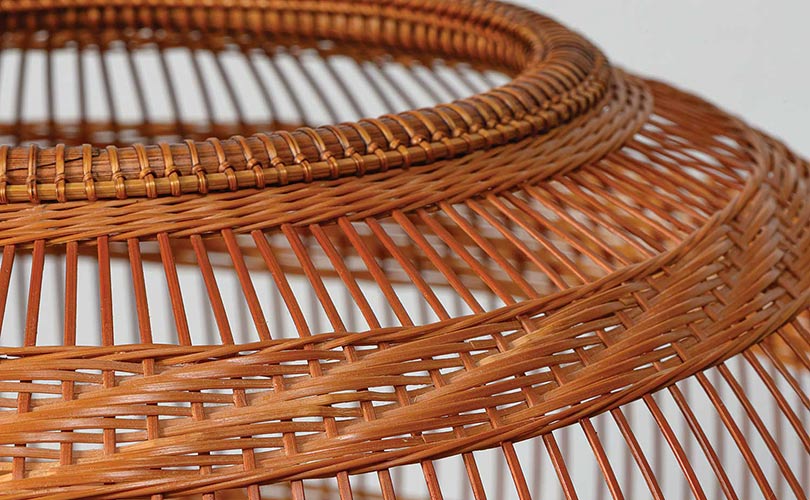 He primarily uses three techniques, hineri or twisted bamboo, the pine-needle pattern called matsuba-ami and masame-wari, in which lateral cuts are used to make narrow strips of bamboo. The artist told Tai Arts in 2009, that In each piece, he tries "to reflect my deeply held spiritual feelings and beliefs." Among his prestigious awards are the Minister of Economy, Trade, and Industry Prize at Japan's Flower and Tea Ware Art Exhibition and the Niigata Nippo Prize at the 16th Prefectual Art Exhibition.
See works by Kajiwara and Kogetsu — and many more — at An Abundance of Objects, part of browngrotta arts' Fall 2023 "Art in the Barn" exhibition, Vignettes: one venue; three exhibitions this October 7th through October 15th. Reserve a time on Eventbrite. You can also order the catalog for An Abundance of Objects from our website: browngrotta.comhttps://store.browngrotta.com/an-abundance-of-objects/, after October 6, 2023.