In An Abundance of Objects, this October 7th through the 15th, browngrotta arts will present a truly diverse group of eclectic engaging objects. Among them will be a series of ceramics by artists regularly shown at browngrotta, Toshiko Takeazu and Yasuhisa Kohyama, and two works by new-to-the-gallery artist Karen Karnes.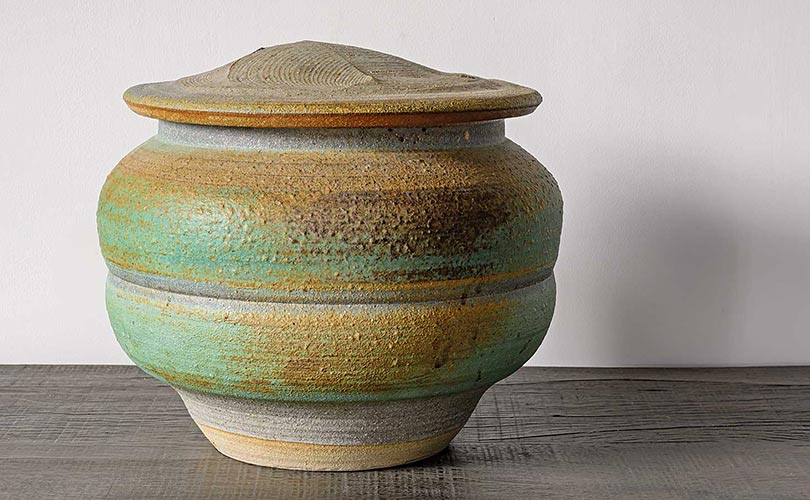 Karen Karnes is known for her functional, yet elegant forms — wheel-thrown pieces, salt-glazed pottery, cut-lidded vessels.  "Karen Karnes was a singular, powerful artistic voice in American studio pottery. She was the rare woman who was self-supported as a potter with no institutional affiliation," wrote the New Orleans Museum of Art, Louisiana which has collected the artist's work. Karnes attended Brooklyn College and graduated with a major in design. She studied ceramics practice in Italy, then returned to Alfred University in New York and began a graduate program in ceramics. She left to do a two-year residency at Black Mountain College, where she worked and studied alongside artists John Cage, Robert Rauschenberg, Bernard Leach, Shoji Hamada, Josef Albers, and Peter Voulkos. In 2020, the ASU Art Museum Ceramics Research Center recognized the artist's extraordinary life's work in the ceramic arts with a retrospective of her work. "Karnes has been a major influence on contemporary ceramic artists," the museum wrote, "her creative vision spans more than 50 years of artistic excellence."
At browngrotta arts we have been honored to exhibit the work of Toshiko Takaezu and Yasuhisa Kohyama for some time. Takaezu was an accomplished ceramist whose work has reached a new level of international prominence in recent years. Her work was featured in the prestigious Venice Biennial in 2022. The exhibition wrote that the Hawaiian artist's skill in the art of ceramics was honed during an extended visit to Japan on which she explored her cultural roots. "Whether larger than a person or small enough to hold in one's palm, her wheel-thrown or hand-shaped works from the 1960s on are rounded, richly decorated, hollow objects resembling ordinary pots but not intended to hold anything. Takaezu's elongated or spherical works almost completely enclose an empty space that is inaccessible to the gaze and, like a soul in a body, makes them unique. Even when installed in groups, as in her series …, each preserves its own totemic identity."  The artist's will be featured in the upcoming, Toshiko Takaezu: Shaping Abstraction, at the Museum of Fine Arts, Boston, Massachusetts, and in a large-scale touring retrospective (and catalog) organized by The Isamu Noguchi Museum and Garden Museum in Long Island City, New York in 2024. An Abundance of Objects, will include four of Takeazu's work.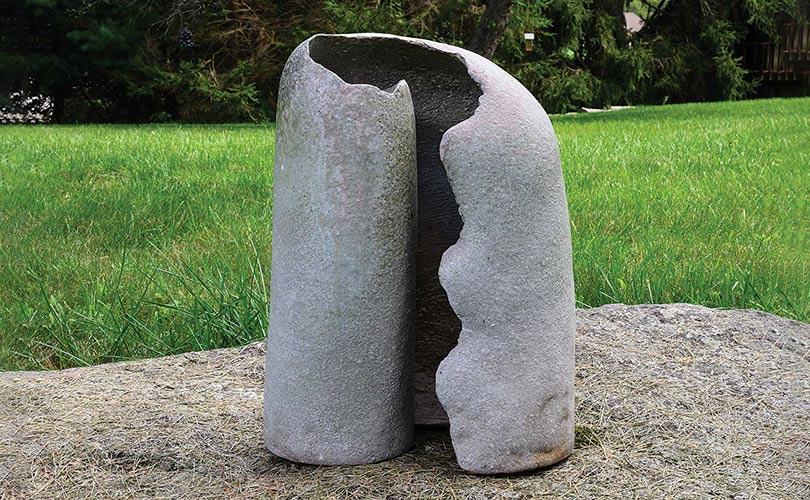 Yasuhisa Kohyama's masterful ceramics are inspired by the ancient Shigaraki, Jomon, and Yayoi ceramics of Japan. Kohyama has played a significant part in reviving the use of the traditional Japanese anagama wood-firing kiln. He was the first potter in his area to build such a kiln since the Middle Ages. Using the distinctive Shigaraki clay and a wood-firing kiln, he has created modern ceramic vessels and sculpture, which are vigorous and new, but timeless in their beauty. Kohyama shapes his asymmetrical forms using a piano string, thereby creating distinctive, rough surfaces. The clay with its nuggets of feldspar creates a tactile quality not often seen in contemporary work. No glazes are used, but the wood ash and the placement in the kiln produce an extraordinary array of colors and shading on the surface. In the Abundance exhibition, browngrotta arts will highlight Hajibito a new work by Kohyama.
See works by Karnes, Takaezu, and Kohyama — and 30+ other artists – at An Abundance of Objects, part of browngrotta arts' Fall 2023 "Art in the Barn" exhibition, Vignettes: one venue; three exhibitions this October 7th through October 15th. Schedule your visit on Eventbrite.