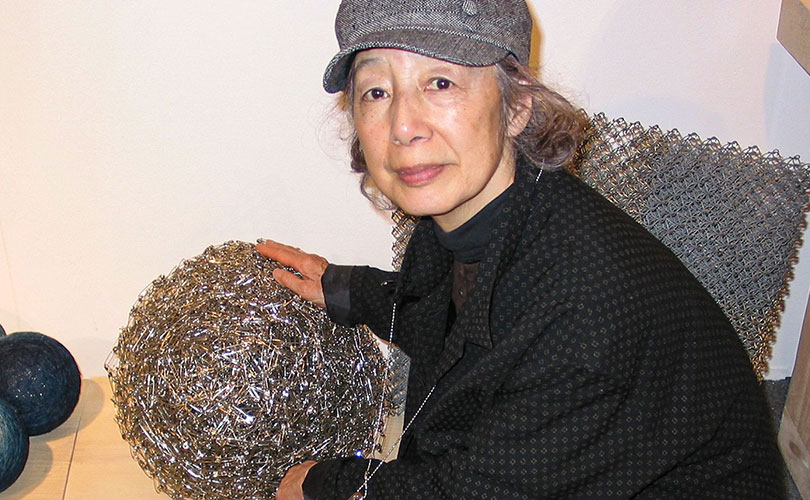 At first glance, Tamiko Kawata's work is elegant and engaging. On closer inspection, viewers grow more intrigued as they recognize the materials are unexpected — safety pins, rubber bands, used pantyhose and newspaper. She has created arresting jewelry, sculpture, "painting" on canvas and installations. "I like to use overlooked, indigenous objects from our daily life for my medium," she explains. "Discarded materials are important to me not only for environmental issues but also to reflect my current life." Kawata studied art in Japan, receiving her BFA in Sculpture at Tsukuba University.  She explains that she was influenced by Bauhaus and Dada, and then the emergence of the Gutai Group, a Japanese avant-garde movement that began in 1954. All three art philosophies were particularly interested in unconventional materials. "These philosophies became a foundation for my way of thinking and for my art-making direction," she says. In 1962, when she was 26, she came to New York, where she continues to live. 
While Kawata has made large works of newpapers and pantyhose, she is perhaps best known for her works made of safety pins. On arriving in the US, Kawata needed them to make her American-sized clothes fit. She found the pins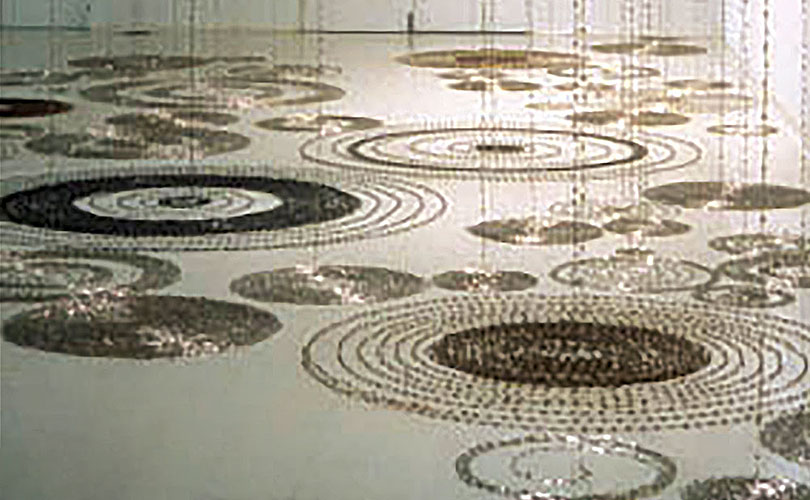 in abundance in a dime store and has explored their potential as an art material ever since. The extent of that potential is surprising. Kawata has used pins of different size and colors to create dramatic installation works, like Rain Forest in which chains of pins that end in circles on the floor recall a rippling pond in Kyoto and the victims of the bombing of Nagasaki and Hiroshima. "I wanted to connect this beauty of nature and the atomic bomb victims,"
 she has explained. She uses the pins to create standalone sculptures of all shapes that can be displayed indoors or out.  She uses them to "draw" on canvas, too.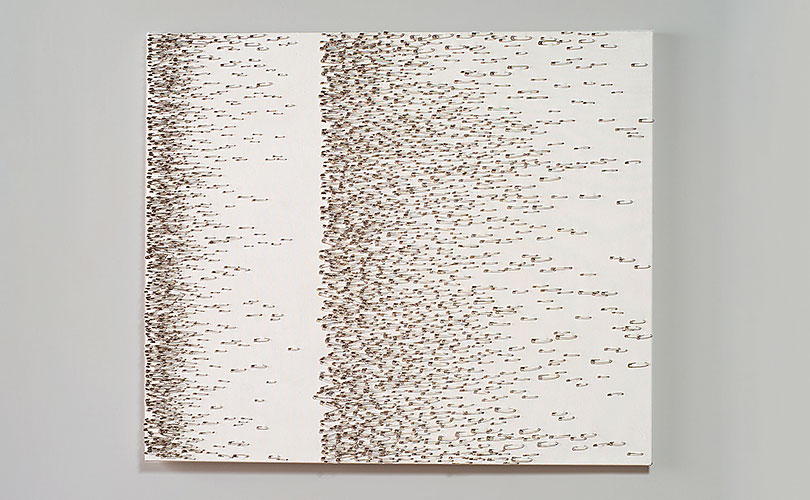 Works like Stillness Within, surprise viewers who think they are looking at a painting or drawing but as they draw nearer that the artist's "marks" are actually intentionally placed safety pins.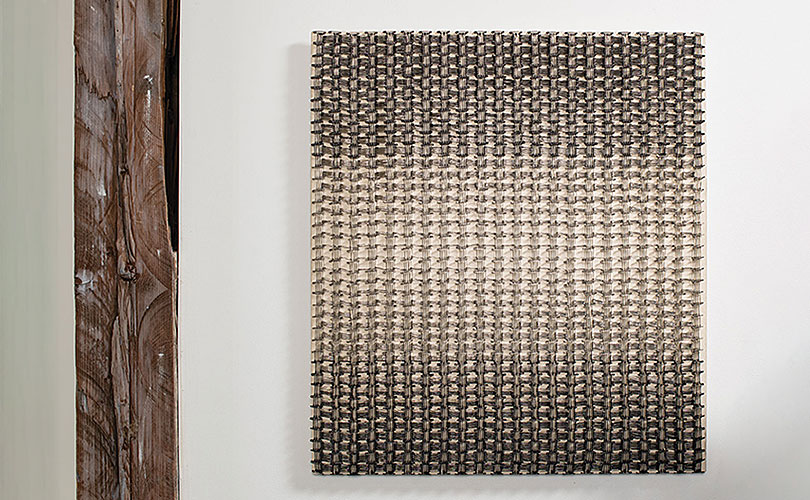 In Permutation 7, pins of different colors create a meditative mosaic.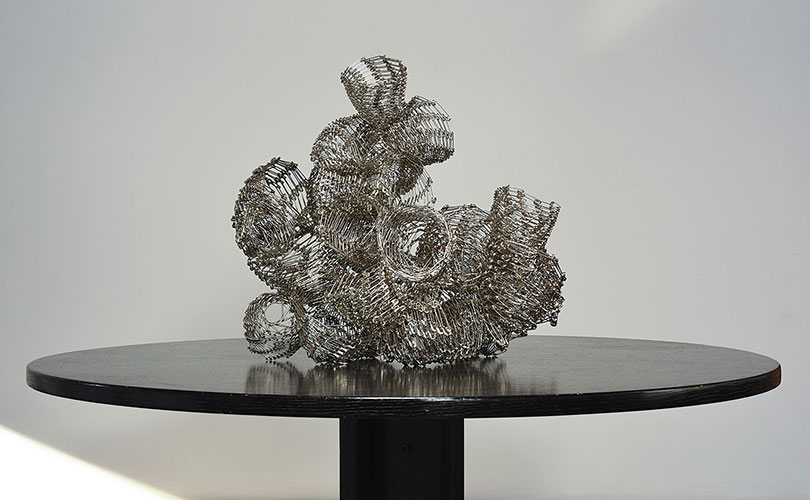 Kawata's work is in numerous collections, including: Museum of Arts and Design, New York, New York; Honolulu Contemporary Art Museum, Hawaii; Ishiguro Art Collection, Tokyo, Japan; Lafcadio Hearn/Yakumo Koizumi Art Museum, Matsue, Japan; Racine Art Museum, Wisconsin; Montreal Museum of Fine Arts, Canada; Williamsburg Art and Historical Center, Brooklyn, New York; Yusuke Aida Collection, Tokyo, Japan; Davis Brody & Bond Architects, New York, New York; Ishiguro Art Collection, Tokyo, Japan; LongHouse Reserve, East Hampton, New York; PREC Institute, Tokyo, Japan; Buenno Premesela Art Collection, Amsterdam, the Netherlands. She is the recipient of numerous grants and fellowships including the Ucross Art Residency; American Academy for Arts and Letters, 2015 Purchase Award; Meet Factory Art Foundation Award,Solo Show and Residency, Prague, Czechoslovokia; Pollock/Krasner Foundation Grant; McDowell Art Colony Residency and the Yaddo Art Colony, Louise Bourgeois Residency Award for Sculpture.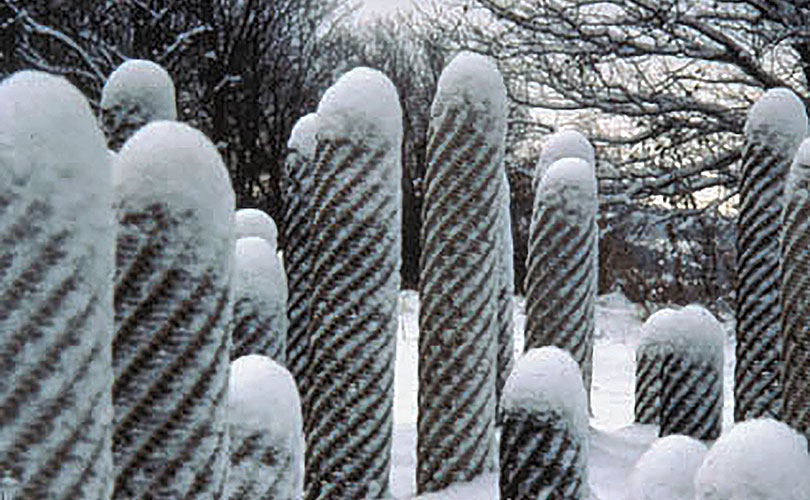 "My works are personal." she says. "They are my visual diaries."