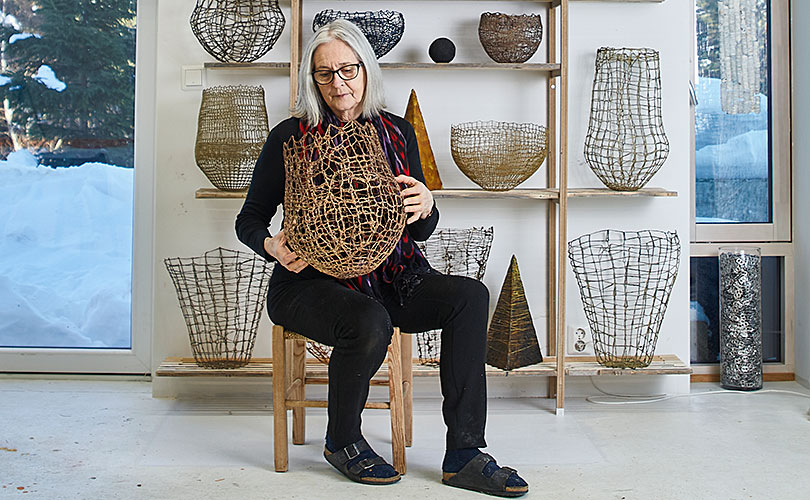 The Fall 2021 exhibition, Japandi: shared aesthetics and influences at browngrotta arts begins on September 25th and runs through October 3rd. It will explore common aesthetic approaches between artists in Scandinavian and Japan. It features 39 artists from Japan, Sweden, Finland, Norway and Denmark. One of those artists is Gjertrud Hals of Norway whose work will be shown at browngrotta arts for the first time.
Educated as a tapestry weaver, Hals soon began experimenting with other techniques. The manner in which fiber innovators Sheila Hicks, Claire Zeisler and Magdalena Abakanowicz explored the sculpture possibilities of the medium interested and informed her work. She has worked with fishing nets, cotton and linen threads, paper pulp, metals, crochet and lacework. Her breakthrough came in the late 1980s with Lava, an innovative series of urns made of cotton and flax pulp that were 3-feet high. These vessels marked her transition from textile to fiber art.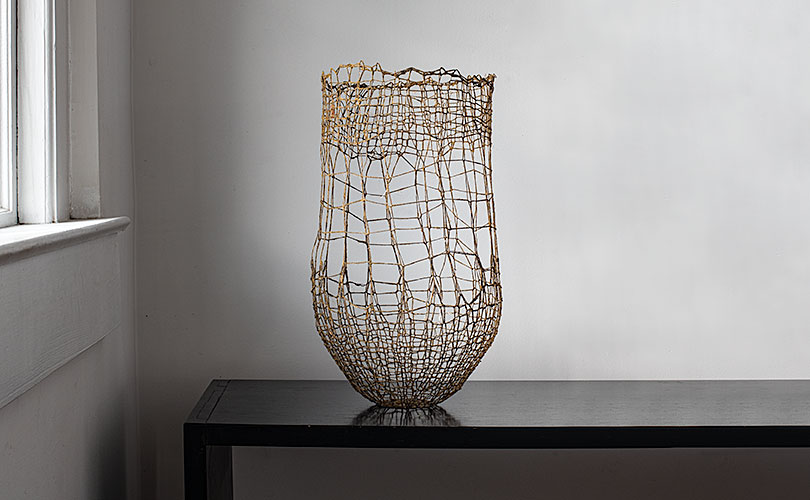 Hals has spent time in many countries, including India, Jordan, Norway and Japan. Her experiences there influence her work, in the ways the Japandi: shared aesthetics and influences exhibition seeks to highlight. "I was born and raised on a small island on the northwestern coast of Norway," she writes, "and this has to a large extent influenced my artwork. As a seasoned traveler I have observed many different cultures. Much of my artistic work is an attempt at expressing the connection between the islands micro-history and the world's macro-history."
Japan was one of the areas that has had a significant impact on Hals. "In my community, many men, and a few women, were working on ships sailing to America and the Far East. They were bringing home items from an exotic world; my uncle gave us a lamp of translucent shells that I never could get enough of! Since the few rare and exotic things we had in our modest post-war homes often were bought in places like Yokohama and Kobe, Japan early became the far away country I was dreaming of."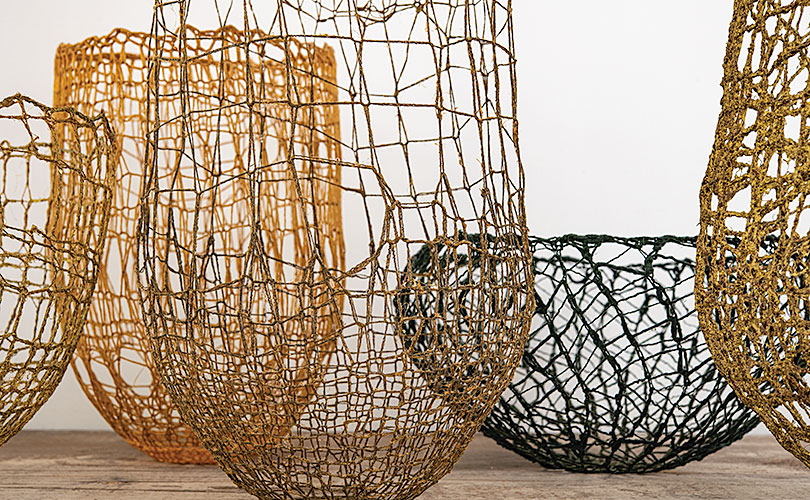 Hals became interested in Zen Buddhism as a young artist in the 70s. "Simplicity, meditation and paradox were aspects of Zen aesthetics that appealed to me.  So, when I eventually came to Japan, in 1989, I thought I was well informed." However, she was not prepared for Shintoism, she writes, Japan's ancient, nature-worshipping religion. which had a major impact on her. "Coming home, I felt a strong urge to find something in my own culture that could make sense of this experience. It led me to Voluspå; the Song of the Sybil, one of the most important epic poems in Norse mythology. Since then, I have returned to these sources again and again."
Arte Morbida writes that Hals' knitted vessels "show the close relationship between the three emotional components of our aesthetic perception: light, a living and impalpable material that conveys emotions and moods, shadow, that transforms and hides, and form, which gives body and substance to the idea."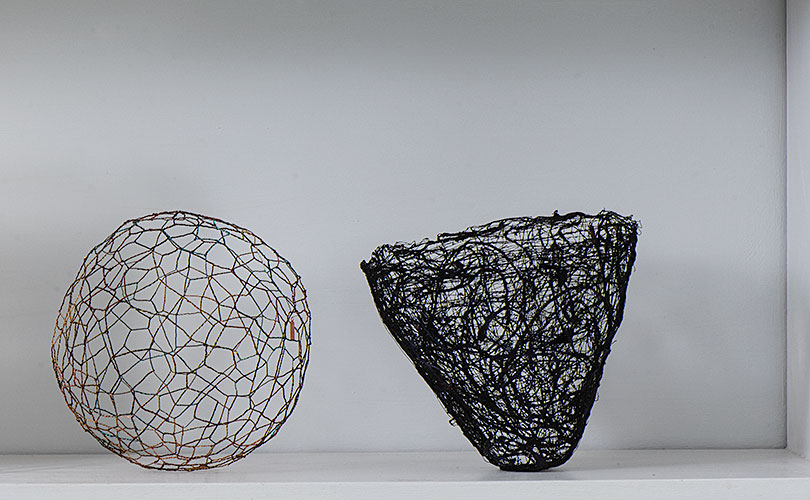 We are delighted to present eight of Hals' works at our upcoming exhibtion, Japandi: shared aesthetics and influences. The hours of exhibition are: Opening and Artist Reception: Saturday, September 25th: 11 to 6; Sunday, September 26th: 11 to 6; Monday, September 27th through Saturday October 2nd: 10 to 5; Sunday, October 3rd: 11 to 6; Advanced time reservations are mandatory; Appropriate Covid protocols will be followed. There will be a full-color catalog prepared for the exhibition available at browngrotta.com on September 24th.
Make an appointment through Eventbrite: https://www.eventbrite.com/e/japandi-shared-aesthetics-and-influences-tickets-165829802403.