The Fall 2021 exhibition at browngrotta arts,  Japandi: shared aesthetics and influences will celebrate affinities between Japan and the Nordic countries of Sweden, Finland, Norway and Denmark cultures through contemporary art. The show will feature 39 fiber and ceramic artists from Denmark, Finland, Japan, Norway, and Sweden. xJapandi is a hybrid union of Japanese and Scandinavian aesthetic approaches appreciated for its reverence for nature and natural, sustainable materials, exceptional craftsmanship, simplicity and minimalism, and the beauty of embracing imperfection. This union evokes a visual and physical sense of calm and tranquility. The exhibition will run from September 25 through October 3, 2021.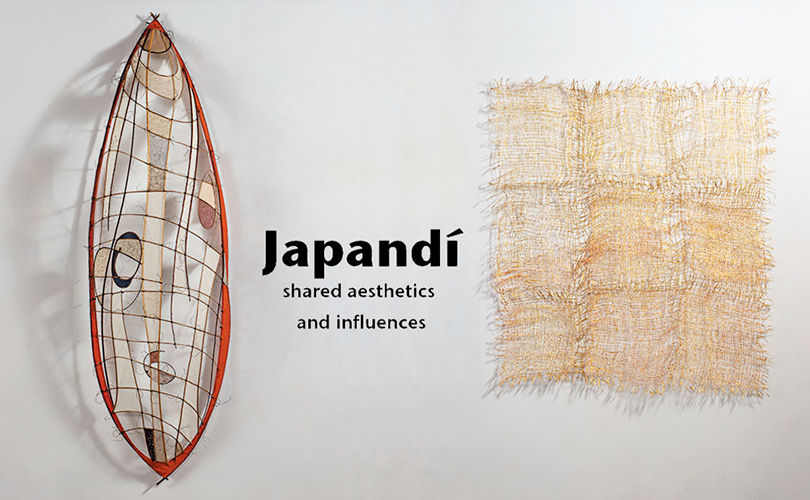 While attention on Japandi style may be currently popular, the interest in this merge of aesthetics is far from new. Artists and designers from the Nordic countries and Japan have been observing the parallels in their work and cultures for decades. Cultural and geographic elements made the Japanese work particularly appealing to Scandinavian artisans when it was first introduced to artists in the region in the 1800s. Both Japan and Northern European countries are deeply wooded and both have developed acclaimed woodworking traditions — in Scandinavia, techniques used by the Vikings and to protect against brutal winters, writes Danielle Johnson (Japonisme and the Origin of Modern Scandinavian Design," OOKKUU, November 04, 2016.) The Japanese introduced new techniques, simplified forms, and most importantly, an approach towards woodworking that the Scandinavians deeply appreciated. The Scandinavians witnessed the fine craftsmanship and the sense of the natural materials that Japanese artisans brought to their work — particularly the manner in which the Japanese explored the wood's essence, using minimal, refined designs so as not to detract from the experience from the viewer's engagment with the materials. 
"[B]oth cultures have developed in harsh natural environments that humans cannot control. I feel a common point for us is how to live comfortably with nature." Kato Saeko, curator of The Shop at the cultural centre Japan House, London. ("The rise of 'Japandi' style," Clare Dowdy, BBC Online, October 2019.) Finland's Ambassador to Japan, Pekka Orpana, also acknowledged the respect for nature shared by the regions. "We come from different cultures and are very far apart, but it's actually quite surprising how similarly [the Finnish and Japanese] visualize and see our way of life …. We have a lot of similarities that unite us … for instance, how we appreciate nature and design."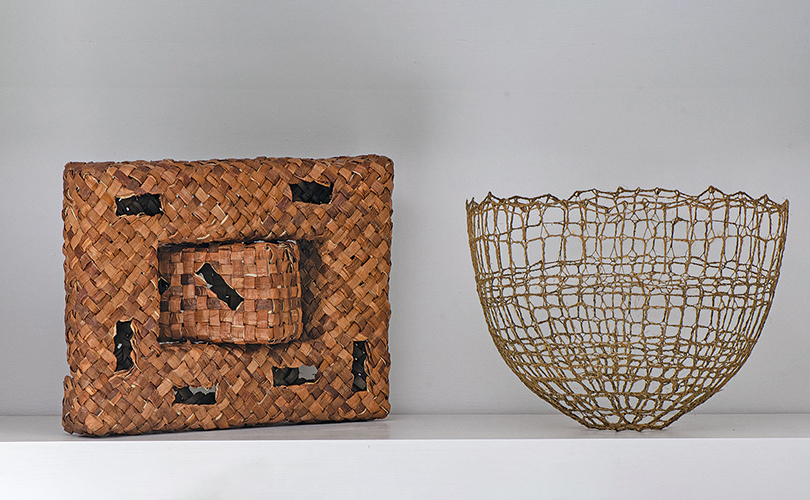 Hisako Sekijima, one of the artists in Japandi, has recognized, and embraced, the influences the cultures share. She sees a greater kinship in her approach to that taken by Nordic artisans than to the traditional aesthetics of her native Japan which are often ascribed to Zen spirit or a stylized empathy to nature in terms ofka-cho-fu-getsu (natural imageries of flower, bird, wind and the moon). Her explorations into the elegant or logical interplay between natural materials and structural methods have more to do with elemental processing of materials than emotional expressions. "When I use a branch of tree to make a basket, it becomes a kind of abstract component — a linear element with a certain role. For example, when a branch becomes a tool used to reach fruits on a high branch." She sees a similar similar shifting of the materials' nature in the Scandinavian object making. "Their manner is straightforward and elemental as well as universal."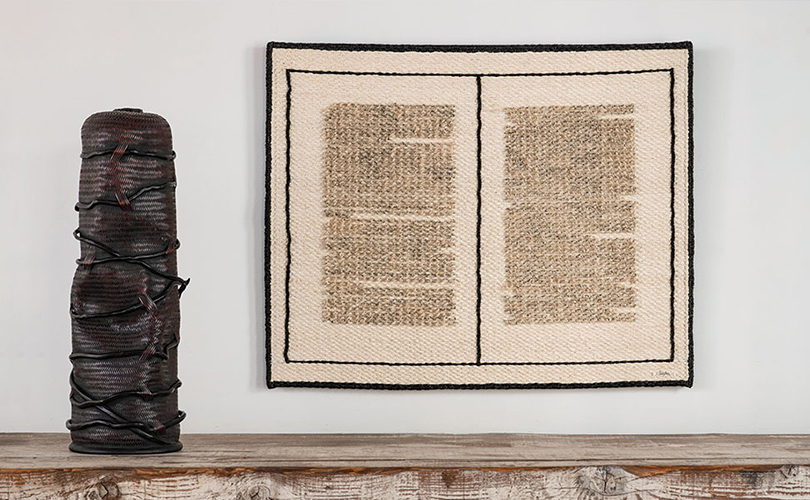 Paper is another natural material that Japanese and Nordic artists highlight in their work. "Simplicity, purity and a respect for materials is intrinsic to Japanese craft and their work links East and West by celebrating the inherent properties of paper (some areas are softly translucent, and overlaid areas exploit varying opacities) and accurately balancing material, technique and form, " writes Sarah E. Braddock, textile lecturer, writer & curator (Project Papermoon catalog, Denmark, 2000) It was in Japan where  Swedish artist Eva Vargö first experience how Japanese washi paper, especially when produced in the traditional way, exhibits a unique quality. The most interesting, in her view, was to experience how light filters through papers from lamps, paper shoji screen doors and windows. Danish artist Jane Balsgaard spent time in Japan in 1993 and 1998, preparing for exhibits there. Works of paper and twigs were the result. In her work, white paper often contrasts the dark color of the willow twigs.  "Another element in her works that has connection to Japan," writes Mirjam Golfer-Jørgensen, "is the skeleton, that partly  frames the paper, partly combines with the hollows in the constuction, and gives another character to the paper that with a lightness that creates a contrast towards to the hollows." (Influences from Japan in Dansh Art and Design 1870 – 2010, Mirjam Golfer-Jørgensen, Danish Architectural Press, 2013.)
Join us at Japandi: shared aesthetics and influences to see more ways in which these influences are exhanged and expressed. The hours of exhibtion are: Opening and Artist Reception: Saturday, September 25th: 11 to 6; Sunday, September 26th: 11 to 6; Monday, September 27th through Saturday October 2nd: 10 to 5; Sunday, October 3rd: 11 to 6; Advanced time reservations are mandatory; Appropriate Covid protocols will be followed. There will be a full-color catalog prepared for the exhibition available at browngrotta.com on September 24th.