This year's annual Art in the Barn exhibition at browngrotta arts, art + identity: an international view, opens on April 27th with an Artists Reception and Opening from 1 p.m. to 6 p.m. at 276 Ridgefield Road, Wilton, CT. From April 28th through May 5th, you can view the exhibition from 10 to 5.
In art + identity, more than 50 artists explore the influence that birthplace, residence, travel and study have had on the development of their art. The work reflects the influence of five continents and includes art textiles, sculpture and ceramics and mixed media. The artists have lived and worked in 22 countries including Japan, Finland, Nigeria, India, Russia, Israel, Canada, Chile and the US. These artists' approaches to the theme are decidedly individual but similarities and differences among their works create an intriguing dialogue about the influence of culture and geography and spur questions about the universality of art.

Among the artists participating is Gudrun Pagter of Denmark, whose work reflects a serene and abstract Scandinavian sensibility. American Mary Merkel-Hess is inspired by the prairie of her native Midwest. Her work, Last Light, was inspired by a line from Willa Cather, "the whole prairie was like the bush that burned with fire and was not consumed."  Stéphanie Jacques from Belgium looked inward to explore identity, creating a structure of cubes and parallelepipeds made of willow. "I dance in my studio," she says, "searching through my movement for a relationship with this form.  I set up the camera and take photos.  My face is veiled. The frame is fixed.  As the shooting advances, a story appears….A series of portraits follows….Each image incarnates a new state, another state." American artist Norma Minkowitz' work, The Path, also speaks to the personal and the universal — "the path we each take regardless of who we are or where we began."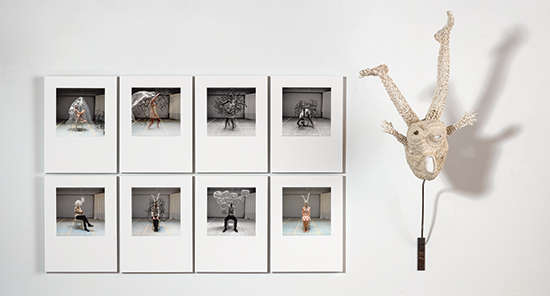 For other artists, that sense of place is broader, transcending boundaries and reflecting effects of increased exchange among artists. "This exhibition of works transcends international borders, " notes Dawn MacNutt of Canada, whose work in art + identity was inspired by ancient Greek sculpture viewed at the Metropolitan in New York and then in Greece. "My association with some of these artists goes back to the Lausanne Biennale in 1985 and the American Craft Museum's Fiber: Five Decades in 1995. browngrotta arts provides an ongoing museum/gallery/melting pot of the work of international artists in textile materials and techniques. It also fosters the meeting together of the artists themselves…a rare opportunity and the icing on the cake!"

art + identity: an international view, April 27th-May 5th. browngrotta arts, 276 Ridgefield Road, Wilton, CT 06897. 203.834.0623. For more info, visit: www.browngrotta.com.