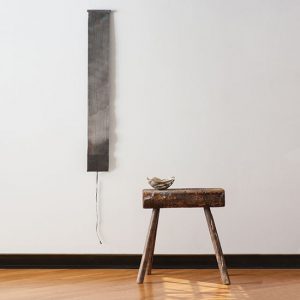 We are continuing our celebration of New York's Asian Art Week in this post. Many of the artists who work with browngrotta arts have spent time in Japan, studied Japanese art or methods or simply cite Japan as an important influence. Check out the Selvedge magazines Japan Blue issue, published in August that includes an article on Naomi Kobayashi and one, by Rhonda Brown, about the influence Japan has had on four artists who work with bga HERE.
Examples of this influence abound. Kay Sekimachi, for example, is a Japanese American, born in the California Bay area. During World War II, she was interned with her family in relocation centers for two years. There she learned origami and to paint and draw. She did not visit Japan until 1975, but she has said that when she reached her mother's village, "I felt like I was coming home." She brought back silk cocoons and later her aunt sent her banana fiber from Japan that she incorporated into her paper bowls. References to Japan in her oeuvre are inescapable — from the towers she has created from antique Japanese paper, to the delicate flax and paper bowls she makes in shapes that mimic Japanese porcelain to her series of takarabako or woven boxes.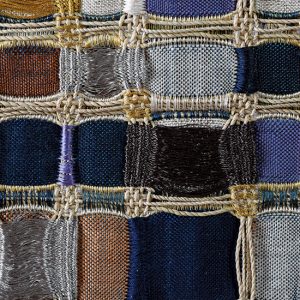 Jennifer Falck Linssen uses an ancient Japanese paper carving skill – katagami – to create her. Katagami are handcarved flat paper stencils. This 1,200-year-old technique is traditionally used to resist-print kimono textiles in katazome. By drawing with a small knife on mulberry and cotton papers and shaping this carved paper into three-dimensional sculpture, Linssen recontextualizes the humble stencil – sculpting forms of pattern, shadow, and light.

In Venezuela, Eduardo Portillo and Maria Eugenia Dávila, create complex textile works of multiple materials. Their works are woven using Orinoco moriche palm fiber, wool and cotton, dyed with indigo, cochineal and eucalyptus, copper and metal yarns and their own cultivated silk — as they have established the entire process of silk manufacture growing mulberry trees on the slopes of the Andes, rearing silkworms, obtaining the threads, coloring them with natural dyes. The couple devoted 10 years to the study of indigo dye and its culture in Japan and other countries in Southeast Asia before embarking on this work. They aim to promote an understanding and appreciation of natural dyes as an element in textiles, its importance as a means to preserve and disseminate cultural values and as a medium of contemporary expression.

For Katherine Westphal, the influences of ethnic and folk art — African, Japanese and Indonesian were found in her textiles, sculptures, baskets, prints, drawings and items of wearable art. She created many garments inspired by ethnic clothing – primarily Japanese and Chinese prototypes. Her participation in the Wearable Art movement validated this activity, writes JoAnn Stabb, and brought it recognition. In particular, at the invitation of the American Crafts Council headquarters in New York, she led a four-person contingent who presented several lectures and workshops on "Wearable Art from North America" at the World Crafts Council international symposium in Vienna, Austria, in 1980.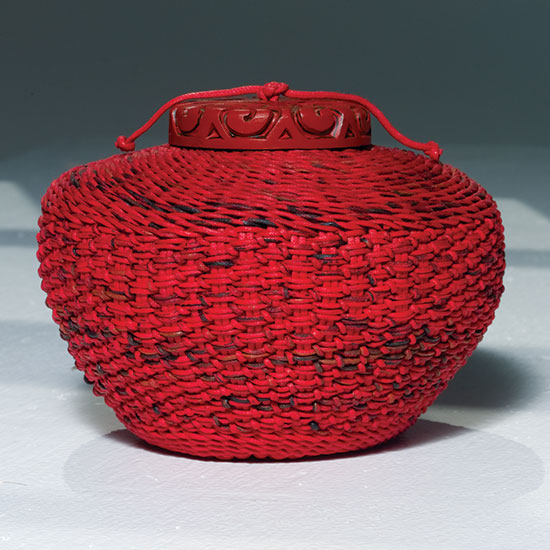 "I am interested in the 'traditional' as a reference point, not as a boundary," says Nancy Moore Bess. A California native, Bess has lived in Japan and authored, with Bibi Wein, Bamboo in Japan (Kodansha International, Tokyo, Japan 2001). Her first trip to Japan in 1986 defined the course of her work for the next three decades. "Japan has influenced my work in many ways," she writes, "but they all overlap – traditional packaging, basketry, bamboo, the crossover influences of East/West, the vocabulary of defining beauty and craftsmanship." In works like Boxed Packages, one can find allusions to packaging techniques like tsutsumu. Other works reference traditional forms such as tea caddies. Her Sabi Tea Jar series, for example, was inspired by old, sometimes rusty, water jars used in tea ceremony that she found at flea markets. 

Don't forget to check out our online exhibition, An Unexpected Approach: Exploring Contemporary Asian Art Online by visiting browngrotta arts' YouTube channel (HERE) and view each individual work in the exhibition on Artsy (HERE).