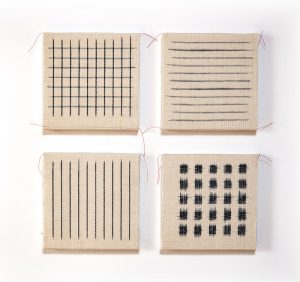 As we noted in our last two blog posts, Anni Albers has been a profound influence for artists worldwide. Albers' ability to combine the ancient craft of hand weaving with the language of modern art, finding within the two a multitude of ways to express modern life, led her to inspire numerous artists, from browngrotta arts, including Sue Lawty who wrote about her Albers' influence on arttextstyle last week.
Fellow weaver and fiber artist Kay Sekimachi loved both Albers' work and writings. When discussing Albers' weaving method Sekimachi quoted Albers' admonition, "You just have to listen to the threads," adding, "that's what keeps me going." Sekimachi says that Albers' book On Designing has served as her weaving "bible."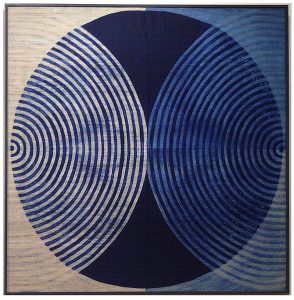 Neha Puri Dhir, an India-based textile artist, whose captivating geometric-based work will be featured in our upcoming Art in the Barn exhibition, Art + Identity: an international view, has also been influenced by Albers. "I have always found Anni's work as a modernist textile artist revolutionary. Her work has a visual language of simple and direct compositions which has deeply influenced my art practice." Dhir believes the way in which she expresses interactions of colors and forms as simple compositions in her own work has been unconsciously inspired by Albers. Dhir has embodied Albers' step-by-step approach to exploration, making that the underlying sensibility of her art practice.
Mariá Dávila and Eduardo Portillo have approached Anni Albers' legacy with intention. In late 2018, the couple spent a month at the Josef and Anni Albers' Foundation in Bethany, Connecticut. The Foundation maintains two residential studios for visiting artists who exemplify the seriousness of purpose that characterized both Anni and Josef Albers. The residencies are designed to provide time, space, and solitude, with the benefit of access to the Foundation's archives and library. The couple wrote to us a few times during their stay.Today we were at the Albers archive, we found the notes for the Annie's book On Weaving and were very near to some of her works — a special day. Now our days are very intense, daytime for the Library, nighttime for the Studio. During these days we have been devoted almost completely to study Josef's and Anni's work and thoughts. It has been very helpful in understanding our own process. We are not working on the loom now, you will find us surrounded by books and  draft papers."

When we visited them in Bethany in December, they told us:"The silence and the beauty here is a gift. Our lives at home are so busy and so intense that it is hard to focus and think about our work and its direction. Here, we are living an almost monastic life, studying and thinking nearly full-time spurred by the example of the Albers who were remarkably prolific."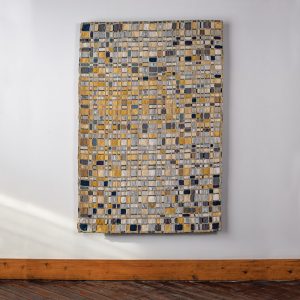 "The Foundation has thousands of works, which they are cataloging. Anni's loom is here, but we did not come here to weave, but to think and study. We are very interested in her pictorial works — where she tried to embody something tangible, like the sun or a landscape, metaphorically, in a weaving."

"This place is unique, educating, mutating, extraordinary — so many adjectives you could choose. Anni opened the door for people to think about textiles differently. Now, with the Tate exhibition, she will open doors again."
And on reflection, when the residency was nearly over: "Just a sentence, a few of her words, has been enough to enlighten our path. Her clear vision on how a weave is created allows us to transit with confidence to experimentation through the threads and the interchange that exists between ideas and materials. Revisiting her work makes us witnesses to her legacy."