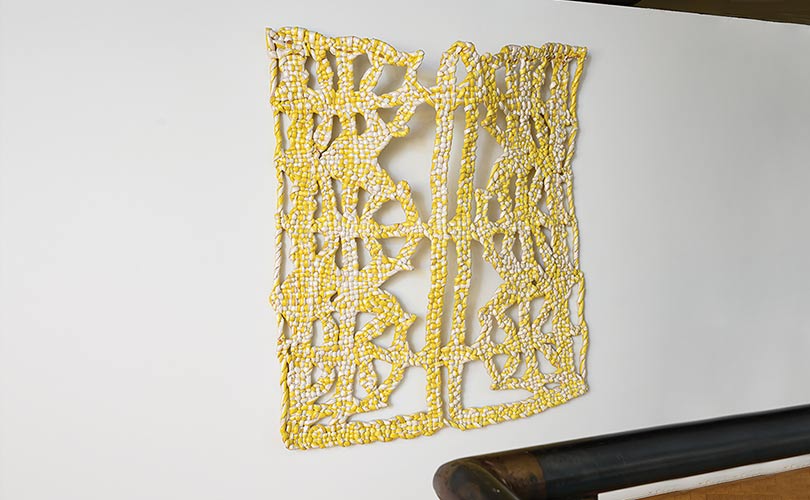 Our Spring "Art in the Barn," Acclaim! Work by Award-Winning International Artists, is a truly stellar event. We've gathered work by 51 luminaries in art textiles, sculpture and mixed media for this exhibition. Each of them has achieved some formal recognition — an Artist of the Year Award, Lifetime Achievement Award, a Gold Medal or honor from a king (of Sweden) or queen (of the UK). Works from the 60s join works from 2023 — offering viewers perspective on the contemporary fiber art movement from its origins to the present. Here's your sneak peak at the work by some of the best-known of the prominent artists that make up Acclaim!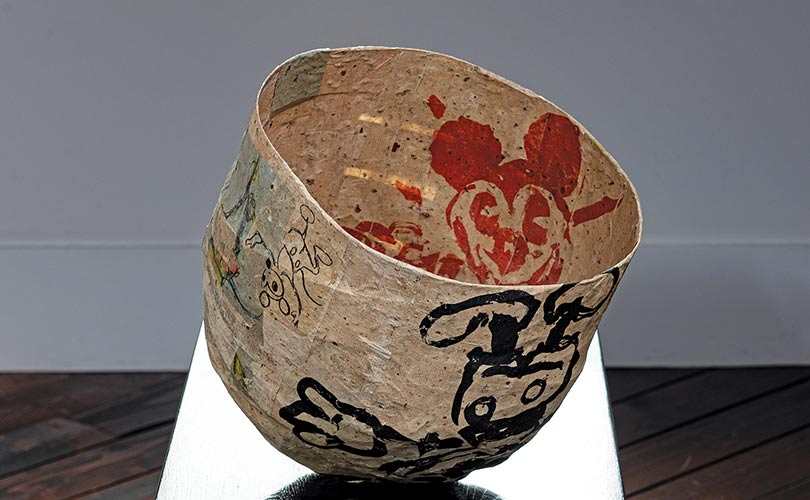 Among the artists included in Acclaim! is Ed Rossbach. Rossbach is known as the "father of contemporary basketry." Relentlessly inventive, he experimented with materials and techniques and encouraged and inspired others to do the same. Acclaim! includes two quintessential examples of Ed's ouevre. One is a wall hanging, Gateway, constructed of plastic, tape, and foam rubber, which now seems like a particularly prescient contemplation on the intersections between materiality and climate change. The other work, The New Mickey Bowl, is a large basket featuring Mickey Mouse. Rossbach often used pop imagery in his work, including John Travolta and pages from Sports Illustrated, but Mickey Mouse for an image he used repeatedly in various forms, woven, transferred, crocheted. There was irony in the choice. Rossbach said, "I like Mickey Mouse. I think it's partly because it's a defensive attitude on my part, that what people think very much is Mickey Mouse. They refer to the classes that you teach as Mickey Mouse classes, and everything is just dismissed as, 'It's Mickey Mouse.'" Rossbach found that embracing Mickey was a way to respond. "So I put a Mickey Mouse on baskets and the most elaborate textile; I wove Mickey Mouse in double damask," he told an interviewer laughing. "I did him in ikats. I've done a lot of Mickey Mouses. And Mickey Mouses sell," he added wryly.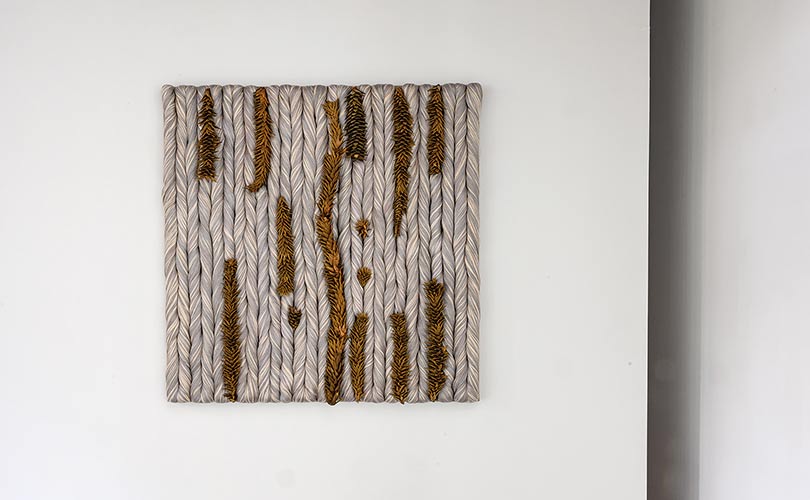 From Sheila Hicks we have Araucaria, which incorporates cones from a evergreen coniferous tree. Hicks is a lauded American artist known for her innovative and experimental weavings and sculptural textile art that incorporate distinctive colors, natural materials, and personal narratives. Her diverse approach to textiles put her at the center of the burgeoning Fiber Art movement of the 1960s and '70s, in which artists, were inventing new possibilities for pliable mediums. As the Museum of Modern Art has noted, Hicks is "[c]aptivated by structure, form, and color, she has looked to weaving cultures across the globe to shape her work at varying scales." Hicks has exhibited internationally in both solo and group exhibitions. She was included in the 2017 Venice Biennial, 2014 Whitney Biennial in New York, the 2012 São Paulo Biennial in Brazil. Recent solo presentations include Lignes de Vie at the Centre Pompidou in Paris in 2018 and Free Threads 1954-2017 Museo Amparo, Mexico." A major retrospective, Sheila Hicks: 50 Years, debuted at the Addison Gallery of American Art and traveled to the Institute of Contemporary Art, Philadelphia and the Mint Museum, Charlotte, NC.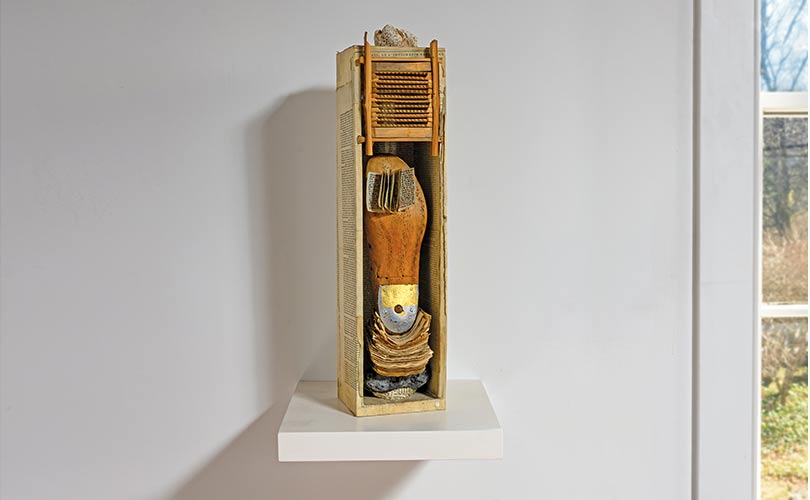 We have two works by Lenore Tawney in this exhibition. Lenore Tawney (1907 – 2007) was an American artist known for her groundbreaking work in fiber as well as for her drawings, collages, and assemblages. She, like Sheila Hicks, was at the center of the move to take textiles off the loom and off the wall. Her imagery and invention extended to her collages. There are two of those included in Acclaim!, Gift Pipe and The Book of Foot. They are both examples of Tawney's collages that mixed found objects, newsprint and her drawings. She sent hundreds of postcard collages with cryptic, sometimes humorous messages to friends.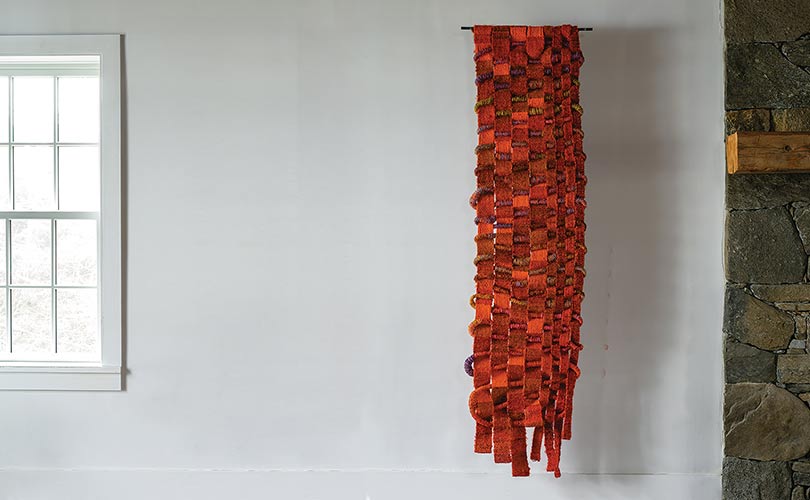 An early weaving by the Colombian artist Olga de Amaral is included in Acclaim!. Columnar Untitled is a vividly colored tapestry that incorporates horsehair. She is an important figure in the development of Latin-American post-war abstraction. She is known for her large-scale abstract works made with fiber, gesso, paint and prescious metals. She studied at Cranbrook Scool of Art, As her website explains, "she transforms the two-dimensional textile structure into sculptural presences that seamlessly blend art, craft, and design. I their engagement with materials and processes, her works become essentially unclassifiable and self reflective.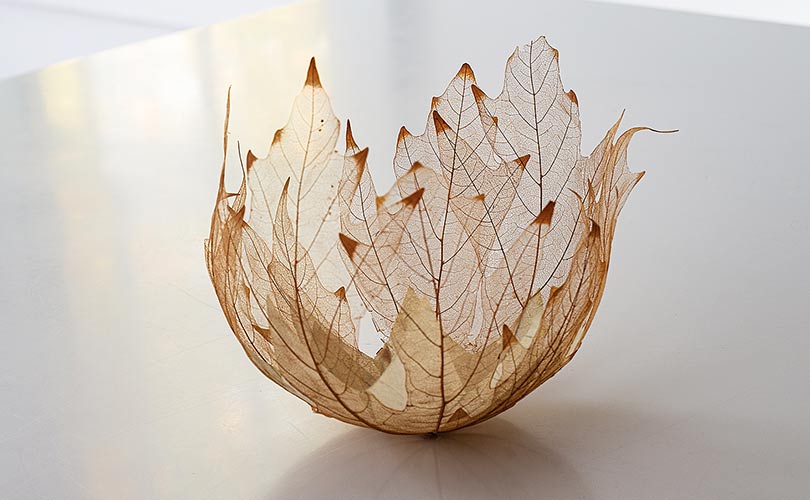 Also included in Acclaim! are two rare works by Kay Sekimachi. Sekimachi is an American fiber artist and weaver, best known for her three-dimensional woven monofilament hangings as well as her intricate baskets and bowls. The Smithsonian describes her artistic journey this way: "Kay Sekimachi learned to make origami figures and to paint and draw while in an incarceration camp for Japanese Americans during World War II. She enrolled at the California College of Arts and Crafts in 1946, spent two summers at the Haystack Mountain School of Crafts in Maine, and by 1949 was weaving large, complex wall hangings. In the late 1970s, Sekimachi began to create small pots and bowls that combine Japanese paper with materials left over from her weaving." In Acclaim! we'll exhibit one of Sekimachi's prized leaf bowls and a blue paper basket through which threads are incorporated.
Hope you can join us later this month or in early May for Acclaim! Details appear below:
Location:
browngrotta arts
276 Ridgefield Road Wilton, CT 06897
Artist Reception and Opening: April 29, from 11am to 6 pm
Remaining Days:
Sunday, April 30th: 11AM to 6 PM (40 visitors/ hour)
Monday, May 1st – Saturday, May 6th: 10AM to 5PM (40 visitors/ hour)
Sunday, May 7th: 11AM to 6PM [Final Day] (40 visitors/ hour)
Protocols:
Eventbrite reservations strongly encouraged • No narrow heels please (barn floors)
Reserve a spot: https://www.eventbrite.com/e/acclaim-work-by-award-winning-international-artists-tickets-568340761517?aff=ebdshpsearchautocomplete