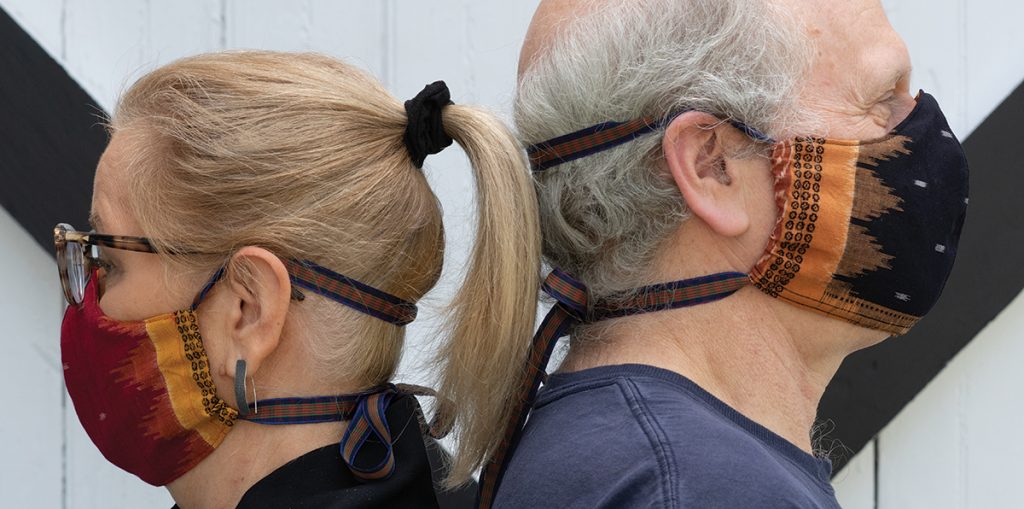 Jo Barker wrote us earlier this spring, "The creative community is well set for these isolating few months as we work in that way so much anyway." Spurred by her remarks, last month, Rhonda and Tom sent a photo of themselves in masks made by Blair Tate asking our artists for specifics: "How have you coped with social distancing, sheltering in place and all the other changes brought on worldwide by COVID 19?" Here is the first in a series of their replies:
Scott Rothstein and his wife left Europe on one of the last flights out and it was packed.After that exposure, each had mild cases of what they think was the virus, but after that,"[i]n an almost surreal way, my days are not much different than before… just spending time in my studio." His soundtrack of the pandemic is something that was posted at about the same time that we all started staying in — a solo piano concert by the Latvian pianist Vestard Shimkus. https://bit.ly/2YTzrRt Vestard is a friend of Scott's who he rates one of the best youngish pianists playing today. The music "does take the listener out of this world and into another… which is a pretty nice things these days."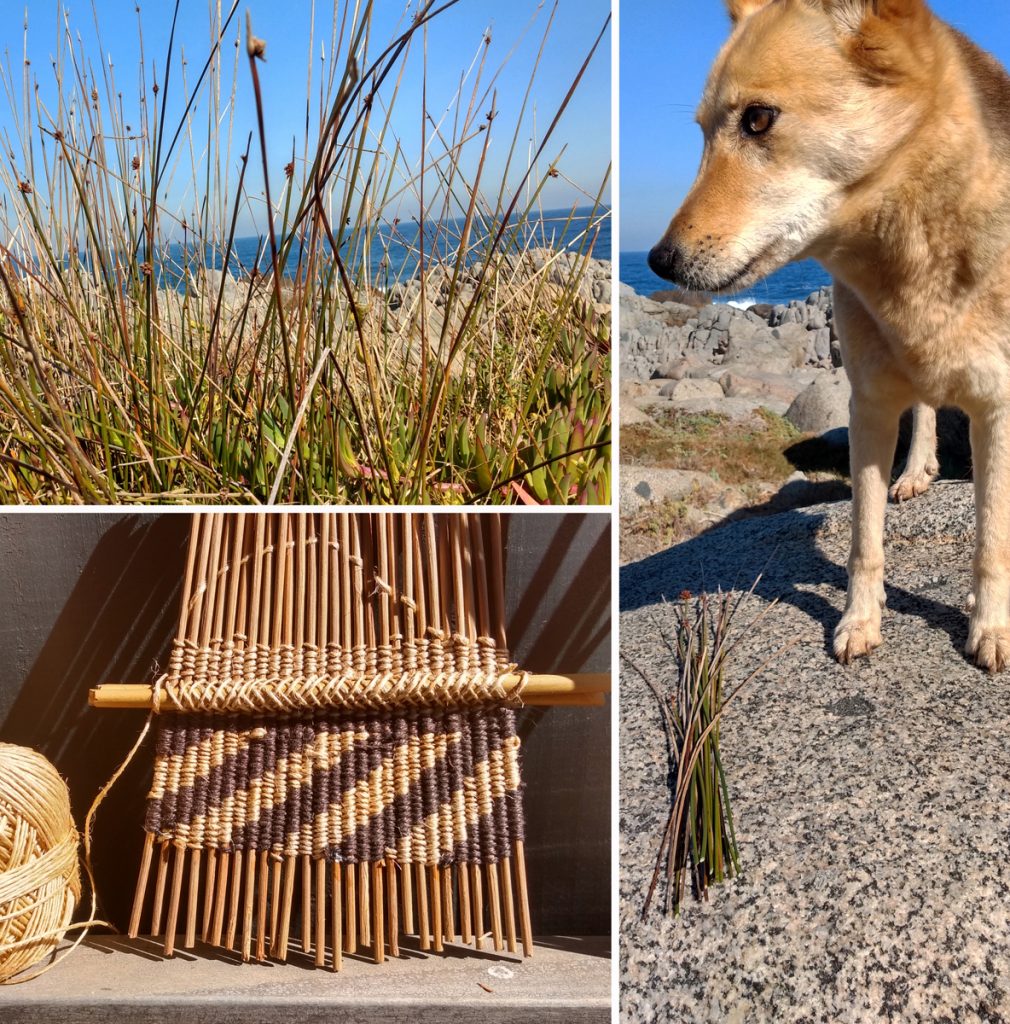 "With the Coronavirus, I have found myself working from home in Isla Negra," writes Carolina Yrrázaval from Chile. "It is a little town by the sea. It is impossible to find the material I need here to continue with the weaving that I had started. Due to this, I began to look for new creative possibilities in my natural surroundings. Wandering amongst the rocks with my dog, Laika, we came across this plant that reminded me of pre-Columbian combs. It has been an interesting project that is still in progress."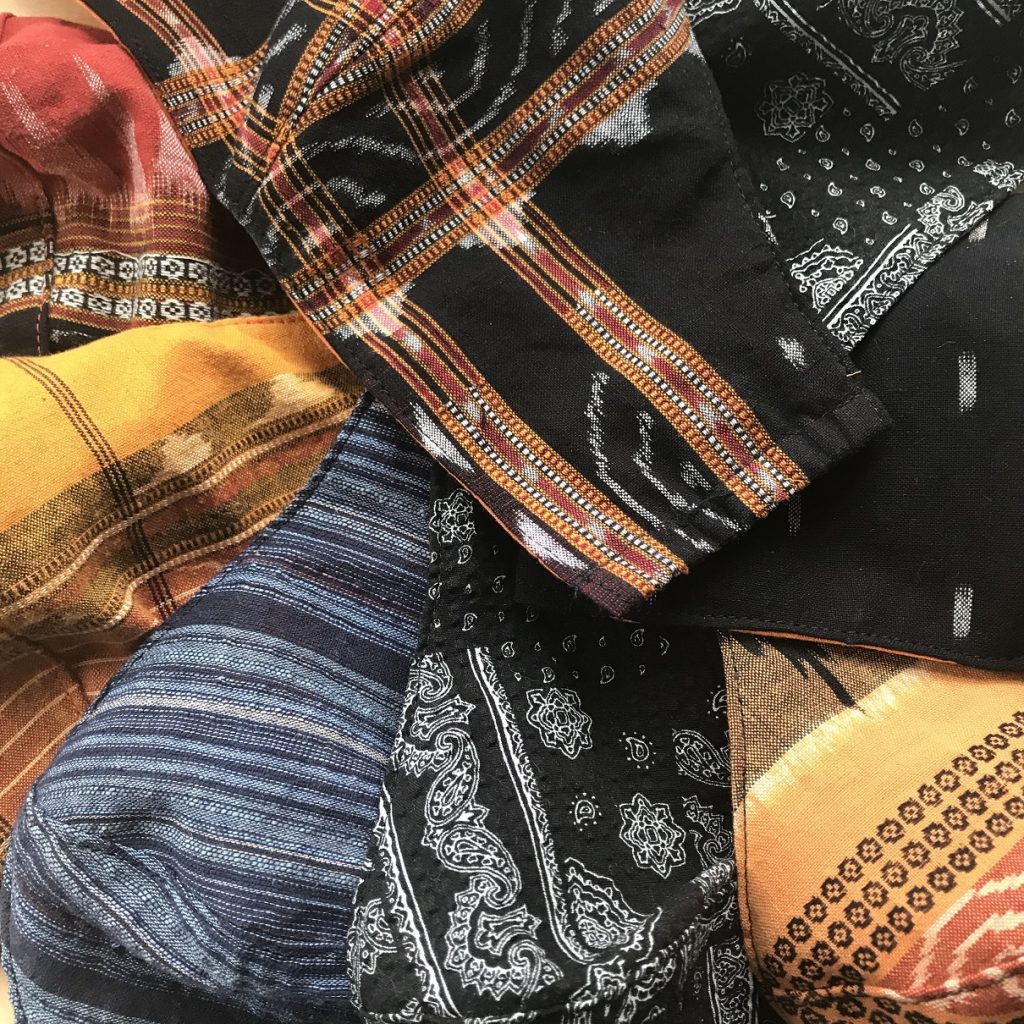 "All still healthy in the epicenter…" wrote Blair Tate from Brooklyn, New York in April. "Just finished sewing my 20th shaped cloth mask for neighbors and friends. They've been scattered to the winds at this point. Have 72 of the pleated kind cut and awaiting elastic (en route from Japan for last 2 weeks) so I can sew for a care center nearby." Blair sent us two – made from pre-washed/pre-shrunk cotton Indian dupatta scraps. Inside lining is cotton face out with poly back (Welspun sheet fabric from many market developments ago) so quick dry. and a sleeve for the nose wire to let the wearer to pinch the wire to grip when wearing.
Stay Safe, Stay Separate, Stay Inspired!