Art, architecture and the environment are upcoming topics for guest bloggers on arttextstyle.com over the next few months.
In February, architect  David Ling will write about studying glass at Haystack Mountain School of Craft in Maine a follow up to Hisako Sekijima's 2013 blog about teaching basketry in the same session. Ling founded David Ling Architects in 1992 after training with Richard Meier, I.M. Pei and Emilio Ambasz. Ling has held teaching positions at Parsons School of Design and University of Nuremburg and has served on design juries at Interiors Magazine, Harvard Graduate School of Design and Columbia University. The essence of Ling's architecture is the artistic integration of space, form, light and function enriched by materiality. Among his design projects is the home/office of browngrotta arts.
Artist Wendy Wahl will write three posts about art, environment and ideas — the first to appear in mid-February. Wahl's work has been exhibited internationally and is in a number of private and public collections including the Cooper-Hewitt Museum, New York and the Museum of Art, Rhode Island School of Design. Her work has been the subject of exhibitions at the Grand Rapids Art Museum, Michigan, the Newport Art Museum, Rhode Island and the Fuller Craft Museum in Massachusetts.
In March, artist Gyöngy Laky's Process Notes; Red in Art and Life will also appear on arttextstyle. Laky's sculptural forms have been exhibited in museums and galleries throughout the United States. Internationally, her work has been exhibited in France, Sweden, Italy, Holland, Switzerland, Hungary, Lithuania, Colombia, the Philippines, China, with one-person exhibitions in Spain, Denmark and England. Her outdoor site-specific installations have been exhibited in the US, Canada, England, France, Austria and Bulgaria. From April 26th to May 5, 2014 Laky's baskets and wall sculpture will be included in Of Two Minds; Artists Who Do More Than One of a Kind.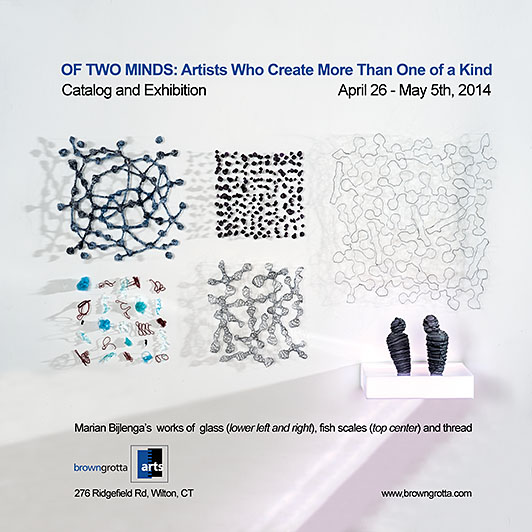 In March, readers will learn about the creative journey Dutch artist, Marian Bijlenga has taken, as she muses on 30 years of work. Bijlenga's "spatial drawings "of horsehair, paper, thread and fish scales have been exhibited worldwide. Her work is represented in major museum collections including LongHouse Reserve; The Museum of Art & Design; The Craftmuseum, Finland; Musée des Beaux-Arts et de la Dentelle, Calais, France; and the Stedelijk Museum, Amsterdam. Bijlenga's wall works and glass sculpture will be featured this April in Of Two Minds; Artists Who Do More Than One of a Kind at browngrotta arts.