browngrotta arts' Fall "Art in the Barn" exhibition, Japandi: shared aesthetics and influences opens on Saturday, September 25th at 11 a.m. and runs through October 3rd. The exhibition features 39 artists from Sweden, Finland, Norway, Denmark and Japan and explores artistic affinities among artists from Scandinavia and Japan. Artwork and design from these areas often incorporate several elements — natural materials and sustainability, minimalism and exquisite craftsmanship. In addition, some observers see similarities between the Japanese concept of wabi-sabi and the Scandinavian concept of hygge as making up a fourth aesthetic element that the regions share.
Writer Lucie Ayres notes that, "[i]n traditional Japanese aesthetics, wabi-sabi (侘寂) is a world view centered on the acceptance of transience and imperfection. The aesthetic is sometimes described as one of beauty that is imperfect, impermanent, and incomplete (rough and organic textures. worn and weathered objects, colors that mimic nature) …. Hygge is a [related] Danish and Norwegian word for a mood of coziness and comfortable conviviality with feelings of wellness and contentment (soft textures, sentimental items, comfortable environs)."  ("A Knowledge Post: The Difference Between Wabi-Sabi, Hygge and Feng Shui," Lucie Ayres, 22 Interiors, March 26, 2020).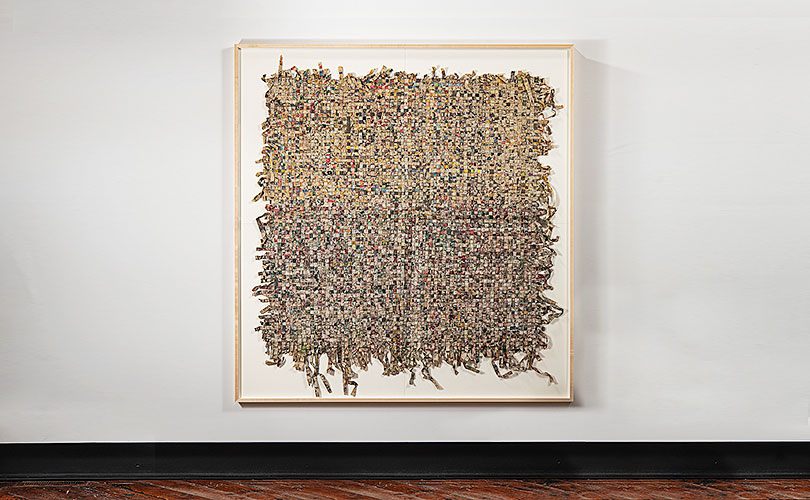 Several artists in the Japandi exhibition evidence an appreciation for repurposing and appreciating materials as wabi-sabi envisions. Toshio Sekiji's works are made of newspapers from Japan and India; one of Kazue Honma's works is of Japanese telephone book pages. Paper is a material that creates an atmosphere as well as art. Eva Vargö, a Swedish artist who has spent many years in Japan, describes how Washington paper, when produced in the traditional way, has a special quality — light filters through paper from lamps and shoji screen doors creates a warm and special feeling, in keeping with the sense encompassed in wabi-sabi and hygge.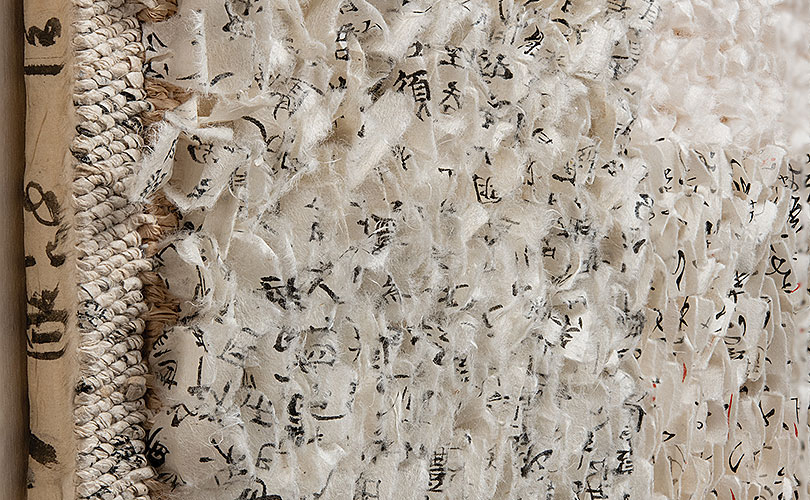 Vargö admires the way the Japanese recreate worn textiles into new garments in boro and recreate cracked ceramics with lacquer through kintsugi. That's the reason she reuses old Japanese and Korean book papers and lets them "find ways into my weavings." By giving them a second life she honors those who have planted the trees, produced the paper, made the books, filled them with words and also their readers.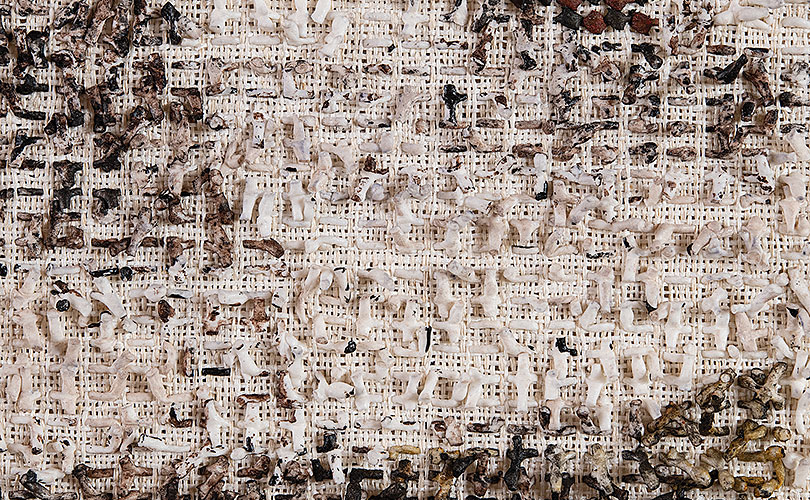 "Anything made by real craftsmanship – objects created out of wood, ceramics, wool, leather and so on – is hyggeligt …. 'The rustic, organic surface of something imperfect, and something that has been or will be affected by age appeals to the touch of hygge," writes Meik Wiking, author of The Little Book of Hygge: Danish Secrets to Happy Living (The Happiness Institute Series) William Morrow, 2017). Danish artist Åne Henriksen's work uses the non-skid material from the backside of carpets and series of knots to create contemplative images that are engaging from a distance, and rough and textured up close. Jane Balsgaard, also from Denmark, uses wood and paper to create objects that reference boats and sails and wings, referencing the old as well as the organic by sometimes incorporating artifacts in her works.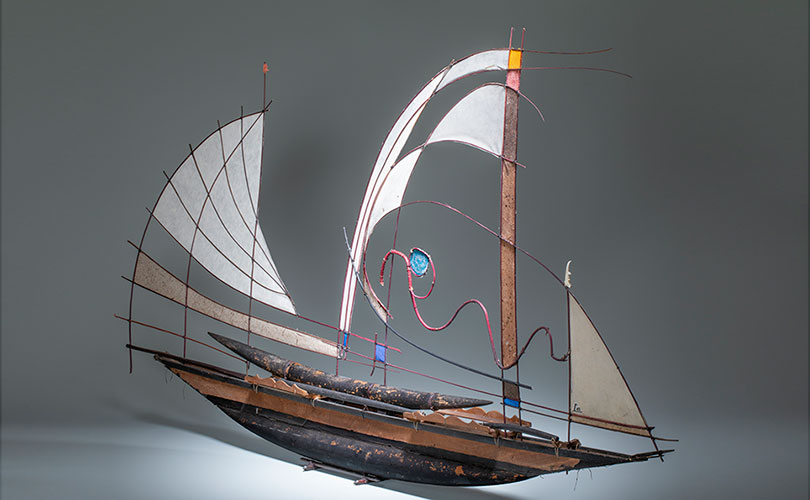 "I've never been to Scandinavia," says Keiji Nio, "but I admire the Scandinavian lifestyle. The interior of my living room, furniture and textiles have been used for more than 25 years, but I still feel the simple and natural life that does not feel old." Nio finds that artists from Japan and Scandinavia each have an affinity for calming colors. "When I saw the production process of the students from Finland at the university where I work, I was convinced that they had a similar shy character and simple color scheme similar to the Japanese."
Join us at Japandi: shared aesthetics and influences to experience accents of wabi-sabi and hygge in person. The exhibition features 39 artists from Japan, Norway, Sweden, Finland and Denmark. The hours of exhibition are: Opening and Artist Reception: Saturday, September 25th, 11 to 6
Sunday, September 26th: 11 to 6
Monday, September 27th through Saturday October 2nd: 10 to 5
Sunday, October 3rd: 11 to 6
20 people/hour; Advance reservations are mandatory; Covid protocols will be followed.
There will be a full-color catalog prepared for the exhibition available at browngrotta.com on September 24th.