If one art exhibition is good, three exhibitions must be outstanding. That's the theory that undergirds Vignettes; one venue, three exhibitions, browngrotta arts' Fall Art in the Barn event in Wilton, Connecticut. From  October 7 to October 15, 2023, the gallery will offer two rooms celebrating the work of renowned weaver, surface designer, and educator Glen Kaufman, two rooms devoted to noted basketmaker and sculptor Dorothy Gill Barnes and two additional rooms featuring objects — baskets, sculptures, ceramics — by three dozen international artists.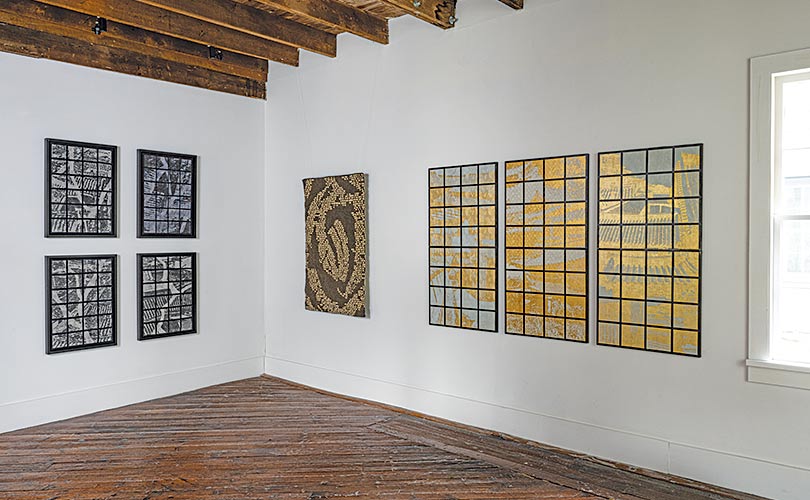 Glen Kaufman's art experience and influences were extensive — studying, then teaching, at Cranbrook Academy of Art, a Fulbright Scholarship in Denmark, a year as a designer in Dorothy Liebes' New York studio, and study visits to the UK.  He landed at the University of Georgia where he headed the fiber program for 20+ years, spending one-half of each year in Japan for much of that time. The work in Glen Kaufman: Elegant Eloquence, dates from the 1960s through the 2020s. It includes double weaves, macramé works, and a freestanding cylindrical form from the 60s, collages, and works of indigo, shibori, and gold leaf on paper. Several of the works Kaufman created using a Japanese technique to apply gold and silver leaf atop intricately woven damask fabric, often in a grid, to reflect disappearing Japanese architecture will be displayed. Janet Koplos and Bruce Metcalf in Makers: A History of American Studio Craft (2010) describe Kaufman'swoven and printed work from Japan as "a concept and creation entirely his own." Both through imagery and construction, these works combine East and West.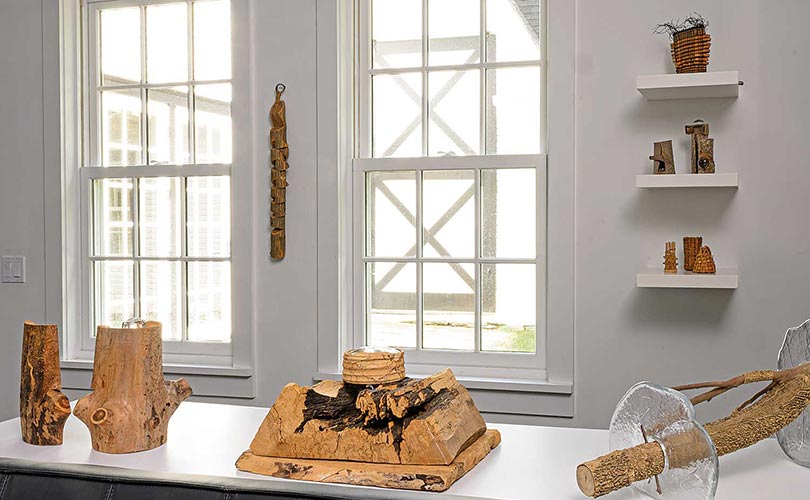 The works in Dorothy Gill Barnes: a Way With Wood, illustrate the full range of the artist's engaging and innovative approach to natural materials. A Way With Wood contains several dozen works from the Barnes' personal collection including early experiments in weaving bark and other materials. There are also "dendroglyphs" made from bark that Barnes had marked on living trees and later harvested after scars had formed, and later works in which wood and glass were combined in intriguing ways.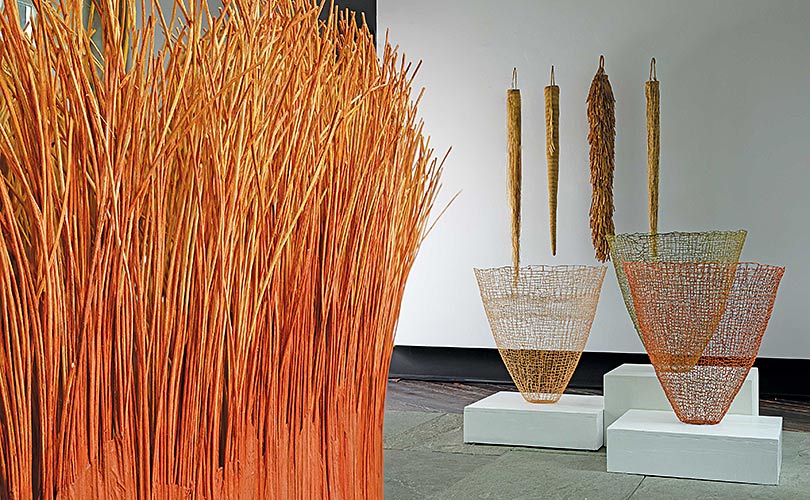 An Abundance of Objects, filling another two rooms, presents an eclectic collection of items of varied materials and techniques. Citing the authors of How to Live with Objects, Monica Khemsurov and Jill Singer, the exhibition encourages viewers to think about their connection to the objects that surround them — how they were discovered and made and the associations they arouse, meanings they radiate and feelings they trigger. Included are silk squares by Kiyomi Iwata, a mechanical, segmented "tree" that collapses and then stands with the turn of a crank by Lawrence LaBianca, woven "quivers" by Gary Trentham, and a sculpture made from a textile cast in bronze by Eduardo Portillo and Mariá Davilá.
Here is the complete list of artists whose work we expect to include: Dail Behennah (UK), Hisako Sekijima (JP), Tim Johnson (UK), Polly Sutton (US), Stéphanie Jacques (BE), Judy Mulford (US), Gizella Warburton (UK), Mary Merkel-Hess (US), Simone Pheulpin (FR), Lawrence LaBianca (US), Lizzie Farey (UK), Joe Feddersen (US), Toshiko Takeazu (US), Gary Trentham (US), Nancy Koenigsberg (US); Markku Kosonen (FI), Tamiko Kawata (US), Christine Joy (US), Kosuge Kogetsu (JP), Kajiwara Aya (JP), Kyomi Iwata (US), Katherine Westphal (US), Dona Look (US), John McQueen (US), Jiro Yonezawa (JP), Gyöngy Laky (US), Noriko Takimaya (JP), Gertrud Hals (NO), Jeannet Leenderste (US), Naomi Kobayashi (JP), Karyl Sisson (US), Willa Rogers (NZ), Neil and Fran Prince (US), Jin-Sook So (KO), Lewis Knauss (US), Dawn Walden (US), and Keiji Nio (JP).
Catalogs will be published for each of the three exhibitions and can be ordered from browngrotta arts in October. The Opening & Artist Reception for Vignettes: one venue; three exhibitions will take place on October 7th from 11 -6. Reservations for the exhibition can be made on Eventbrite.
See you then!