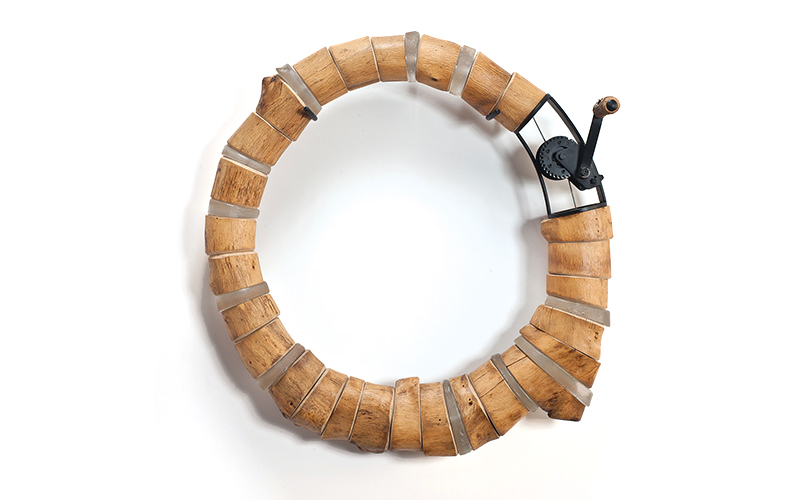 The UN-declared International Year of Glass has just ended, but the many positive attributes of glass deserve to be recognized well into 2023. Among the attributes the UN cataloged are — glass's role in communication at optical fiber, the fact that it is chemically resistant and used in creating and distributing Covid vaccines, that bioglass can stimulate bone growth and healing, and that glass sheets are used to create solar energy. Of most interest to browngrotta arts, the UN also noted that "Glass artists across the globe have given humankind an awareness of this wonderful material including its remarkable methods of fabrication, inherent beauty, and ability to capture and display nature's full spectrum of color."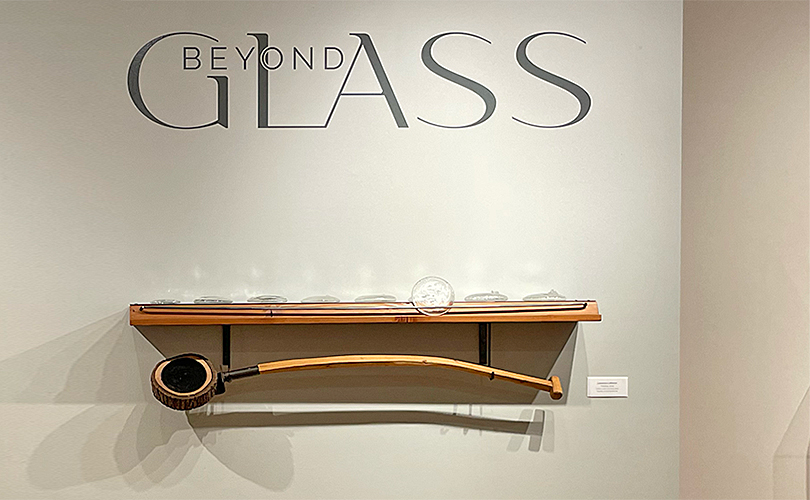 Lawrence LaBianca is one of those artists. He creates glass elements for many of his works, in addition to creating elements of wood and wrought iron and photography. Six of LaBianca's works are featured in Beyond Glass at the Wayne Art Center in Pennsylvania through January 21, 2023. Beyond Glass, curated by Josephine Shea, gathers artists who choose varied techniques and materials to create work that combines glass with other materials, such as metal, wood, or found objects. Invited from across the United States and beyond, the exhibit also provides a sliver of history, as glass migrated from the factory floor in the early 1960s and returned to the artist's studio.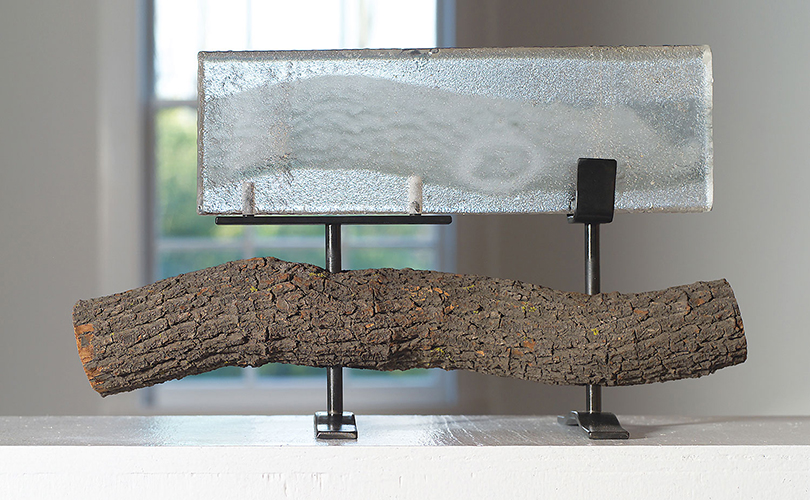 Among the works of LaBianca's in Beyond Glass is Camphor. In it the artist has mounted a branch on an iron stand, topped with a piece of glass, into which has been embedded a photographic image of the branch, creating a tool through which the branch can be observed and understood in several different ways. "The tools we apply to nature—to contain it, shape it, understand it and categorize it—also have a profound affect upon it," LaBianca explains. "It is this impetus to measure, understand, contain and manipulate nature that I enact through my work."
LaBianca creates tool-forms that explore our relationship with nature through attention to craft, form, physicality, and the fluidity of the boundaries between these ideals. "His work is both abstract and narrative, as the materials with which he works assume new and idiosyncratic identities," wrote the Virginia A. Groot Foundation in awarding the LaBianca a grant. LaBianca combines natural, organic materials such as wood with manufactured elements to create hybrids. Many of his pieces reference the human body to explore a variety of human emotions. For example, in Full Stop, tree branches and trunks are cut into discs and separated with blown pieces of glass to resemble vertebrae. The natural sections of this structure appear to be supported and augmented by manufactured glass-like prosthetics.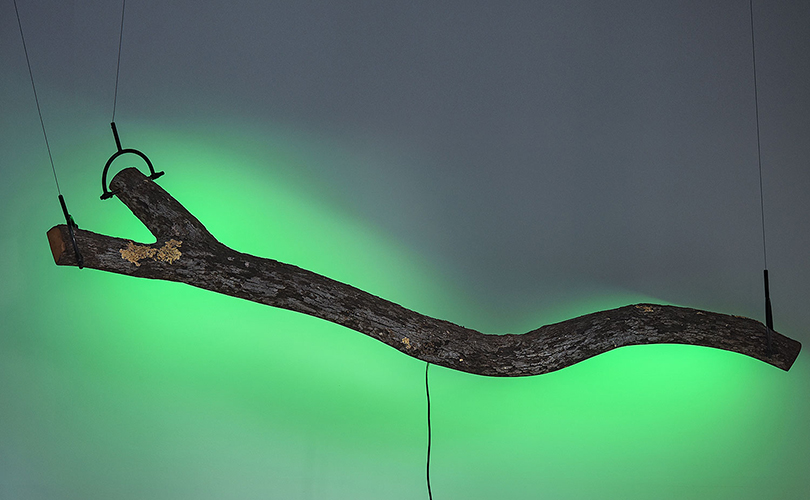 In My Father's Dream, LaBianca combines a large oak branch with green neon placed in a carved channel inside. "This work references the dream world with its title and its night-green glow," wrote Emily Raabe, "but it also implies the act of memory … the way that our memory allows us to hold our observations, emotions, dreams and stories in a state of restless simultaneity; a momentary abeyance that pulses under the force of our own imaginations." LaBianca agrees about the role of memory. "Memory leaves an imprint," he says. "Through time these imprints become makers that provide us with insights of where we have been and once pieced together show us our path."
The artist explains that My Father's Dream was influenced by a memory of his fathers adaptation of our suburban home with the addition of a wood stove during the 70's oil crisis. "During this time my dad would wake us up, very early, to collect wood that fell into our neighbors yards during ice storms. Our family station wagon could fit several limbs. These limbs needed to be of a certain length and of a certain wood which would optimize our outings. The limb used for My Father's Dream is the optimal length, weight and fuel for such an outing."
For more examples of work by Lawrence LaBianca, a "blacksmith of the 21st century," visit our website.