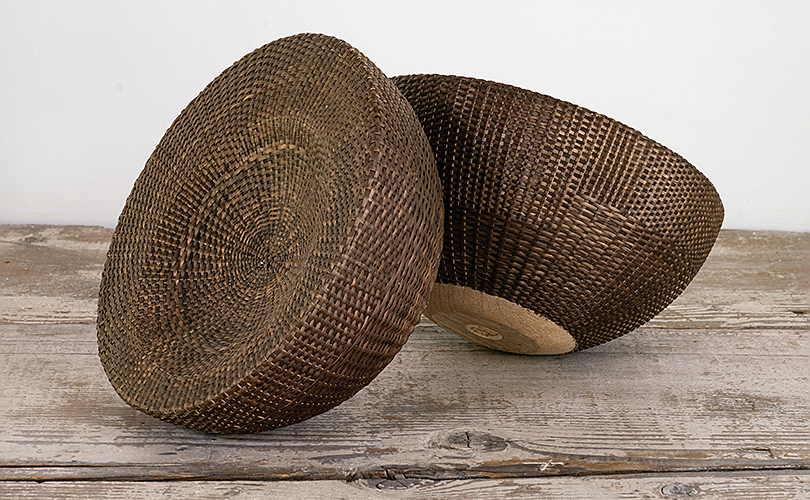 Number five of the artists who are new to browngrotta arts and whose work will be featured in Art for Allies: Work from NATO-related countries (October 8-16) is Esmé Hofman of the Netherlands.
"I am a traditionally trained basketmaker" she says, "and learned the foundations of my craft at the German basketry school. Since then, I have increased my knowledge and repertoire by learning other crafts and through fellow craftspeople." Hofman's techniques and materials vary from the traditional to the contemporary using natural stems, leaves, bark, wire, plastics, vellum, paper and lots of color. She works for designers, artists, museums and private customers.
"Although fascinated by all the different possibilties," she says, "my main focus is with the very time-consuming willow skeinwork, a nearly extinct basketry technique. This technique results in an extremely fine surface texture, almost like a textile, which enables me to create fine objects." In skeinwork, material for this work is obtained by cleaving a long willow rod with a special wooden cleave. The long strips of willow are shaved by hand on a special shaving bench. With this type of work it is very important to work precisely. The skeins can be as small as one 10th of a millimeter. After shaving, the last remains of the bark are cleaned away. Every skeinwork object is worked around it's own wooden mould. Skeinwork is very time consuming. Making a dish can take up to 40 hours or more. The result is a very fragile-looking piece which, when touched. is surprisingly strong and solid.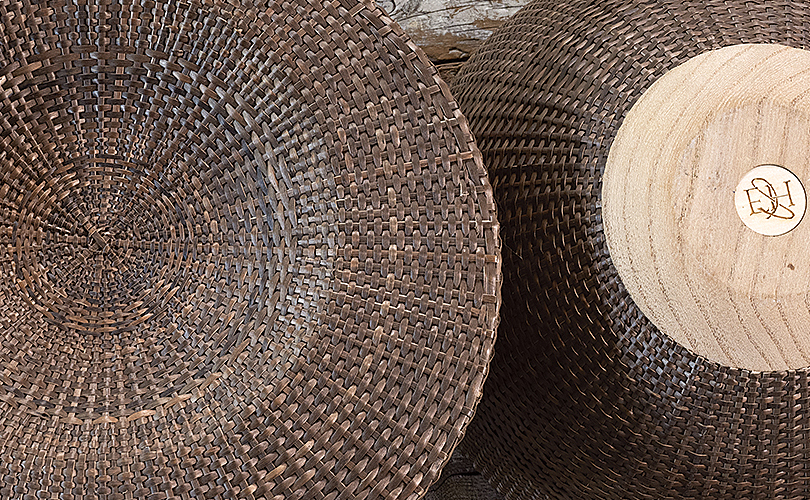 Hofman takes a modern approach to her work, "I am prepared to look beyond the borders of this traditional handcraft. This gives me freedom to explore creative possibilities." More recently, she says, she is focusing on more contemporary work. "As a traditional maker there are three pillars in my work, which are equally important. These are function, materials and technique. By letting the function go, I get more freedom to place an emphasis on form. This gives me freedom to explore new ways of making."
Hofman's work came to browngrotta's attention when it was included in LOOKOUT, an exhibition at the Museo de la Pauma in Spain, curated by Tim Johnson and Monica Guilera. "With the global climatic crisis and continued demand for sustainable practice and a counterculture to consumerism," the curators observed, "we can look towards specialists in plant materials to offer beautiful, practical and innovative solutions to today's questions."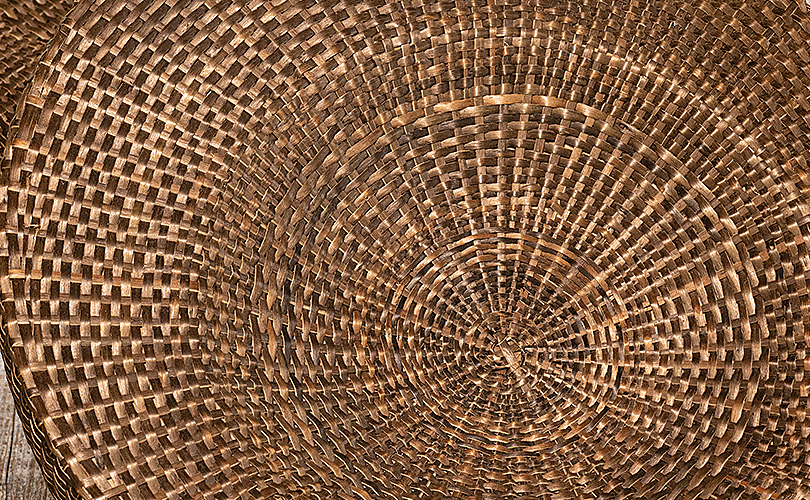 Allies for Art: Work from NATO-related countries (browngrotta arts, October 8 – 16, 2022) will feature nearly 50 artists and highlight work from 21 countries in Eastern and Western Europe, 18 countries in NATO and the three current applicants. The artists in the exhibition reflect diverse perspectives and experiences. Allies for Art will include art created under occupation, in the 1960s, 1970s and 1980s, art by those who left Hungary, Romania and Spain while occupied, and art by other artists who left Russia in later years. Allies for Art: Work from NATO-related Countries will also include works created by artists, like Esmé Hofman, who are currently working in Europe. Reserve your spot in Eventbrite.