browngrotta arts and the artists we work with have been in the news lately — quite a bit in fact!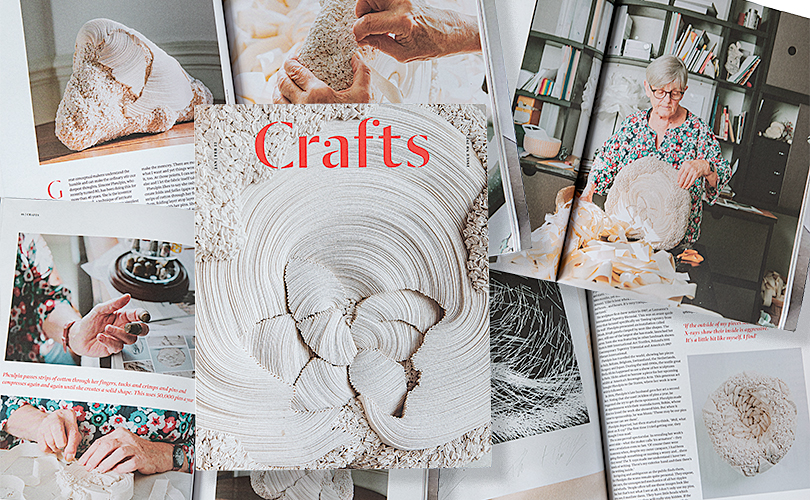 • In January, Simone Pheulpin's remarkable career was the cover story in Crafts magazine from the UK. The work of Crafts "cover star" defies expectations. Her "ambiguous textile forms recall geological strata and the rings of a tree," the magazine notes and "evoke the passage of time." (Cynthia Rose, "Life Lines," Crafts magazine, January 2022.)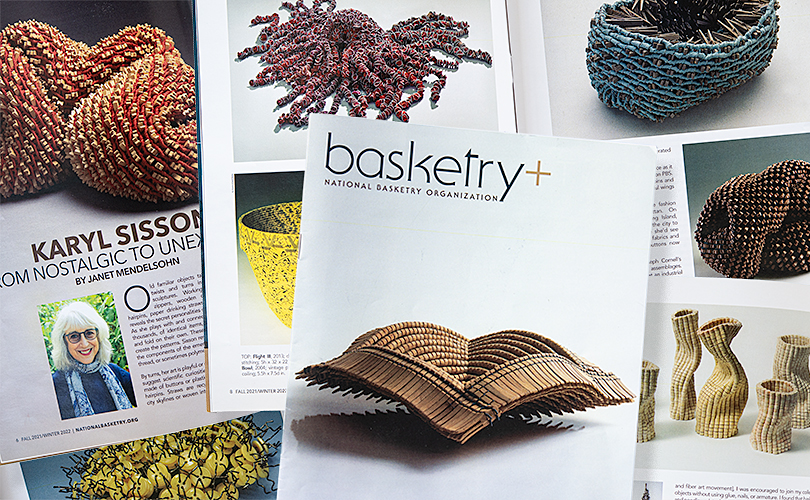 • Karyl Sisson's work graced the cover of the National Basketry Organization's basketry+ in its Fall 2021/Winter 2022 issue. The article, "Karyl Sisson: From Nostalgic to Unexpected," by Janet Mendelsohn, talks about Sisson's Shapeshifters, a new series of vessels, which will be featured in browngrotta arts upcoming exhibition Crowdsourcing the Collective (May 7 – 15). The works are created of tightly quilled paper straws, laced like beads, threaded in circles, row by row to create cylinders that are manipulated to create lively sculptures. "I see my work as the expression of hidden energy and forces inside all of us," the magazine quotes the Sisson. "The structures I create are diagrams of physical forces and laws that govern all growth and patterning."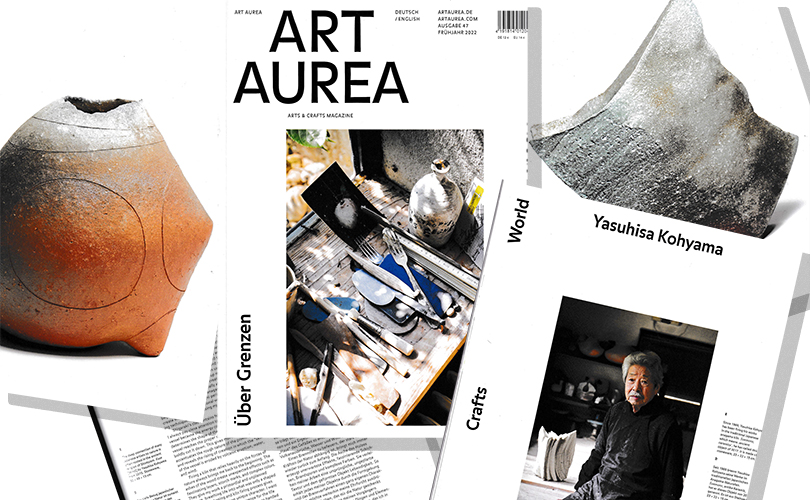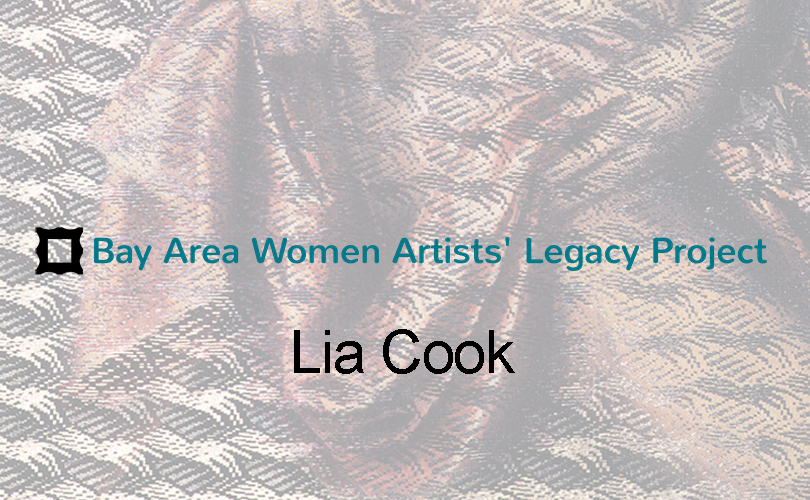 The Bay Area Artists' Legacy Project has published its second volume, The Seventies, with a foreword by Maria Porges. One of the artists included is Lia Cook.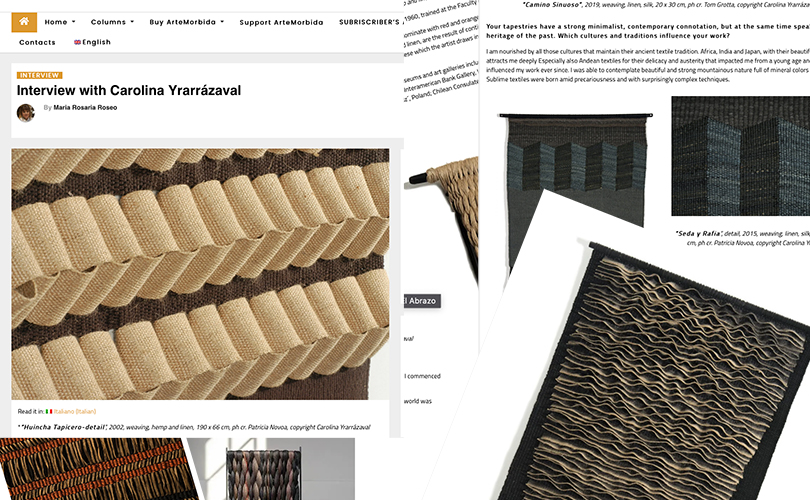 Maria Rosaria Roseo interviewed Carolina Yrarrázaval for a recent issue of Arte Morbida. "[Yrarrázaval's] tapestries," Roseo writes, "in which dark chromatic shades predominate with red and orange overlaps, together with the essential elegance of vegetable fibers such as jute, silk, cotton, hemp and linen, are the result of continuous research about the weaving techniques of ancient cultures such as pre-Columbian and Japanese which the artist draws inspiration from, creating textile abstractions with a refined, sober and rigorous aesthetic." (https://www.artemorbida.com/interview-with-carolina-yrarrazaval/?lang=en).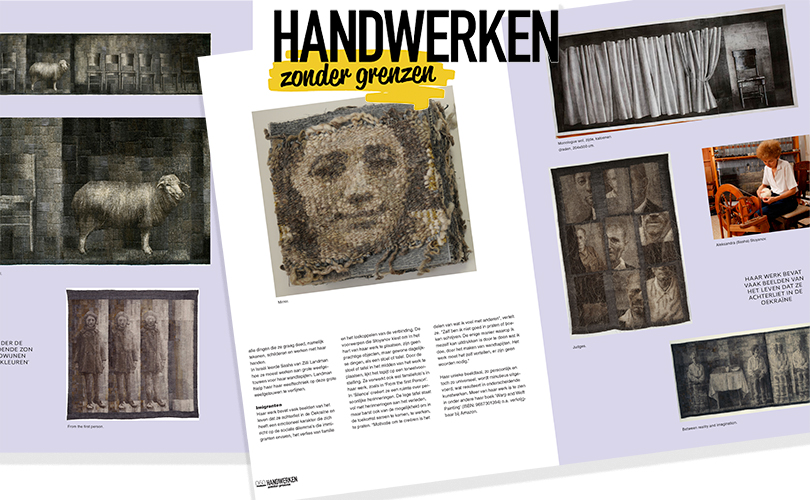 HANDWERKEN, zonder grenzen (Crafting without limits) (https://www-handwerkenzondergrenzen-nl.translate.goog/?_x_tr_sl=nl&_x_tr_tl=en&_x_tr_hl=en&_x_tr_pto=sc) in the Netherlands featured a profile of Aleksandra Stoyanov in a recent issue. "Her work often contains images of the life she left behind in Ukraine [before emigrating to Israel] and has an emotional character that focuses on the social dilemmas of immigrants experiencing the loss of family and disconnecting their connection," writes Alie Dijk. "She also incorporates family photos in her work, as in From the First Person. In Silence, she creates a space for personal memories."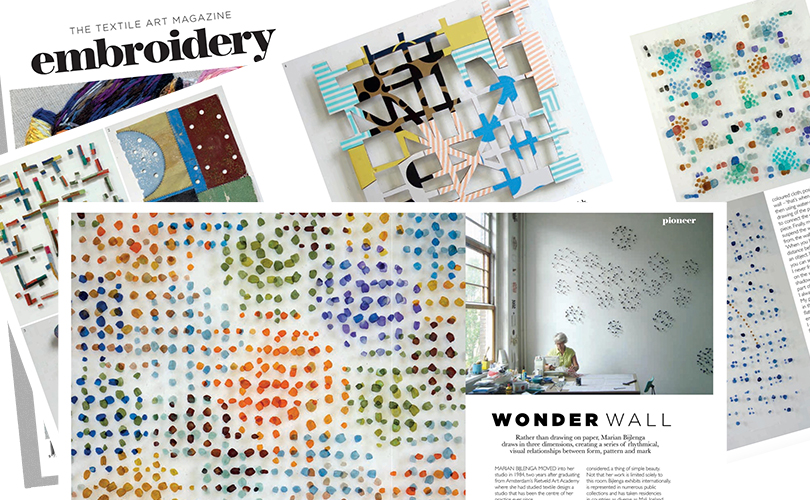 In "Wonder Wall,"by June Hill, Embroidery magazine profiled Dutch artist Marian Bijlenga last year. Rather than drawing on paper, the author points out, Bijlenga draws in three dimensions, "creating a series of rhythmic, visual relationships between form, pattern and mark."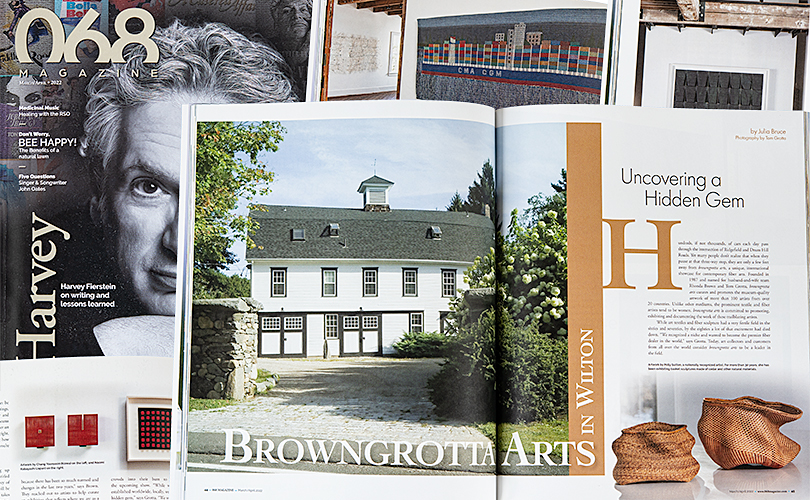 Finally, 068 (formerly Wilton Magazine) touted browngrotta arts' Spring 2022 exhibition in its March/April Issue ("Uncovering a Hidden Gem"). Author Julia Bruce says browngrotta arts is "a unique, international showcase for contemporary fiber arts." The magazine further notes that fiber artists tend to be women, and that browngrotta arts is committed to promoting, exhibiting and documenting their work.
We're all pleased to be noticed!