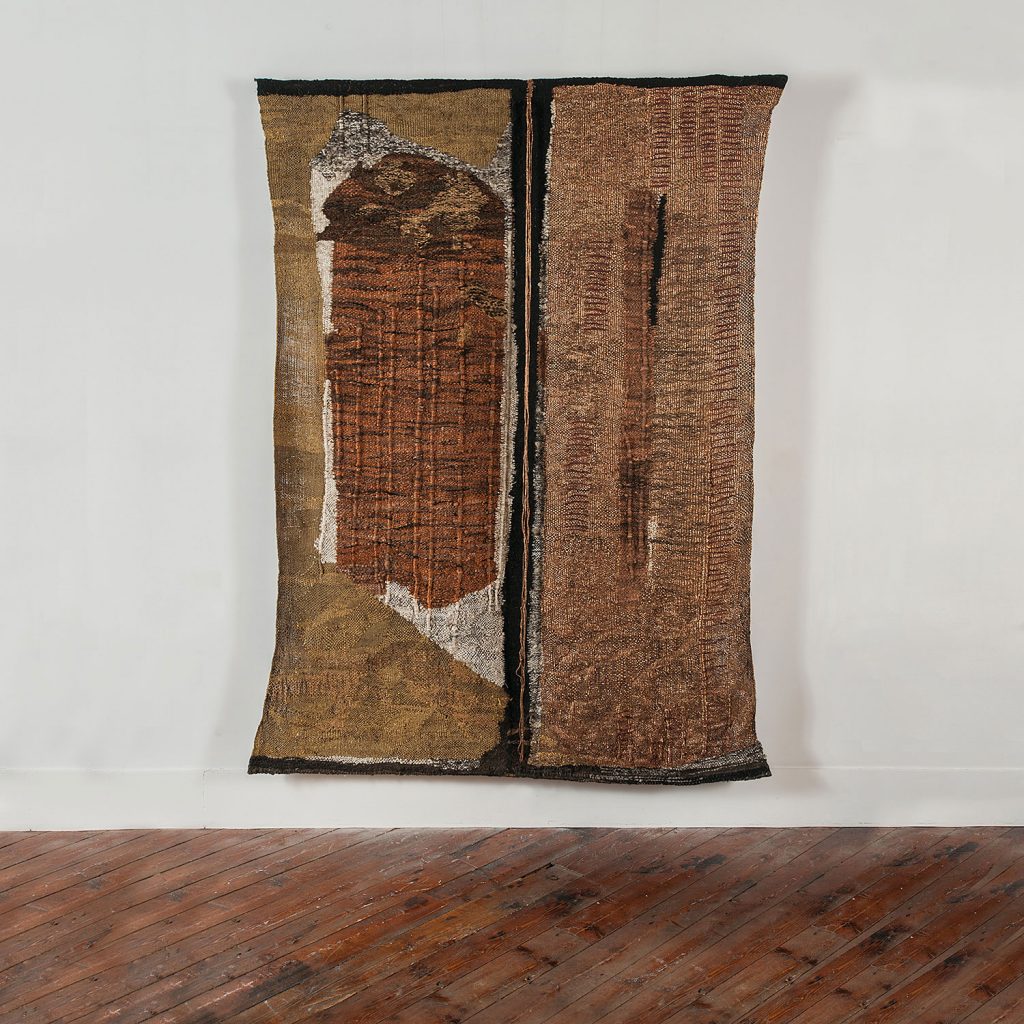 By Mary Luke

We are saddened to share the loss of acclaimed artist, Jolanta Owidzka who passed away in March this year at the age of 93. Owidzka (b. February 1, 1927) was one of the most outstanding Polish artists dealing in artistic fabric and monumental tapestry. She was part of a select group of Polish artists who, in the 1950s and 60s, reimagined textiles are sculptural, dimensional and strikingly contemporary. After graduating from the College of Fine Arts in Krakow and the Academy of Fine Arts in Warsaw, she obtained a diploma in the cloth workshop of Eleonora Plutyńska at the Faculty of Interior Design in 1952. In the years 1951 to 1957, she worked at the Institute of Industrial Design in Warsaw (IWP).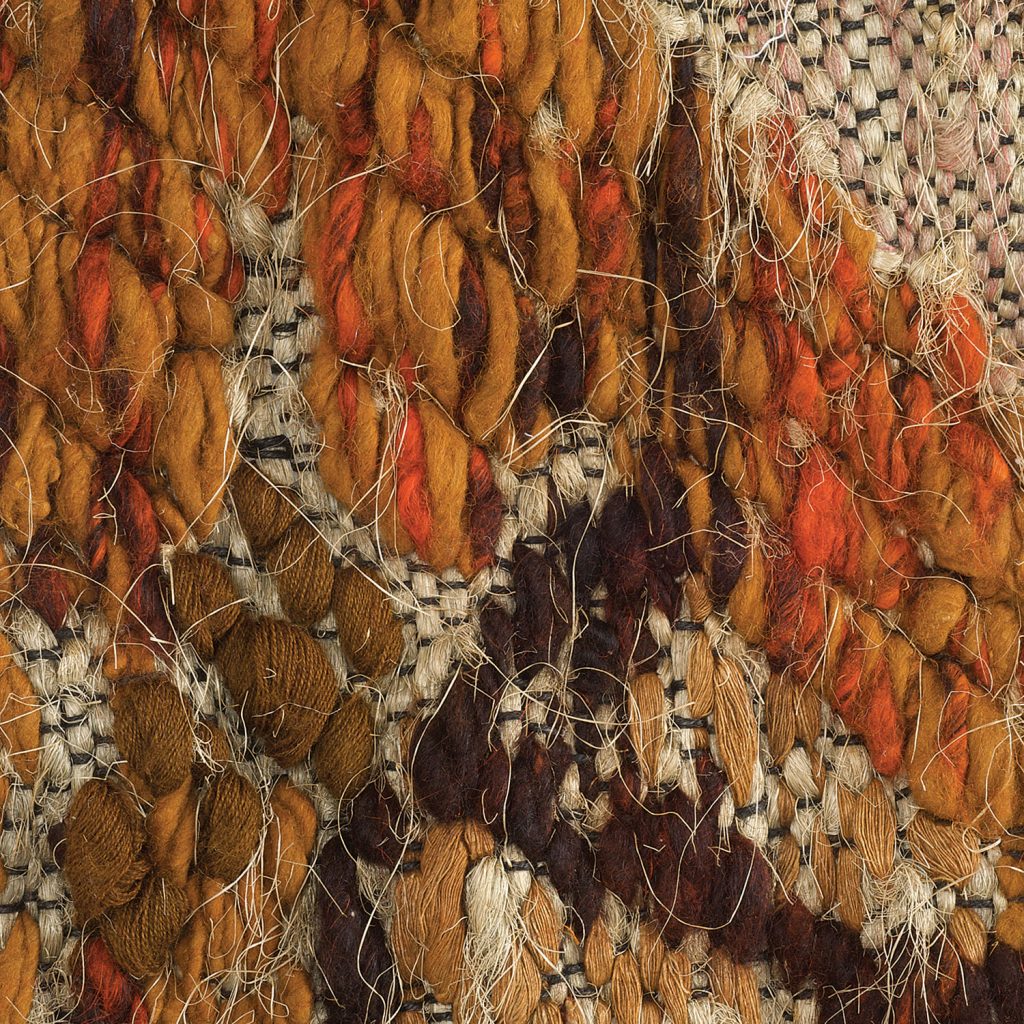 Owidzka had a unique fascination with the role of fabric within contemporary residential interiors and architecture. As part of her professional work at IWP, she cooperated with consultants, artists and architects on numerous theoretical studies and scientific articles about fabric in architecture, including, "A few notes about the criteria of aesthetic evaluation of fabric," 1956; "The role of fabric in a contemporary residential interior," 1956; and "Structure and pattern of the fabric depending on its purpose in the interior of the apartment," 1958.
Poland in the 50s was a time for growth and artistic freedom following WWII and a particularly strict period of Communist rule. Owidzka was one of several Polish textile artists (including Magdalena Abakanowicz) who paved the way for a new view of tapestry and redefined the craft. Collectively, these Polish artists revolutionized the field utilizing unconventional materials and methods to create particularly textural, organic and tangible works of art. Owidzka's experimental work was pivotal internationally and has had lasting influence on the world of contemporary art.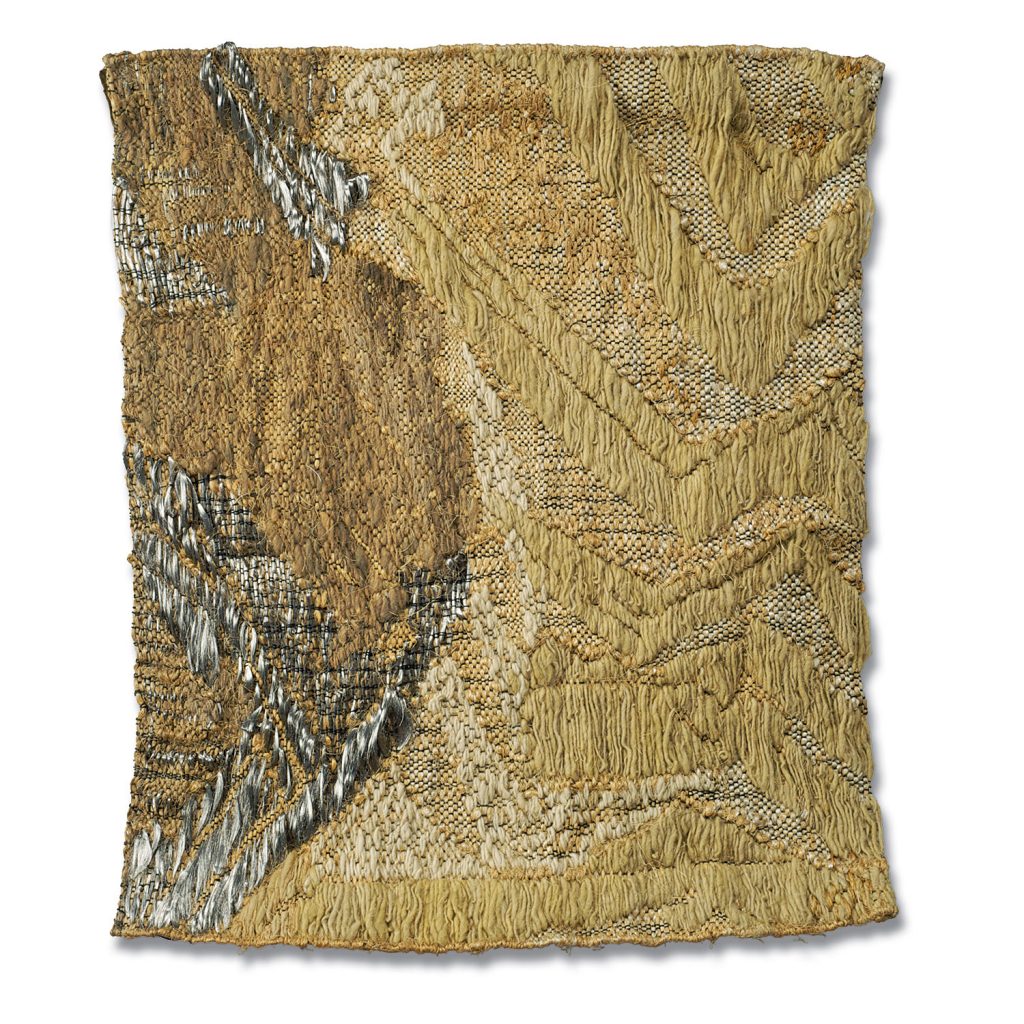 Owidzka's work was first featured in international group exhibitions in the 1950s. Her one-person exhibition at the Sachet Gallery in Warsaw is considered by many to represent the beginning of the transformation on Polish tapestry. She participated in the IIX Triennial of Art in Milan, the first International Biennial of International Tapestry in Lausanne, Switzerland in 1962, the Biennale in SãoPaulo in 1965 and the seminal exhibition, Wall Hangings at the Museum of Modern Art in 1969. In the heyday of Polish artistic fabric, Owidzka's works could be seen in numerous countries on several continents. A prolific artist, she created 50 monumental fabrics for interiors of public buildings exhibited in 96 exhibitions between 1960 and 2019.
"Owidzka has depended in all her work, upon the clearly defined weaving structure created through warps and wefts. Within these constraints she manages to introduce different weave manipulations, including floating yarns, which introduce the basic characteristics of the materials she likes to use," wrote Christa C. Mayer Thurman, Chair and Curator of the Department of Textiles, Art Institute of Chicago (Emerita) in Advocates for Art: Polish and Czech Artists from the Anne and Jacques Baruch Collection (browngrotta arts, Wilton, CT Vol. 10, 2010).
Over the years, we have collected and shown decades worth of work by Jolanta Owidzka — particularly striking is Warszawa (1967). This piece is described by Ezra Shales, PhD in his essay in Influence and Evolution: Fiber Sculpture…then and now (browngrotta arts, Wilton, CT, Vol. 39, 2015) as "both an ancient tapestry and a modern 'woven form,' to use Lenore Tawney's exhibition title and classification system. The delicate and bristling metallic threads hover between a raw and cooked aesthetic. Is it what Dorothy Liebes would call a 'dependent expression' – in need of an architectural scaffolding? Or is Warszawa a stand-alone construction? For all of its brazen rough edges its luxurious interlace harkens back to intimately scale forms and slower-paced civilizations…My point is that there is no singular moment or manner of bundling fiber, nor any grand revolution that illuminates the night more than any other. Radical reinventions of fiber art are neither spatially logical nor temporally bound. Warszawa was contemporaneous with the revolutionary work of Lenore Tawney (1907-2007) and Magdalena Abakanowicz (born 1930) but is a pendant to neither path."
Owidzka was the recipient of several noteworthy awards: Prize industrial Design Institute; Prize, 11th National Exhibition of Interior Architecture; Silver Medal, XII Triennial of Textiles, Milan, Italy; Silver Medal, Fine Arts Festival, Warsaw, Poland; Gold Medal, Fine Arts Festival, Polish Architects Association; Bronze medal, Fine Arts Festival, Moscow, USSR; Gold Medal of Distinction, Polish Artists Association. Her work can be found in numerous collections including: Art Institute of Chicago, Illinois; Central Museum of Textiles, Lodz, Poland; National Museum, Warsaw, Poland; National Museum, Poznan, Poland; National Museum, Wroclaw, Poland; Museum of Contemporary Art, Skopje, Poland; Hyatt Regency Hotel, Montreal, Canada; New Art Center, Ontario, Canada; ATT, Chicago, Illinois; LOT Polish Airlines (Germany, Sweden, the Netherlands, the US); Hurschler Collection, Pasadena; Sentry Insurance, Stevens Point, Wisconsin; Museum for the History of Textile Industry, Lodz, Poland; Contemporary Textile Art Collection of the Pierre Pauli Association, Lausanne, Switzerland.
It is clear that Jolanta Owidzka and her work made a strong and unforgettable impact on Polish art, fiber art and the world of art itself. We will continue to celebrate her accomplishments and creations and endure that her contributions to the craft and its history will not be forgotten.