by Ryan Urcia and Kristina Ratliff
To much fanfare, New York City's beloved Museum of Modern Art reopened on Oct 21, 2019 after undergoing major renovations over the summer to expand to more than 40,000 square feet of gallery spaces.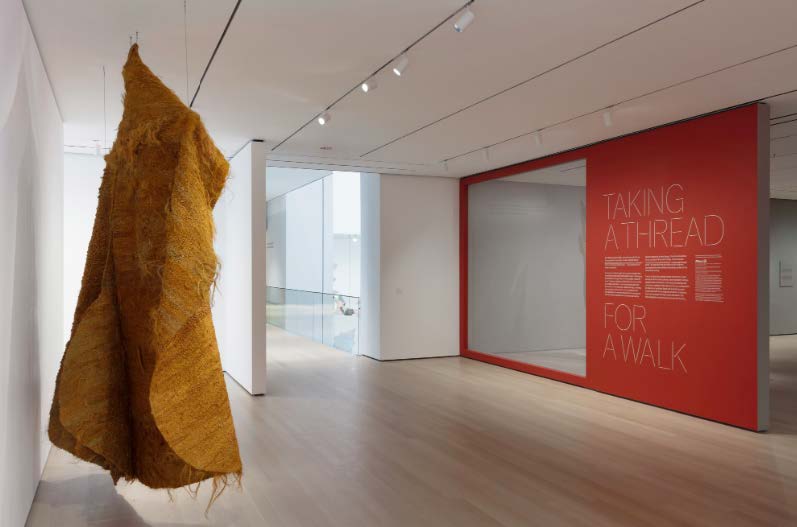 The museum's Department of Architecture and Design organized the inaugural exhibitions reexamining the role of both disciplines as "integral to the interdisciplinary conversation with the visual arts" — an approach we have ascribed to at browngrotta arts for over 30 years.

Of particular interest to arttexstyle is the textile exhibition titled Taking a Thread for a Walk, which is a whimsical play on Paul Klee's pedagogical lesson that "a drawing is simply a line going for a walk." This exhibition is on view at The Philip Johnson Galleries on the museum's third floor through April 19, 2020.   

Taking a Thread for a Walk, according to MoMA's official press release, "looks at how successive generations developed new material and constructive languages from the 1890s through the 1970s, highlighting the flexibility of textiles, a medium that continues to defy easy categorization. The installation 'takes a thread for a walk' among ancient textile traditions, early 20th-century design reform movements, adventurous combinations of natural and new synthetic fibers in industrial production, through to the emergence of a more sculptural approach to textile art in the 1960s and 70s. Textiles and the adjacent practices of architecture, painting, drawing and sculpture have long had a close affinity, especially in the 20th century, when there was a concerted move to emphasize the underlying unity of all art forms and to connect modern art with industry and daily life. Woven artifacts appeared at the forefront of ongoing debates around abstraction, the total work of art, and the fusion of art with technology, challenging the widespread marginalization of textiles as 'women's work.'" Many of the pioneers in this narrative have been women, chief among them Anni Albers, Gunta Stölzl, Florence Knoll and Sheila Hicks. Also featured are  recent acquisitions by Monika Correa (India), Aurèlia Muñoz (Catalonia), and the French-Swiss architect Le Corbusier, making clear the medium's global relevance.

Upon entering the exhibition, we were greeted by a large scale sisal sculpture Yellow Abakan 1967–1968 by Magdalena Abakanowicz whose monumental works were often misperceived as a "feminine' craft." For more than half a century, Magdalena Abakanowicz produced critically acclaimed, poetic sculptures about the fraught and fragile condition of being human, shaped by her experiences growing up during WWII and living through the Soviet domination of Poland. According to MoMA, "Abakanowicz and many artists of the Eastern Bloc were drawn to craft and textile traditions as expressive mediums less regulated by Soviet censorship. Yellow Abakan's form is determined by the drape of the textile, which is coarsely woven from sisal, an industrial plant fiber used to make rope. The scarred seams and anatomical appendages lend the work a figural quality, something Abakanowicz continues to explore in large-scale sculptures cast in hardened fiber. Yellow Abakan was among works by several Polish weavers included in
Wall Hangings, a 1969 MoMA exhibition showcasing the work of international contemporary fiber artists. Abakanowicz' work was first exhibited in the US by gallerists Anne and Jacques Baruch of Chicago. The Baruch's work with fiber artists from Eastern Europe is the subject of browngrotta arts' catalog, Advocates for Art: Polish and Czech Fiber Artists from the Anne and Jacques Baruch Collection.
Directly across and in stark contrast in size is a beautiful raffia basket by Ed Rossbach Raffia Lace Basket, 1973. Rossbach was a relentless experimenter and according to MoMA "his career began in with ceramics and weaving in the 1940s, but evolved over the next decade into basket making. He is best known for his innovative and playful baskets made from nontraditional materials such as plastic and newspaper." Rossbach was also featured in our recent exhibition Artists from The Grotta Collection which is now extended online on Artsy.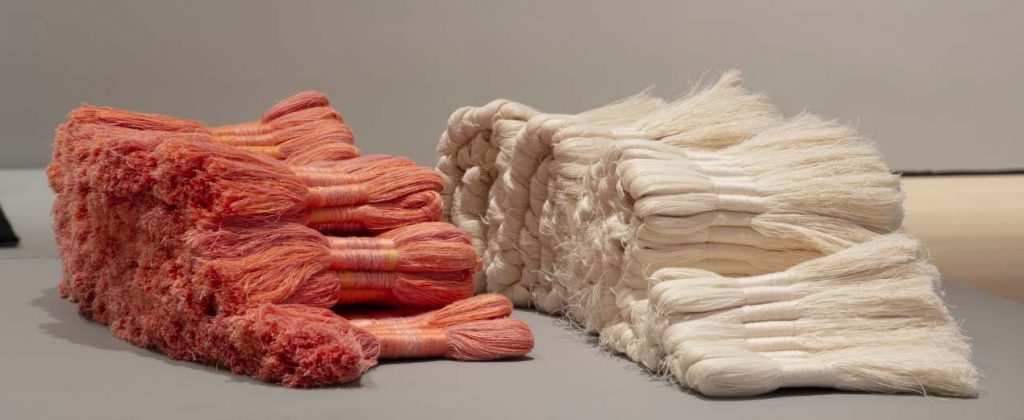 Another highlight of the exhibition is a linen sculpture by Sheila Hicks titled Cartridges and Zapata 1962–1965. Hicks is one of the several modern craft and dimensional art artists who are part of The Grotta Collection. Hicks' work is featured in browngrotta arts' catalog, Sheila Hicks: Joined by seven artists from Japan, which documents an exhibition Hicks curated at bga in the 90s, one of several bga exhibitions in which Hicks' work has been included.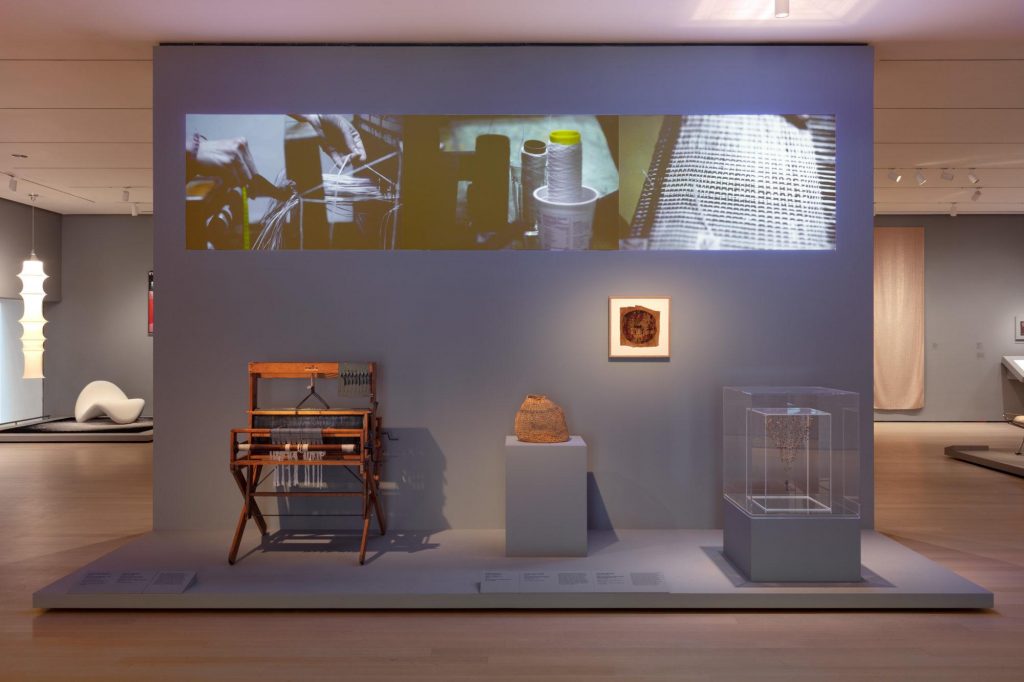 Also of interest is a curious framed coptic rounded tapestry from the 6th-8th century titled Christ enthroned by an unknown designer. There is a loom on the left by Anni Albers labeled Structo ArtCraft 750 loom c. 1952 and to the right is a sculpture by Aurèlia Muñoz and Antoni Gaudi's Study of a catenary arch for the Gaudí crypt at Colonia Güell, 1996. And directly above is a 3-panel digital video projection titled Warping Threading Weaving Drawing, 2014 by Simon Barker and Ismni Samanidou.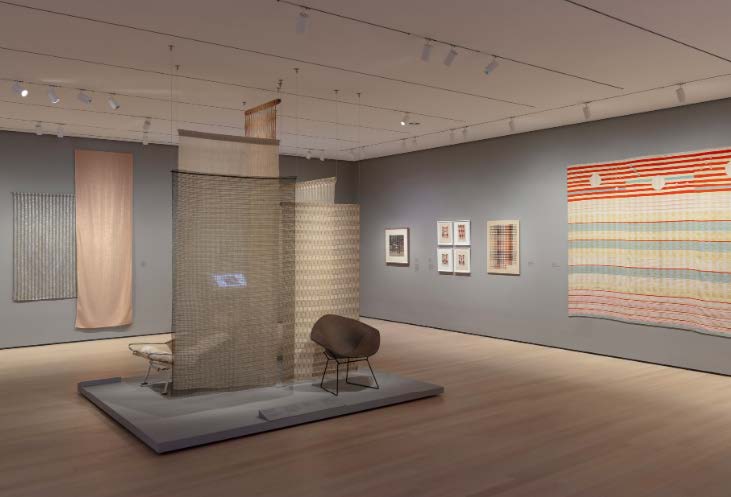 Another section of the exhibition featured a collection of woven textiles and in the foreground we were delighted to see a mesmerizing wall hanging by Jack Lenor Larsen, Interplay Casement Fabric, 1960, made of rovanna saran microfilamant. An international textile designer, author and collector, Larsen has long played an influential role in textile arts and has been an important mentor and supporter of browngrotta arts. "I think of interior fabrics as something to be in, not just to sit on or look at. Objects are out: the surround is in, and how we feel and relate to space is everything," Larsen is quoted from 1978 on the MoMA art label. Behind these collections of soft fabrics is Halyard armchair, 1950 by Danish furniture designer Hans Wegner who was commissioned by Lou and Sandy Grotta to design several pieces for their home, The Grotta House. Anni Albers' popularity is well represented in the exhibition, too, with 18 works ranging from 1926 to 1983 including screenprints, design drawings and tapestry.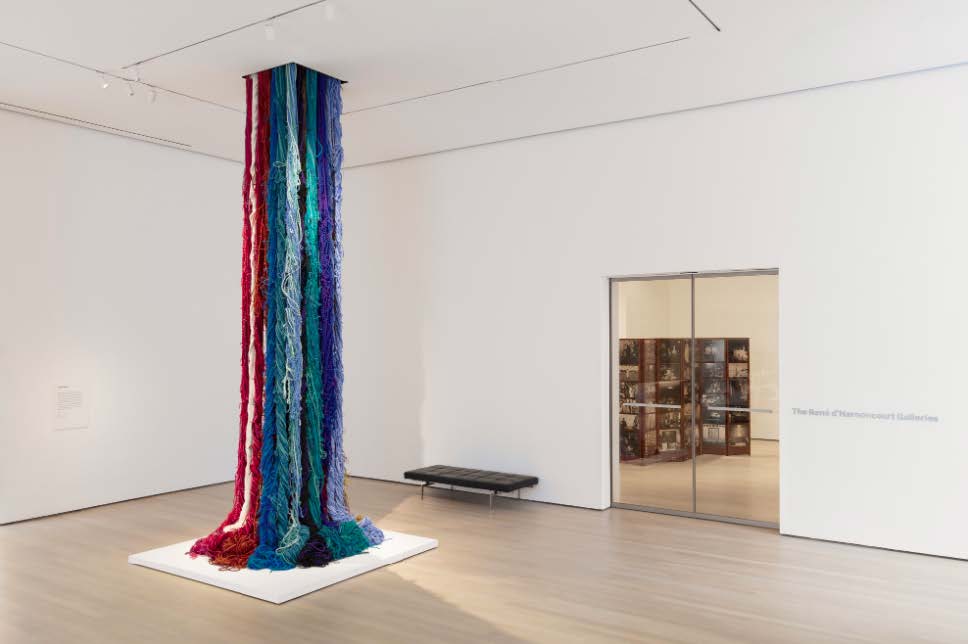 Wait, there's more! On the sixth floor of the museum is another exhibition Surrounds: 11 Installations, showcasing for the first time 11 watershed installations by living artists from the past two decades, all drawn from the Museum's permanent collection. The exhibition includes Hicks' monumental Pillar of Inquiry/Supple Column (2013–14) that "playfully and subversively challenges notions of architecture as permanent, solid, and tectonic."
Be sure to go and see this abundance for yourself. Taking a Thread for a Walk is on view through April 19, 2020. The MoMA is located at 11 West 53 Street, New York. Open daily from 10am to 5:30pm. For more information, visit MoMA.org