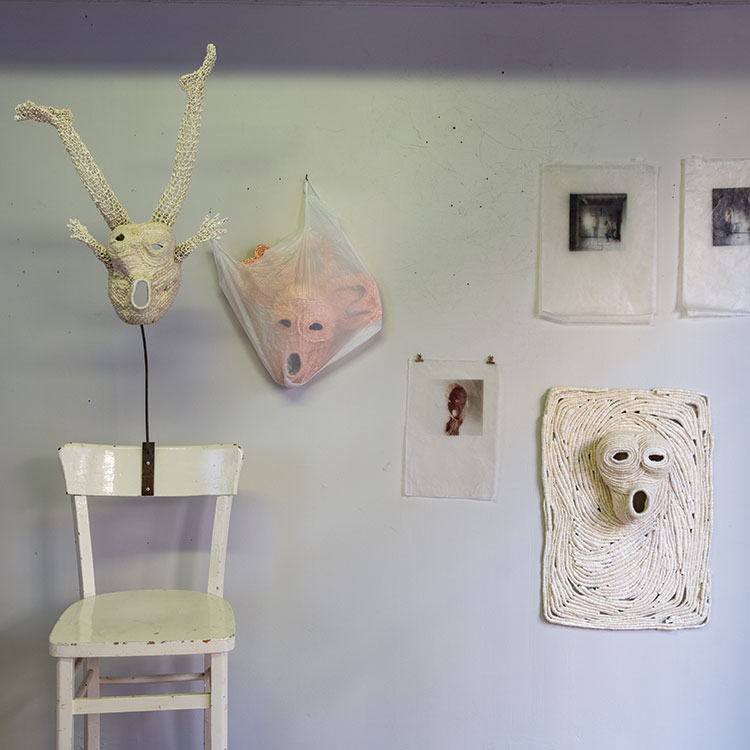 Stéphanie Jacques wrote about identity for browngrotta arts' latest exhibition, art + identity: an international view. Here are Jacques' thoughts on the topic: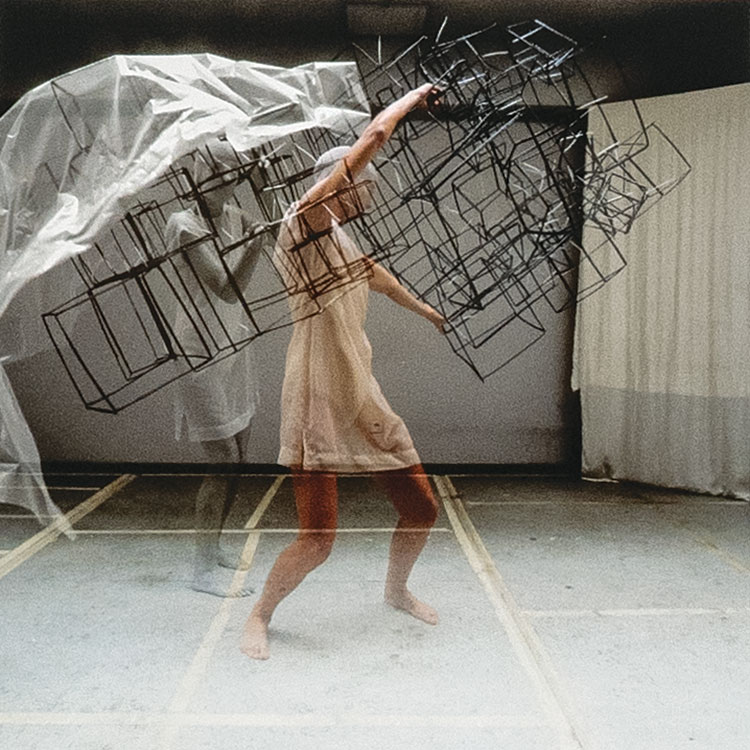 "At the present time, the notion of identity seems to me to be a dimension in constant movement. I can distinguish, however, one coherent element, a sort of red thread : the desire to assemble all that is scattered.

"Winter 2015, in my studio notebook, I draw a human face. A woman's face. Tears in the form of feet and hands stream from her eyes. That winter, I continued working on a series of sculptures which will become the work Ce qu'il en reste. A small human figure stands upright. She is in balance. Hanging from her pelvis is an assemblage of cubes and parallelepipeds which tumble to the floor.
"Summer 2016, after 15 years of living in the country, I move to a new studio, in town. There, the first thing I make is a series of monotypes. Inspired by the drawing of the previous winter, this time, I engrave an image of the woman's face on a sheet of linoleum. With each new print, another face appears. Little by little, an open mouth takes the place of the tears. Blue…. Red…., on this white paper, like an unconscious trace, areminder of the violence which is spreading throughout Europe at that time. Violence moreover, which still continues today. This face has something to tell.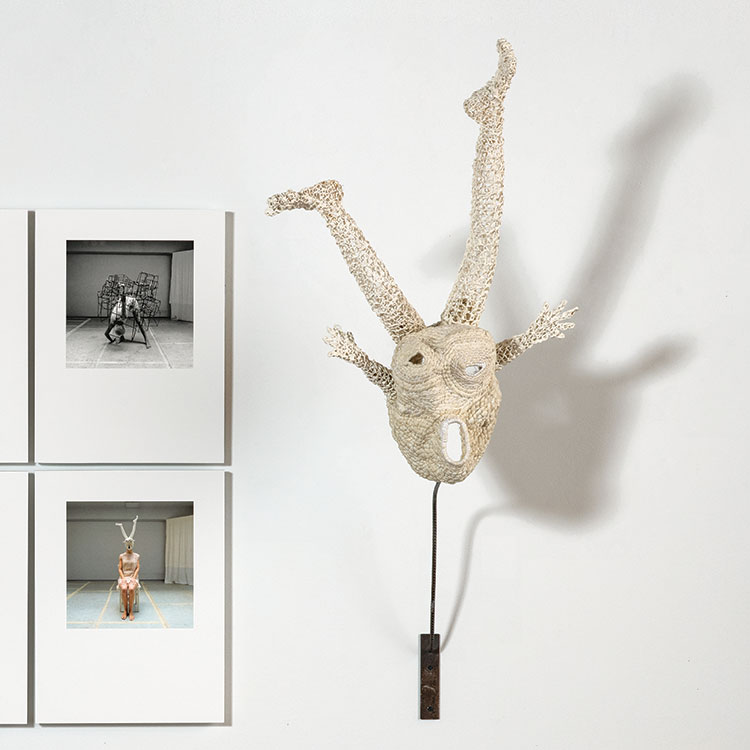 "Applying the coiling technique, I stitch bundles of white thread. First comes an eye, two eyes, then the mouth, the whole face. Between my hands, a soft and damaged material takes form. One senses anger. It is the first time I create a human face, a mask. 'Without a doubt one of the most ancient forms of expression of human culture' so a book on the subject informs me. On a table, are two looped legs covered in plaster. They will find their place, on top of this head.

"That summer, I spend hour upon hour sewing, cubes and parallelepipeds made of willow and stitching with waxed linen thread. Small, medium, large. Assembled and tinted with India ink, they form a structure into which I may enter.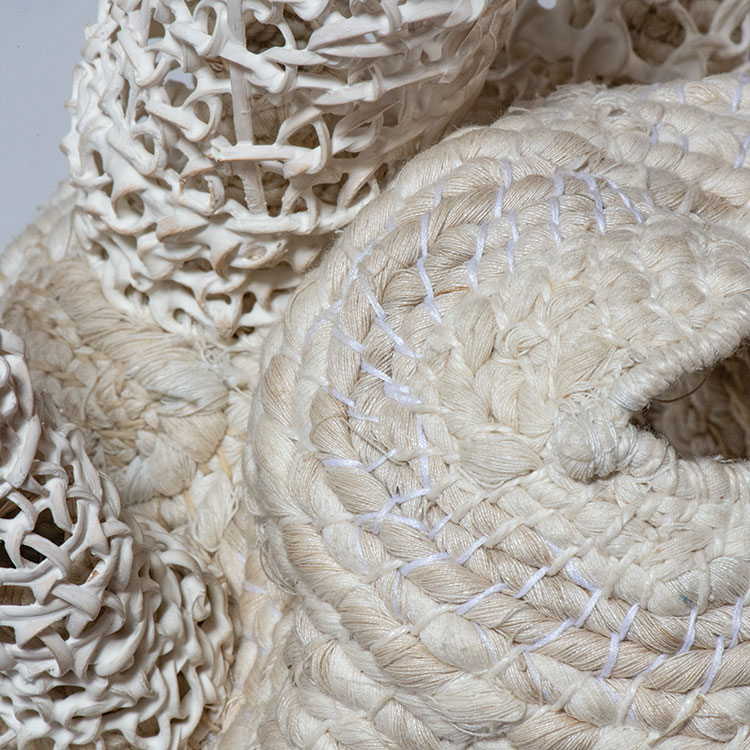 "Oh Joy ! I dance in my studio, searching somehow through my movement, a relationship with this form. I set up the camera and take photos. My face is veiled. The frame is fixed. As the shooting advances, a story appears. I decide on four images. Four attempts at materializing this constant transformation, at bringing life to this form. A series of portraits follows. This time, sitting on a chair, my appearance is modified by wearing an object, a sculpture. Each image incarnates a new state, another state.

The process here described is necessary for these images to exist. They are not an end in itself but a document of what has passed.Certain emotions, intuitions, propel me to make certain objects. More and more, I feel the need to record their creative impact and this physical sensation which passes through my body as it is positioned in space and time. It is my way of questioning the identity of these forms. Using image is a means to make them fall from their pedestal."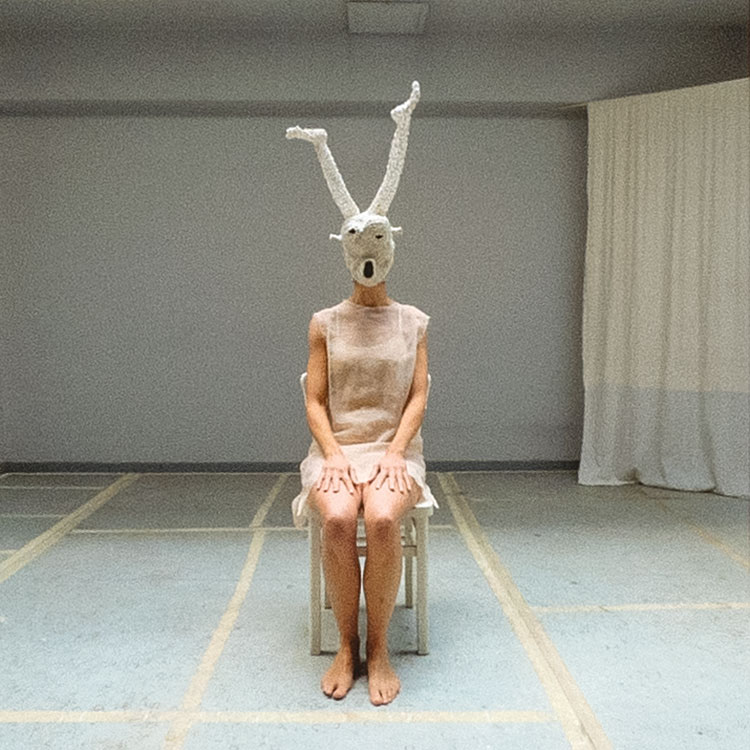 Stéphanie Jacques
April 2019