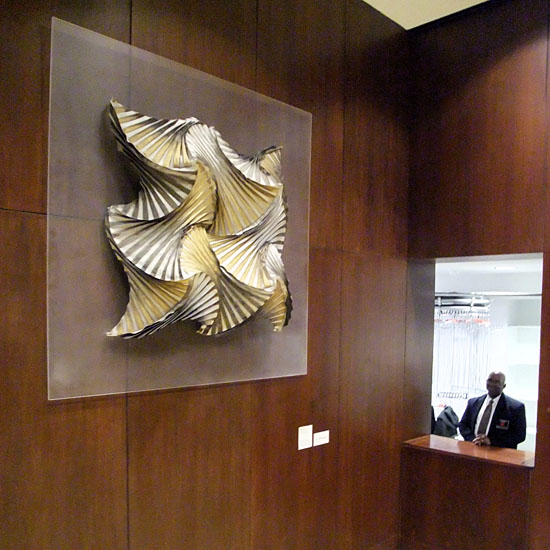 The Korean Art Show opened this week at 82 Mercer Street in New York and runs through March 11th. Interest in Korean Art is on the rise. The Museum of Arts and Design and Korean Art Show opened the Korean Eye: Energy and Matter from last November through February. It was accompanied by a 300-page catalog. Last year's Cheong-ju International Craft Biennale featured artworks by 189 international artists. The Korean Design & Craft Foundation began exhibiting at SOFA expositions in 2010. In recognition of this escalation of interest we offer this online view of work by three accomplished artists from Korea who explore traditional and innovative techniques in their work.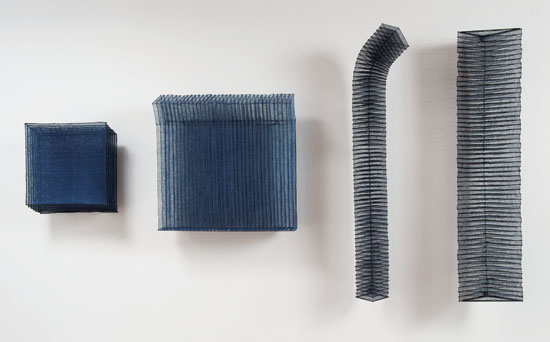 Chang Yeonsoon was Artist of the Year at the National Museum of Art in Seoul in 2008. The artworks of her Matrix series illustrate the Asian perspective of the human mind and body as unified, rather than separate. To transform her abstract ideas into three-dimensional structures requires an elaborate 12-step process that includes starching, ironing, cutting and sewing sparsely woven abaca fiber after dyeing it with indigo. Jin-Sook So has spent much of her career in Sweden and her work reflects her time in two cultures.  So creates abstract and rhythmical works by applying various techniques to wire mesh, organza and paper. Her works, like Untitled Steel Mesh in the permanent collection of the Museum of Arts and Design, combine Western influences and Korean sensibilities.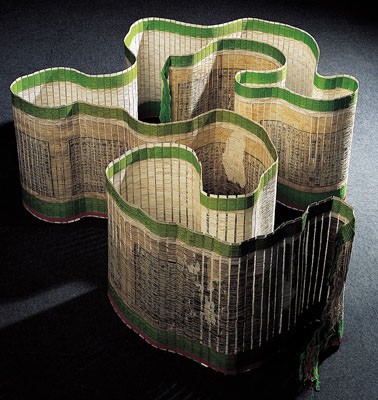 Young-Ok Shin transfoms traditional Korean aesthetics into contemporary works of art.  In Ways of Wisdom, for example, which is part of the permanent collection of the Philadelphia Museum of Art, the artist repurposed an entire volume of a 19th-century printed version of the The Analects of Confucius to create five scrolls, woven with ramie and cotton threads, standing, rather laying flat in the traditional manner, each presenting the five elements of the East Asian cosmology: Water (black); Fire (red); Earth (yellow); Wood (blue) and Metal (white).