Work by a number of artists who work with browngrotta arts is on display in museum exhibitions across the country. From West to East:
New Mexico
Indelible Blue: Indigo Across the Globe
Albuquerque Museum
through April 24, 2022
abqmuseum@cabq.gov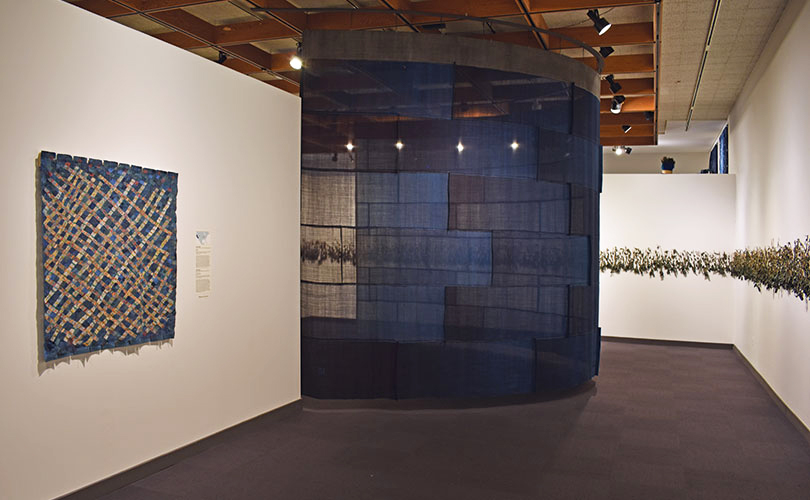 We were delighted to loan several works to the Albuquerque Museum's for Indelible Blue: Indigo Across the Globe, an expansive survey of the origins and history, techniques and movement of indigo, tracing back more than 6,000 years across cultures in Africa, Asia and elsewhere. The exhibition includes clothing and works of art by Eduardo Portillo and Mariá Dávila (VE), Hiroyuki Shindo (JP), Chiyoko Tanaka (JP), James Bassler (US), Chang Yeonsoon (KR) and Rowland Ricketts.
Minnesota
Parallel Lines: New Textile Masterworks Inspired by Geometry
Minneapolis Museum of Art
Minneapolis, MN
through August 28, 2022
https://new.artsmia.org/exhibition/parallel-lines-new-textile-masterworks-inspired-by-geometry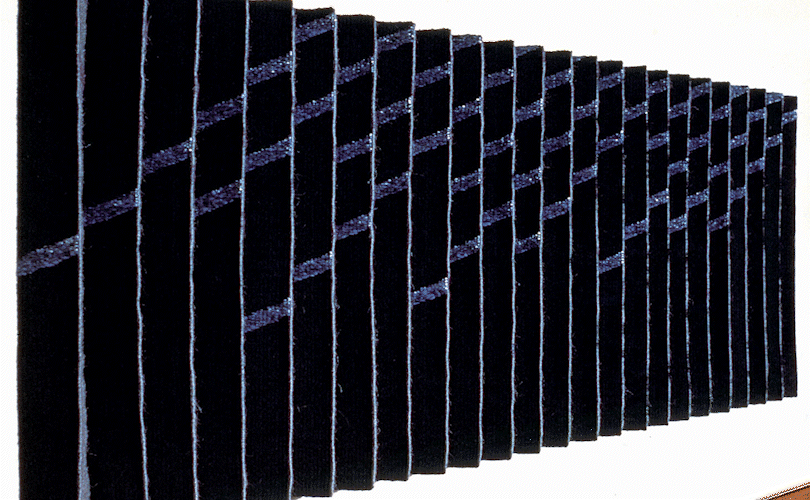 Parallel Lines explores woven textiles, which are inherently geometric. Vertical warp and horizontal weft threads impose a gridded framework that is necessarily linear and two-dimensional. It guides but it also constrains. Presented here is a group of newly acquired textile works, all on view for the first time, which bear witness to artistic experiments in color and form that both celebrate and defy this intrinsic geometry. Included in this exhibition is Compostela, 1985, the Museum's recent acquisition by Adela Akers. The work is geometrically intricate and also presents as two works, depending upon the side from which it is viewed. Helena Hernmarck's work, Euclid's Elements, 1995, also in the exhibition, expertly creates an optical illusion involving a ball, a pyramid and rainbow, rendering a "sculptural multimedia assemblage within a two-dimensional wool textile."
New York
Radical Fiber: Threads Connecting Art and Science
Tang Museum, Skidmore College
Saratoga Springs, NY
through June 12, 2022
See More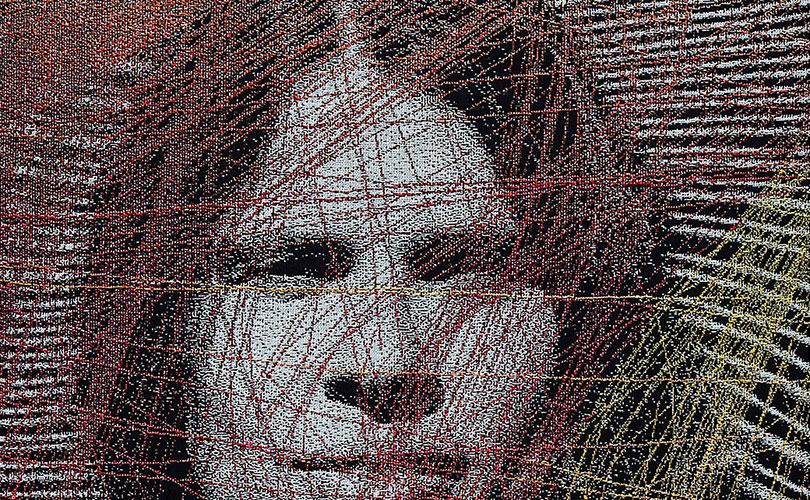 For centuries, fiber arts have influenced practical, theoretical, and pedagogical areas of the sciences as diverse as digital technology, mathematics, neuroscience, medicine, and more. Radical Fiber: Threads Connecting Art and Science explores this relationship through contemporary art and historical artifacts centered on four key themes: shape, body, brain and machine. A celebration of interdisciplinary creativity and collaborative learning, Radical Fiber foregrounds each work as at once fine art, process-driven craft, and scientific tool, complicating existing frameworks across fields. Can a crochet hook and yarn uniquely explain the complexities of non-Euclidean geometry? Why does the 1804 Jacquard loom relate to modern computing? How did the accidental discovery of synthetic mauveine dye in 1856 pave the way for modern pharmaceuticals yet also generate toxic environmental impact? Why do we respond differently to a woven photograph than a printed one? These and other questions will reframe the histories of fiber/science intersections and ask not only how artists continue to engage in scientific inquiry through fiber, but also importantly, how the medium can be used to improve our world for the future.
During this exhibition a study will be conducted in the neuroscience lab using woven faces (by Lia Cook)
Connecticut
The Westport Idea
Museum of Contemporary Art
Westport, Connecticut
Through March 12, 2022
https://mocawestport.org/the-westport-idea/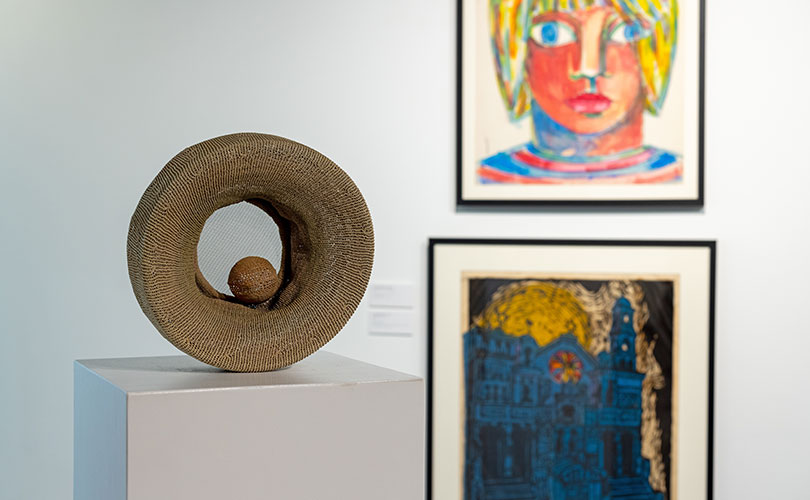 The Westport Idea features a diverse range of selections from Westport, Connecticut Public Art Collections (WestPAC) holdings of more than 2,000 artworks. Most of these works, by 50 different artists, have been housed in public schools and municipal buildings, not always accessible to the public. The collection includes works by Alex Katz, Robert Rauschenberg, Joan Mitchell, Robert Indiana and Norma Minkowitz. Her 1986 work, From Nothing to Nothing, is made of cotton fiber, colored pencil, metal screen and shellac. The vessel is both knitted and crocheted, a departure for her at that time. The exterior is knitted, the ball is crocheted with metallic screen in the background. The work, says Minkowitz, is about perpetual isolation, loneliness and entrapment as were many of her vessels during this period.