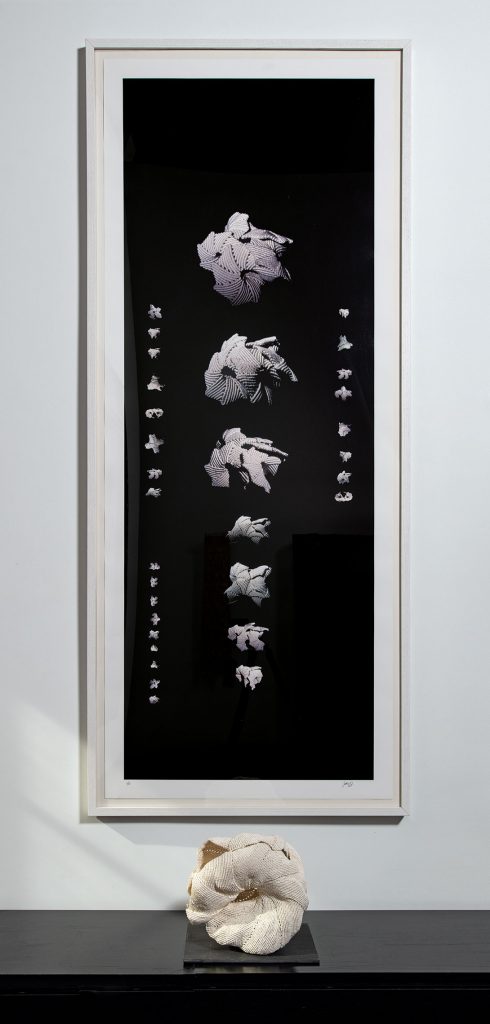 Below, we share thoughts from Federica Luzzi about her works, White Shell Tongue, n.2, White Paper Shell and White Shell. The works were featured in browngrotta arts' recent exhibition, art + identity: an international view.

"From a simple daily gesture, observing the white, knotted shapes just finished and resting on my black, low and Japanese-style lacquered table, White Shell Tongue was born. My mother bought the table many years ago and it has always been a reason of great attraction for me, every object projected far away on it; you have to sit down on the ground to use it. Also, a turquoise silk kimono brought for me by parents from SoHo, New York, when I was 6-7 years old. My father, Mario Luzzi, was an expert and journalist in jazz music, and in the 70s and 80s, my parents' house in Rome was a continuous coming and going of American and European musicians who also stayed with us — Ornette Coleman, Don Pullen, Muhal Richard Abrams, Max Roach, Noah Howard, Paul Bley e Byard Lancaster.

"Everyone's dream: to know a foreign (strange) language and yet not to understand it: to grasp the difference in it …" writes Roland Barthes in the beginning of "The language unknown" in The Empire of Signs. Mine is a eulogy to the slowness of the gesture. A pure gesture that leads to the conscious cancellation of the subject, the beginning of that "visual vacillation" of which Barthes speaks when "the text does not comment on the images. The images do not illustrate the text". A calligraphy whose author disappears taking "in some part of the world (down there) a certain number of 'traits' (graphic and linguistic terms) and with these traits deliberately forming a system,"writes Barthes. It is necessary to find a voice and a language that are foreign to themselves; a musical score, whose interpreter will read and imagine in a different way, moving away.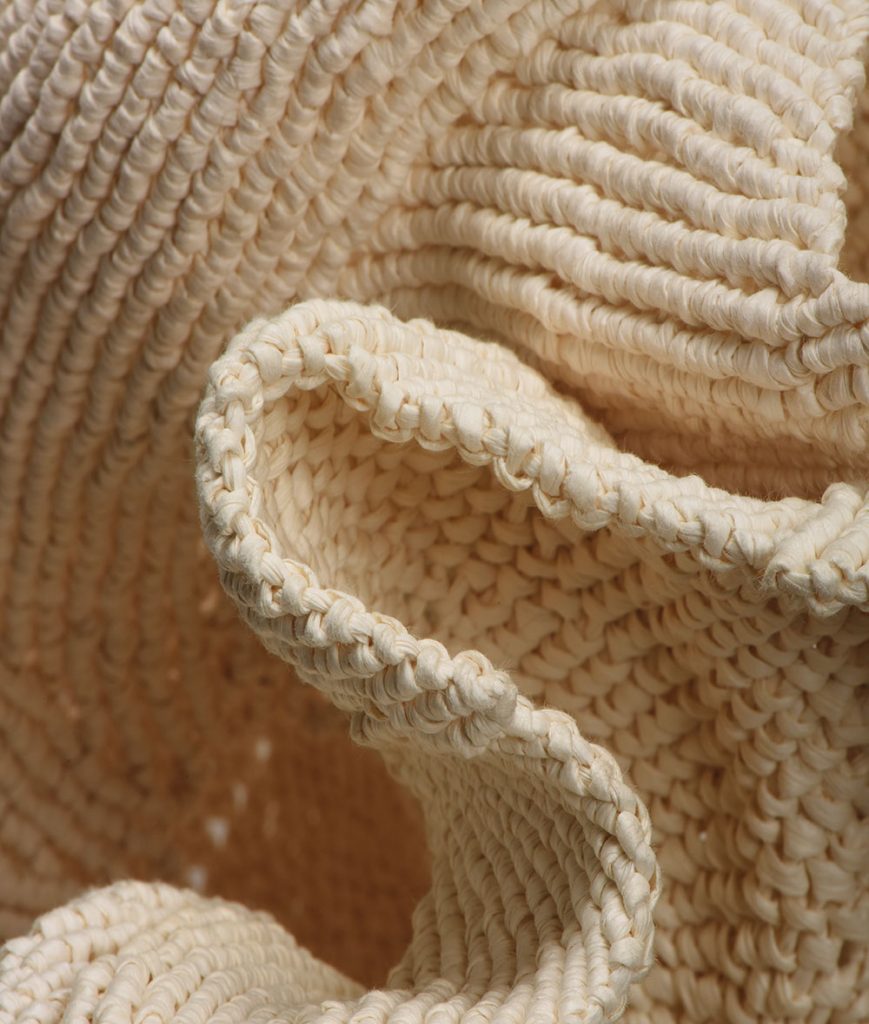 From Frascati's DAPHE particle accelerator, which I had left to create this series of works, I have come to confirm my old intuition: in approaching each other, we do not recognize ourselves in an alien matter.

Nostalgia is a feeling that I have felt since I was very young for Japan: a country that until a few years ago I had never seen but where I felt I had already been. In 2017, I presented my works for the first time in a solo exhibition, Shell, in Osaka, at the LADS Gallery, which mainly deals with Gutai artists and is directed by Toyoko Hyono San. Everything that I have always imagined of Japan began to take shape deeply, in particular when two of my works, usually exhibited separately, were put together there. The LADS Gallery, with its partially modifiable and openable space with sliding walls, has the possibility of creating a sort of niche that I immediately identified by visualizing the White Shell Tongue fine art print which, due to its vertical disposition, recalled to my mind the paintings or calligraphy on paper or silk, kakemono, displayed in the tokonoma, an intimate space of traditional Japanese houses. A sacred space where I put together my sculptural work made by knotting paper cord resting on a raised wooden structure.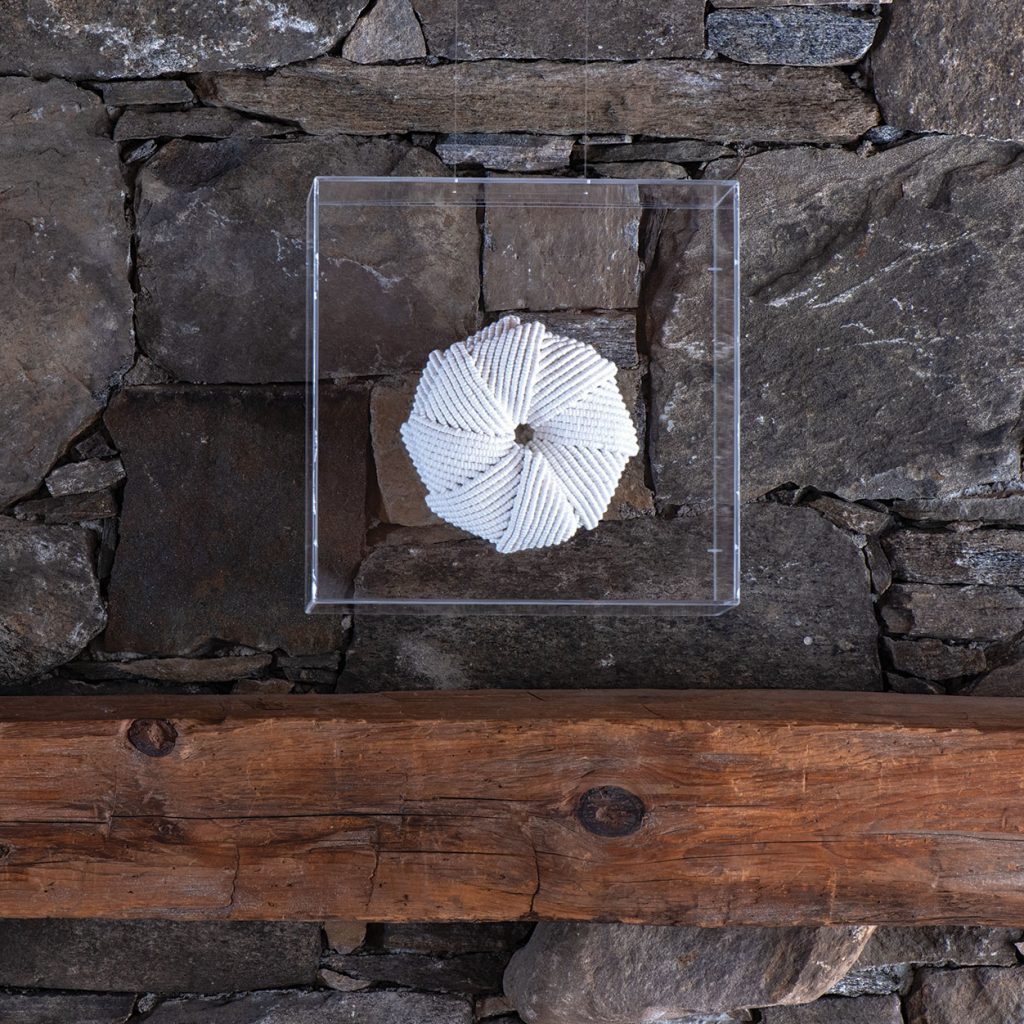 As a woman, I never appear physically in the works, but it is through my body that I touch and look at things, entrusting my story to long and narrow strips of paper as ever-changing languages. But if writing is an act of "dispossession" as Marc Augé makes clear, in my idea of dissemination that void of speech is vibration; small invocations dispersed in the cosmos.