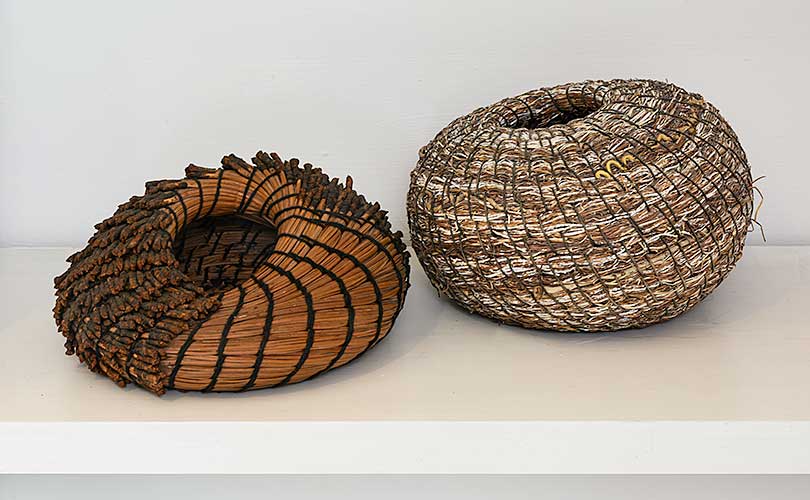 This week, more on An Abundance of Objects, part of Vignettes: one venue; three exhibitions, this Fall's exhibition at browngrotta arts (October 7 – 15). Abundance will feature works by several artists not shown before at the gallery, including basketmakers Francina and Neil Prince of the US and Willa Rogers of New Zealand.
The Princes and Rogers create vessels made of pine needles among other materials. All civilizations have created baskets — ancient Romans, Japanese, and Chinese. They predate pottery and stone carvings. The earliest example of basketry, sections of twined baskets and sandals, was found in Utah, circa 7000 BCE. Native Americans have been masterful basketmakers for centuries. The Seminoles, for example, utilized a sea shell as a sewing needle to sew bundles of pine needles together with sisal or swamp grass.The technique of creating crafts from pine needles is known as coiling.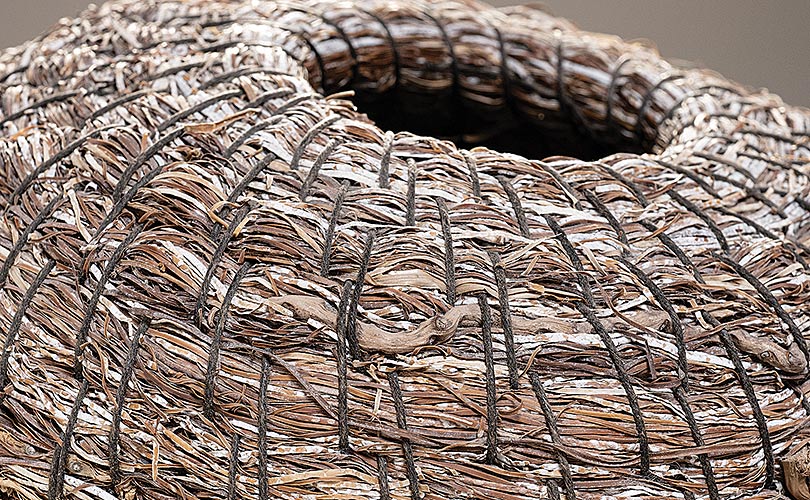 "Both Fran and I were initially (and are continually) attracted to the coiled fiber process by the repetitive rhythmic sequence," Neil Prince was quoted in the catalog for The Tactile Vessel exhibition, curated by Jack Lenor Larsen at the Erie Museum in New York in 1989. "The pure structural simplicity of our construction is described by the helix, a universal mathematical principal underlying galaxies as well as DNA. A basket created from a continuous helical coil of fibers represents a personal crystallization of space and time." An Abundance of Objects will include Sea Grass Vessel by the Princes — made of sea grass and waxed linen. "We feel as though we're preserving part of the natural life by using what's available to us: locally available pine needles, sea grasses and palm blooms," Prince said. John Vanco, then-Director of the Erie Museum described its collection which includes the Princes, as "small-yet-definitive," containing "works by virtually every key artist who has made the basket a familiar form in late 20th century art."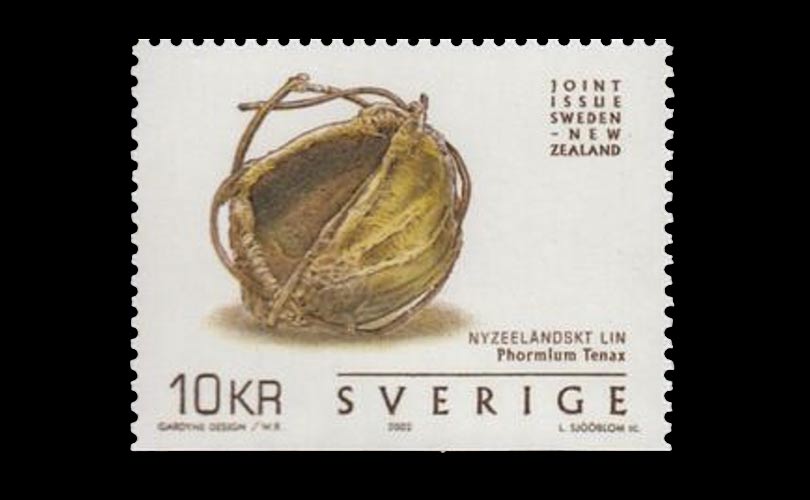 Willa Rogers is a well-known basket artist from New Zealand who also works with locally sourced materials. Rogers creates her contemporary basketry using a range of plant fibers she collects — pine needles, flax, watsonia, nīkau, and phoenix palm, cabbage tree, and grapevine. The country issued an Art Meets Craft series of stamps that were published in New Zealand and Sweden that includes a Maori basket by Rogers."Through her work, which is displayed in galleries throughout New Zealand, " the issuers wrote, "she strives to convey 'a feeling for history and for the unknown and unsung artists of past centuries.'" The Abundance exhibition includes a pine-needle basket by Rogers, from the collection of the late Dorothy Gill Barnes.
See works by Rogers and the Princes — and dozens of other artists— at An Abundance of Objects, part of browngrotta arts' Fall 2023 "Art in the Barn" exhibition, Vignettes: one venue; three exhibitions this October 7th through October 15th. Reserve a time on Eventbrite.