It's a fall full of cultural attractions — across the US and abroad. Hope you can take in one or two!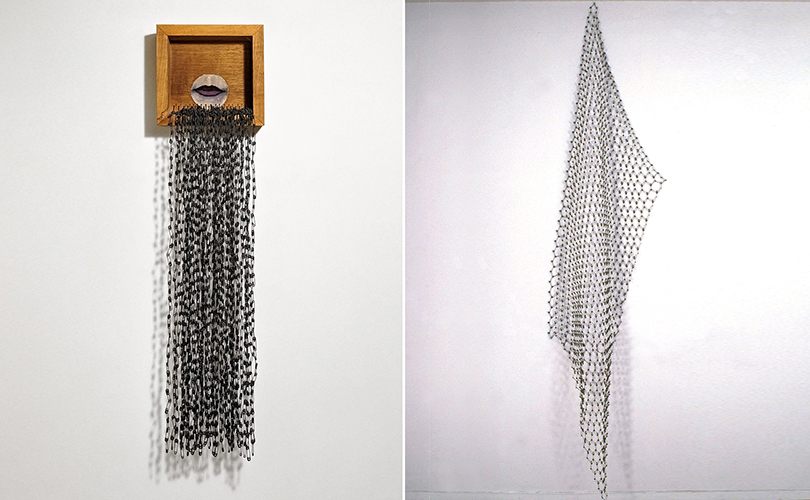 Tamiko Kawata: Beyond Edge, Beyond Surface
November 1- 28, 2023
Opening Reception November 1 6-8 p.m.
Pollock Gallery
Meadows School of the Arts
Southern Methodist University
Dallas, Texas 
https://calendar.smu.edu/site/meadows/event/tamiko-kawata-beyond-edge-beyond-surface–opening-reception/
The artist will create an onsite installation on October 29 – 30th
Weaving at Black Mountain College:
Anni Albers,Trude Guermonprez, and Their Students
through January 6, 2023
Black Mountain College Museum + Arts Center
Asheville, NC
https://www.blackmountaincollege.org/weaving/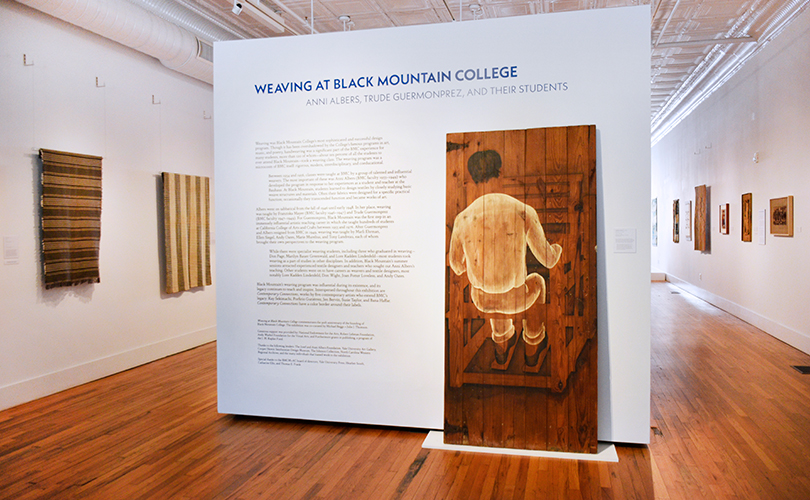 Weaving at Black Mountain College: Anni Albers,Trude Guermonprez, and Their Students will be the first exhibition devoted to textile practices at Black Mountain College (BMC). Celebrating 90 years since the college's founding, the exhibition will reveal how weaving was a more significant part of BMC's legendary art and design curriculum than previously assumed.
BMC's weaving program was started in 1934 by Anni Albers and lasted until the College closed in 1956. About 10% of all Black Mountain College students took at least one class in weaving. Despite Albers's elevated reputation, the persistent treatment of textile practices as women's work or handicraft has often led to the discipline being ignored or underrepresented in previous scholarship and exhibitions about the College; this exhibition brings that work into the spotlight at last. The exhibition will also feature work by selected contemporary artists whose work connects to the legacies of the BMC weavers: Kay Sekimachi, Jen Bervin, Porfirio Gutiérrez, Susie Taylor, and Bana Haffar. They've produced a catalog for the exhibition, too, that will be available October 31st. 
Folding Silences
through November 9, 2023
D21 Art Projects
Paeo Las Palmas
Providencia, Chile
https://www.d21virtual.cl/2023/09/20/comunicado-plegando-silencios-de-carolina-yrarrazaval/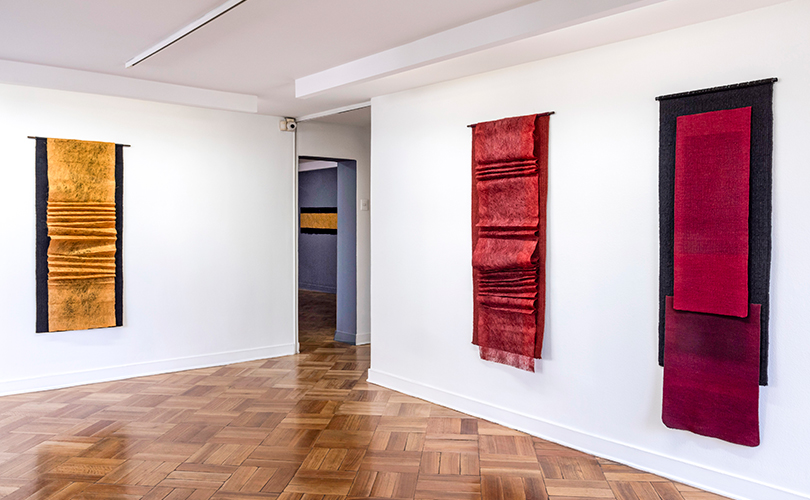 Through November 9th, the exhibition Plegando Silencios by international artist Carolina Yrarrázaval can be visited at gallery D21. The exhibition consists of a series of 12 tapestries that the artist has worked on in recent years experimenting with materials of plant origin, mainly with coconut fiber, which is intervened to obtain suggestive reliefs, textures, and transparencies that demand a new look at the artist's work. The creative act of dyeing, folding, and incorporating raw material is transformed into the initial structure of a textile work that s, the gallery says, "seduces and incites the search for new sensations."
Woven Histories: textiles and modern abstraction
through January 21, 2024
Los Angeles County Museum of Art
Los Angeles, CA
https://www.lacma.org/art/exhibition/woven-histories-textiles-and-modern-abstraction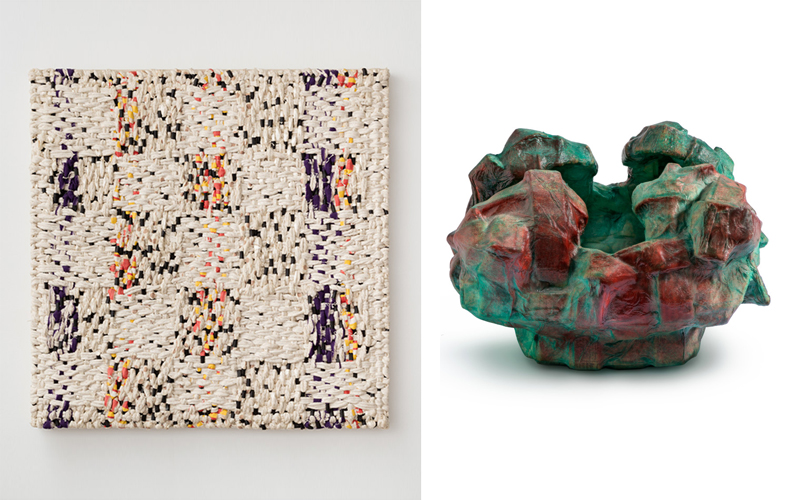 Woven Histories sheds light on a robust, if over-looked, strand in art history's modernist narratives by tracing how, when, and why abstract art intersected with woven textiles (and such pre-loom technologies as basketry, knotting, and netting) over the past century. Included are 150 works by an international and transhistorical roster of artists that includes Ed Rossbach, Katherine Westphal, Anni Albers, Dorothy Gill Barnes, Kay Sekimachi, Lenore Tawney, and Sheila Hicks. The exhibition reveals how shifting relations among abstract art, fashion, design, and craft shaped recurrent aesthetic, cultural, and socio-political forces, as they, in turn, were impacted by modernist art forms. It is accompanied by a book of essays and images, that can be purchased at browngrotta.com.
Takaezu & Tawney: An Artist is a Poet
through March 25, 2024
Crystal Bridges Museum of American Art
Bentonville, AK
https://crystalbridges.org/calendar/toshiko-takaezu-lenore-tawney/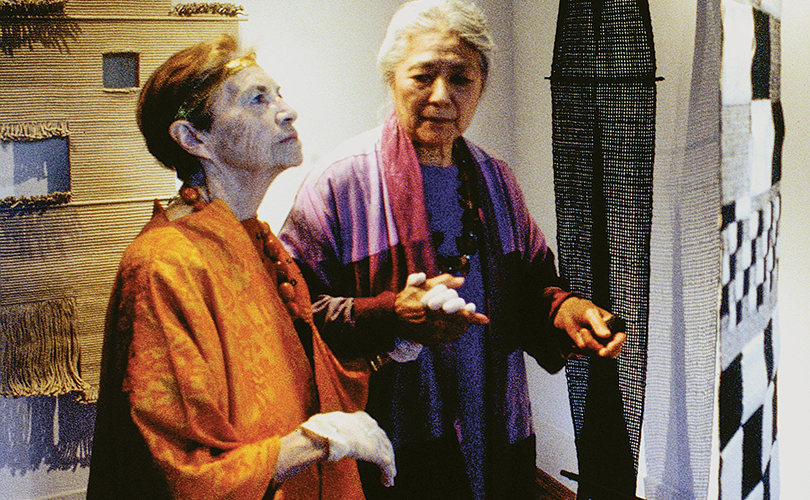 Takaezu & Tawney: An Artist is a Poet debuts 12 new acquisitions to the Crystal Bridges collection that tell the story of a remarkable friendship between Toshiko Takaezu and Lenore Tawney. Curated by Windgate Curator of Craft Jen Padgett, the exhibition highlights how these two women shaped craft history in the US by expanding and redefining the possibilities of their preferred mediums: Takaezu in ceramics, Tawney in weaving. Takaezu and Tawney had a close relationship for decades, from 1957 until Tawney's death in 2007. From 1977 to 1981, Tawney lived at Takaezu's Quakertown, New Jersey, home and the two shared studio space.
Tartan
through January 14, 2024
Victoria & Albert Museum
London, UK
https://www.vam.ac.uk/dundee/whatson/exhibitions/tartan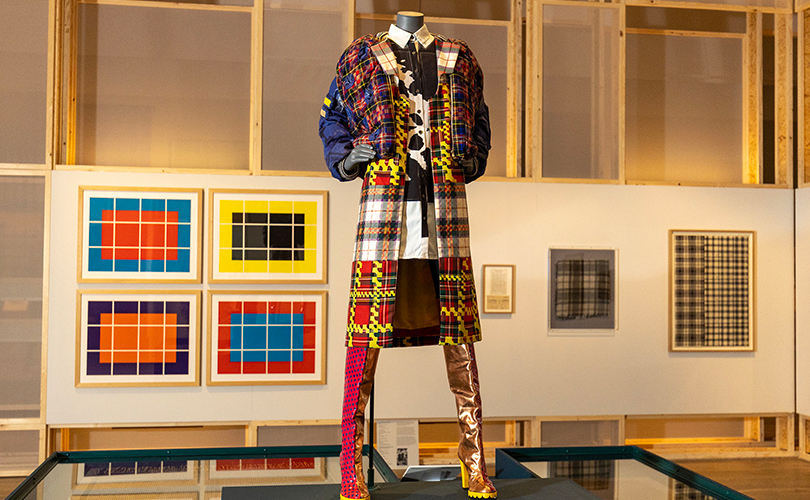 If you are a fan of tartan (as we are), the V&A's exhibition is for you. Tartan offers a thrilling view of over 300 mesmerizing objects showcasing tartan's timeless appeal and rebellious spirit across fashion, architecture, art and design. See tartan worn by Bonnie Prince Charlie, a Scottish soldier's unwashed kilt from the trenches of WWI, and the Bay City Rollers trousers handmade by a lifelong fan.
And there is always our Artsy Viewing Room that you can visit without leaving home: Glen Kaufman: Retrospective 1980 – 2010.
Enjoy!