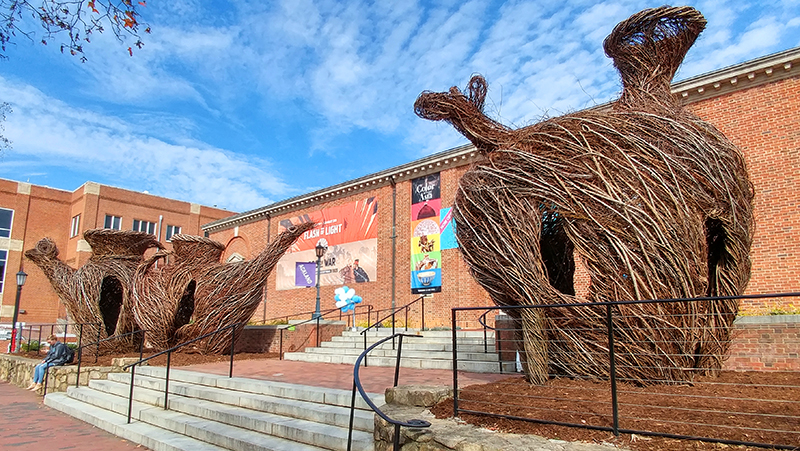 Raised in North Carolina and an alumnus of the University of North Carolina at Chapel Hill, sculptor Patrick Dougherty returned to his roots to create Step Right Up for the Ackland Art Museum last October. Internationally acclaimed for his monumental environmental works, Dougherty has produced over 280 large scale stick sculptures all over the world. You'll know one of Dougherty's sculptures when you see one. "Some cling to pylons or walls, or roll across the tops of trees; others emerge from a lake, seeming to balance on the surface of it without making a single ripple," explains Daniel Wallace of Garden & Gun. "His sculptures do impossible things. They could be homes for giants or trolls, the first shelters built by prehistoric men, Gaudí-esque mazes, giant vines, remnants of alien visitations, windblown towers, jokes. They are fun, joyous, friendly, inviting, and public, very public: art conceived by one, built by many, shared by all."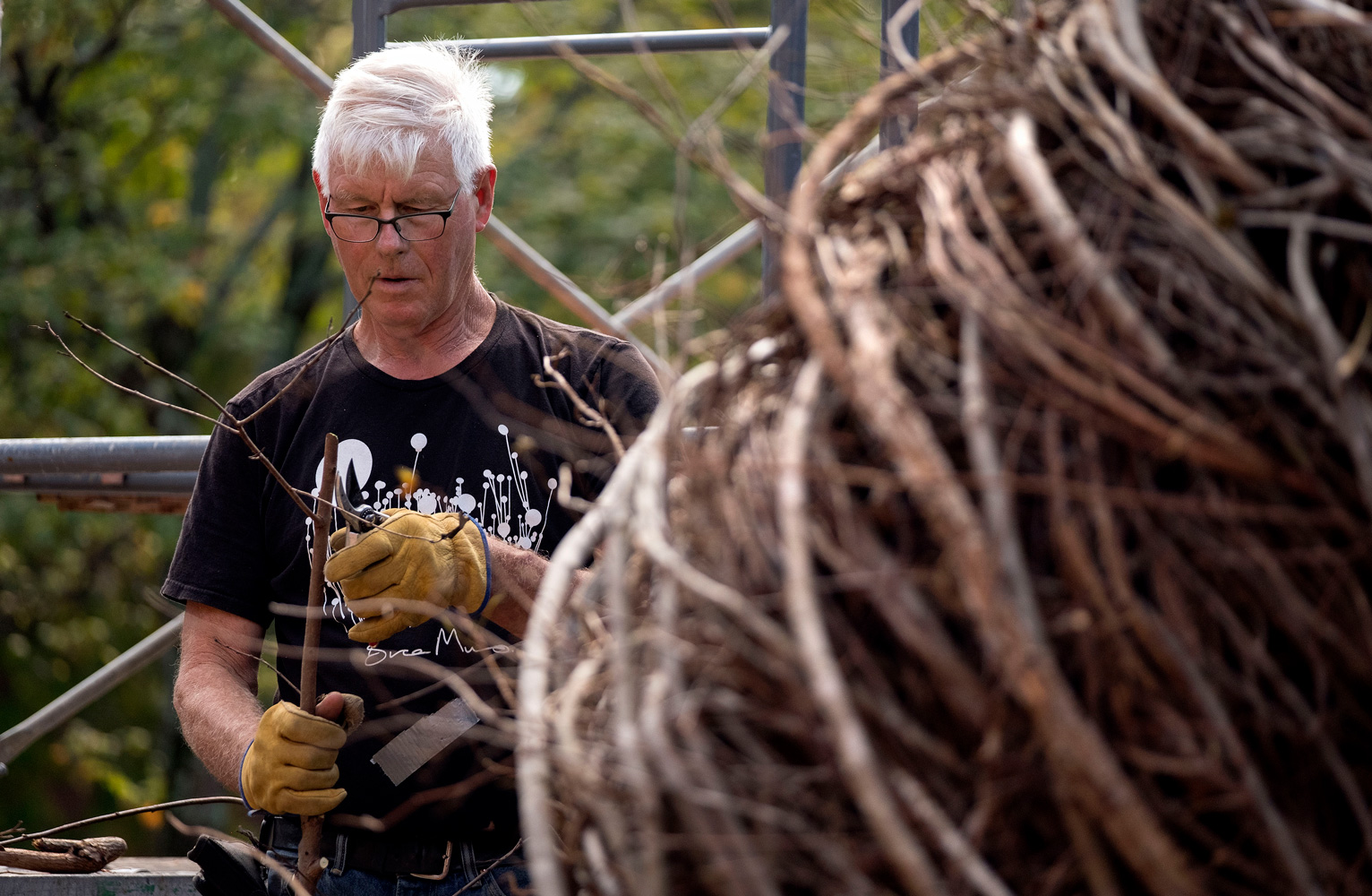 What separates Step Right Up from Dougherty's other installations is that it is in his hometown of Chapel Hill, North Carolina. Dougherty earned his B.A. in English from the UNC in 1967 and later returned to study art history and sculpture. Before he began using sticks as his medium, Dougherty sculpted with clay. However, while using clay Dougherty was unable to achieve the scale he desired for his sculptures. While studying at UNC, Dougherty developed the idea of using sticks as his medium. Dougherty found that using sticks allowed him to bend and extend long lines, he could create his own monumental three-dimensional drawings. In order to effectively use sticks to create sculptures, Dougherty had to gain a better understanding of how shelter builders, such as birds and beavers, build their homes. "Sticks have an inherent method of joining…and that tangling allows you to hook them together," Dougherty explains.
Dougherty often does not know what he is going to build until after he arrives at the installation site. Once he arrives, Dougherty has to source both volunteers and materials. For his exhibition Step Right Up at the Ackland Art Museum Dougherty was able to source his materials—maple and gum saplings—from Duke Forest and Triangle Land Conservancy, organizations Dougherty has had long relationships with throughout his career. Dougherty chooses to enlist the help of volunteers on his projects because he finds it interesting how varying types of characters can come together to create one piece. Dougherty's creative process has three steps: 1) Structural formation—building the basic shape, 2) Appliqué—appliquéing a look onto the surface of the piece and 3) Cosmetic—fixing up and making it habitable for people to enjoy from both the inside and outside. In creating Step Right Up for the Ackland, Dougherty was inspired by the Ackland's collection of ancient animal pouring vessels. The vessels, which usually have an animal head from which water is poured, typically have traditional tops. Dougherty liked the idea of having a mixed shape and applied it to his sculpture in Step Right Up.
"I think that part of my work's allure is its impermanence, the life cycle that is built into the growth and decay of saplings," explains Dougherty. "The line between trash and treasure is thin, and the sculptures, like the sticks they are made from, begin to fade after two years. Often the public imagines that a work of art should be made to last, but I believe that a sculpture, like a good flower bed, has its season." Bounded to the installations organic material and outdoor setting, Dougherty's Step Right Up is a temporary installation. The installation is expected to be on view through August 31, 2018 at the Ackland Art Museum in Chapel Hill, North Carolina. For more information, visit: https://ackland.org/exhibition/patrick-dougherty-stickwork-ackland/.