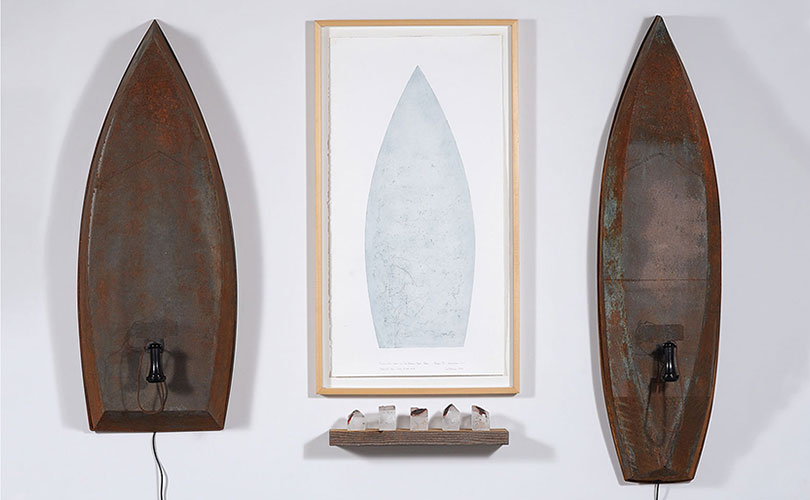 Boats and ships and time on the water are potent metaphors for the highs and lows of contemporary life.
As FineArt America says of "boat art":"… whether you own a boat, grew up by the sea, or dream of sailing the wide-open ocean, boats have a way of making us feel a unique combination of calm and adventurous.".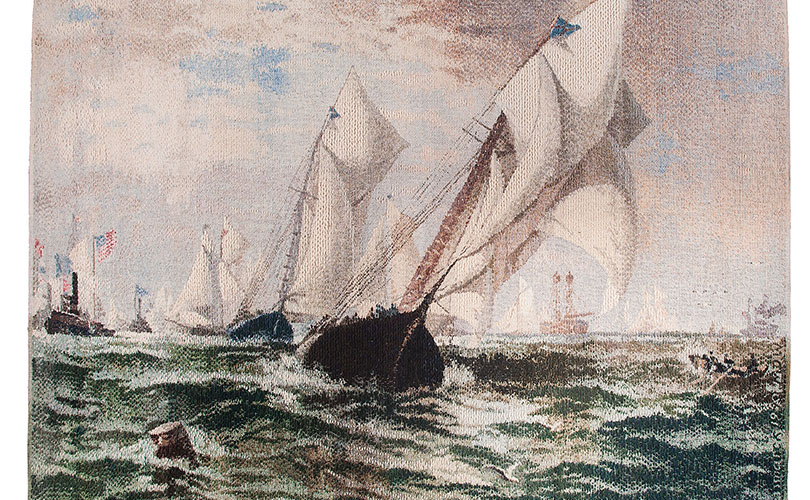 Artists at browngrotta arts explore the artistic potential of boats and boat shapes in widely divergent ways.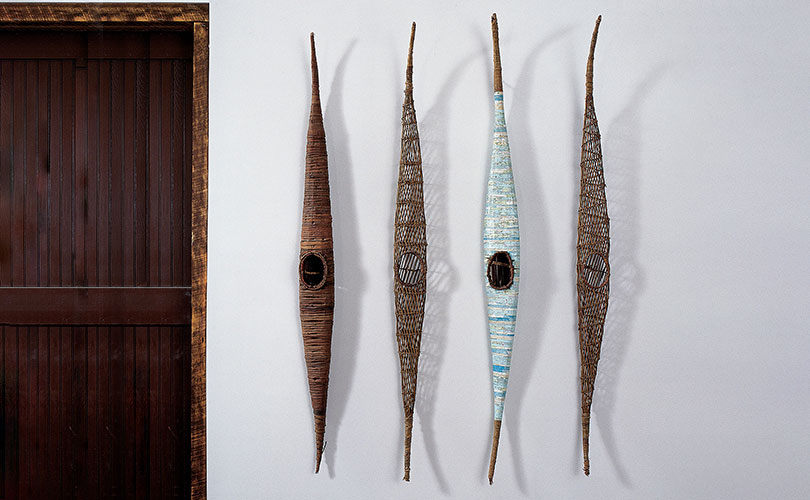 Some, like Lawrence LaBianca, Helena Hernmarck, Chris Drury and Annette Bellamy, have referenced them literally in their work. Lawrence LaBianca creates experiences in which water is an integral part. In Skiff, an antique telephone receiver links viewers to sounds of a rushing river. Twenty-four Hours on the Roaring Fork River, Aspen, CO, is a print created by Drawing Boat, a vessel filled with river rocks that makes marks on paper when it is afloat. Annette Bellamy has lived in a small fishing village called Halibut Cove right across the bay from Homer, Alaska and worked as a commercial fisherwoman. Off season, she reflects on her day job, creating porcelain, earthenware, raku-fired ceramic and stoneware boats, buoys, sinkers and oars that float inches from the floor.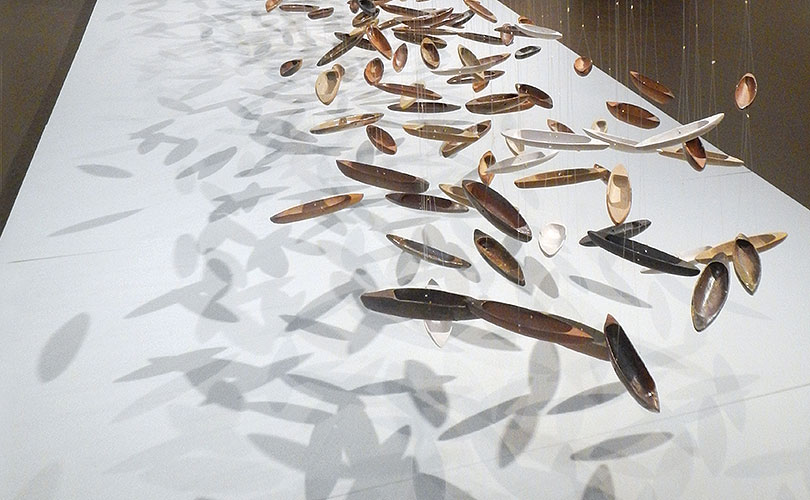 Others, like Dona Anderson, Jane Balsgaard, Merja Winquist, Birgit Birkkjaer and Christine Joy, are moved to create more abstract versions. Boat is a part of new work of hers that is more angular, says Christine Joy. "The shape that occurs when I bend the willow reminds me of waves on choppy water, boats, and the movement of water." Birgit Birkkjaer's baskets contain precious amber that she has found washed up on the shore. The indigo-dyed baskets symbolize the sea that brings the amber to the shore – and a ship from ancient times, transporting the Nordic Gold to the rest of Europe. Boats and boat shapes conjure thoughts of water as a natural force, a spiritual source, or a resource for which humans are responsible — and not doing such a red hot job.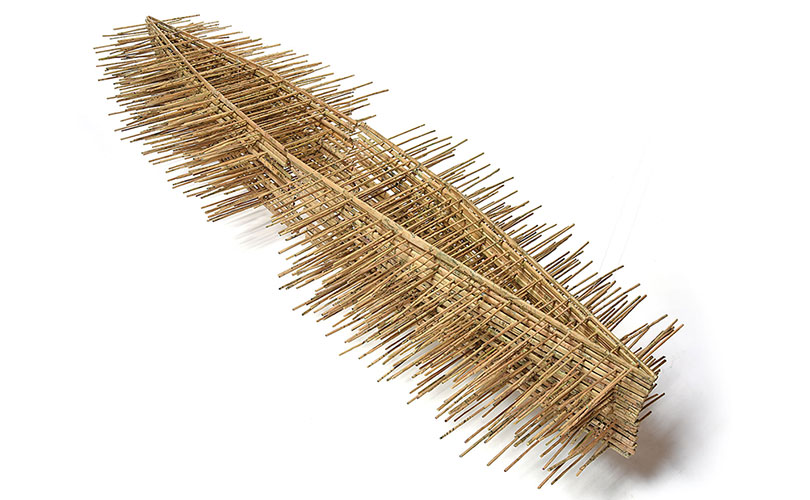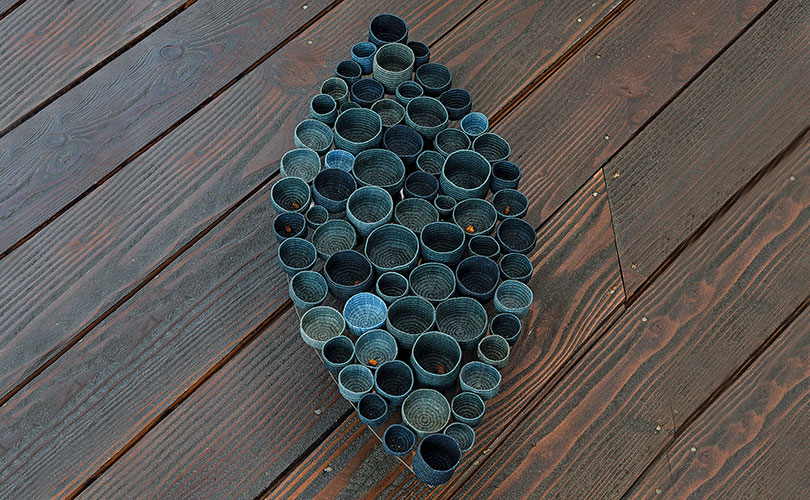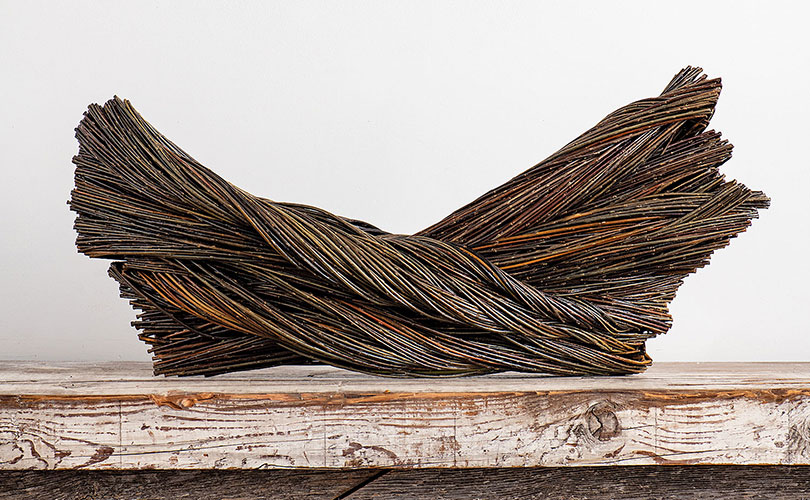 in each case the results are imaginative and intriguing. Enjoy these varied depictions and see more on our website.