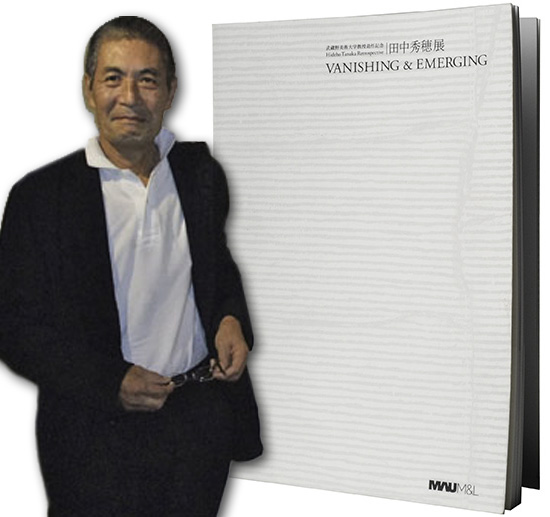 In 2012, the Musashino Art University Museum & Library, Tokyo, Japan hosted, Hideho Tanaka Retrospective: Vanishing and Emerging, an exhibition commemorating the retirement of craft and industrial design professor, Hideho Tanaka. The exhibition featured Tanaka's signature sculptures made of industrial fibers. In 1985, Tanaka reformulated his notions about the nature of fiber.
Since then, he explained, as part of the Beyond the Surface: Japanese Style of Making Things, he shifted his form of expression "from a longing for eternity to an embracing of things born of relationships that incessantly change and develop." Why cloth and fiber? Tanaka explains that, "in those days I was constantly inquiring into the nature of material attractions and the necessities of expression. I then became interested in creative forms peculiar to fiber materials, which emerge in time and space and yet which also metamorphose and disappear. This was also part of my realization that there was a kind of fascination in the hierarchy that places accidentals beneath conscious things. The creation of a contrast between what vanishes and what remains, and the moving of this indoors, allows me certain special kinds of expression.
These have developed into experiments in the intervention of fire into a combination of stainless steel wire (a contemporary inorganic material), and linen (an organic material)." The exhibition was accompanied by a 91-page catalog, Hideho Tanaka Retrospective: Vanishing and Emerging, which is available of $39.95 from browngrotta arts.