In the Realm of Nature: Bob Stocksdale & Kay Sekimachi at the Mingei International Museum in San Diego, presents an inspiring, retrospective view of work by two of America's foremost pioneers in wood and textile art. Kay Sekimachi (1926-) and Bob Stocksdale (1913-2003) married in 1972. Seen together, their 50 years of work has a true poetic resonance.
Hailed as a father of American woodturning, Bob Stocksdale revitalized the craft of lathe-turned bowls, beginning in the 1950s. In his exquisite works, he unveiled a compelling beauty in diseased and in rare woods, of which many are now endangered. Serpentine or ellipsoidal shapes— seemingly impossible to turn— are among his innovations. The exhibition features, for the first time on view, an example of his one-of-kind furniture.
Kay Sekimachi is an influential master of complex weave structures in both off-loom and on multiple-harness loom techniques. Transparent marine creatures were the inspiration for the interlocking hangings in monofilament (fish line) that she created in the 1960s. With these majestic pieces she ascended to the forefront of contemporary fiber art during the 1960s and 1970s. Her work is included in the current exhibition Fiber: Sculpture 1960-present at the Institute of Contemporary Art in Boston, Massachusetts through January 4, 2015. Throughout her 60-year career she has created unique works of art in such natural materials as skeletal leaves, hornet's nest paper and grass. The exhibition includes examples of her translucent sculptural hangings and room dividers, along with other woven forms – accordion-formatted books, vibrant scrolls, seamless nesting boxes and jewelry. The Mingei is at 1439 El Prado, San Diego, California, 92101. Open Tuesday through Sunday from 10 a.m. to 5 p.m. For more information: ph. 619.239.0003; web address: http://www.mingei.org.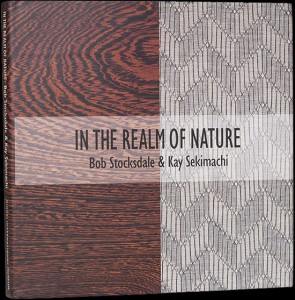 Exhibition curator Signe Mayfield has authored a lush 210-page book to accompany the exhibition. In the Realm of Nature: Bob Stocksdale & Kay Sekimachi, available at browngrotta.com features scores of attractive object photos. It includes essays by Melissa Leventon (former Curator-in-Charge of Textiles at the Fine Arts Museums of San Francisco and founding member of Curatrix Group of museum consultants) and John C. Lavine (former editor of Woodwork Magazine and furniture maker.)