Two January arrivals to review and one fav from last year to highlight: We were delighted to receive our copy of From Tapestry to Fiber Art: The Lausanne Biennals 1962-1995 by Giselle Eberhard Cotton and you can order it now from browngrotta arts. The book contains many never-before-published images from the Biennials and insightful essays, as well.
At the end of World War II, the art of tapestry experienced a renewal. By organizing the International Tapestry Biennials in 1962, the city of Lausanne, Switzerland became the international showcase of contemporary textile creation. The Lausanne Biennials gradually became more than just an exhibition. but a not-to-be-missed event that bore witness to the extraordinary evolution of an artistic expression that had graduated from a decorative art to that of a truly independent art form. In the 30 years that the exhibitions were held, 600 artists participated, 911 works were exhibited. The book contains many never-before-published images from the Biennials and insightful essays, as well.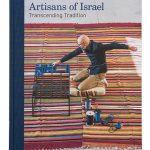 Another newly published title we've enjoyed is Artisans of Israel: Transcending Tradition by Lynn Holstein (Arnoldsche Art Publishers). Intriguing portraits of dozens of artists are featured, from a Bedouin ceramist, Zenab Garbia, who use cross-stitch patterns in her works, to Russian emigre, Aleksandra Stoyanov who creates evocative tapestries, to Gali Cnaani, whose grandparents emigrated to Israel from Romania and Slovakia and who creates hybrid textiles from meticulously modified items of used clothing. The book features studio photos and portraits of workshops and design brands.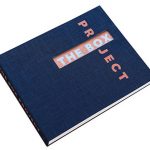 Both Heidrun Schimmel and Gyøngy Laky had high praise for The Box Project: Works from the Lloyd Cotsen Collection, edited by Lyssa Stapleton (Cotsen Occasional Press, Los Angeles, 2016). "This catalog itself is an art object! The essays answer very important fundamental questions in textile art and the photographs are in high quality," writes Heidrun Schimmel. "At the risk of being shamelessly self-promoting," Gyöngy Laky also recommended the catalog/book that accompanied the unusual, traveling exhibition, which includes Laky's and Schimmel's work among that of many other artists.
"The five-pound book, " Laky writes, "is not only a work of art itself with its indigo cloth cover, exquisite binding, gorgeous photography and elegant design, but, also, presents informative, important and engaging scholarly research. In addition to the background on the formation of this unique collection, the essays eloquently discuss the provenance and role of this field and its current manifestations, as well as describe the medium's place in the contemporary art world context."
Laky continues, "My participation was one of the most fascinating engagements with a collector commissioning a work that I have ever experienced. Lloyd Cotsen (of Neutrogena) was assembling a collection of works by contemporary artists in an extremely strange way.  He sent a small archival box to each of the 36 internationally acclaimed artists he selected, asking each to create a one-of-a-kind, three-dimensional, work that fit within the confines of the box. The 36 ideas resulted in remarkably diverse works – some residing within the boxes and some emerging from them to be large-scale works of all kinds when installed in a gallery. 
The Box Project
 showcases the dynamic, and often surprising, results.
My work for the box, This Way and That, is composed of eight separate small sculptures – four rectangles and four triangles – that can be arranged in a myriad of ways and has been installed in each venue in a different arrangement.
This inventive way of collecting resulted in an in-depth, thoughtful and provocative scholarly treatise associated with an equally intriguing and extraordinary exhibition.  The artworks are compelling demonstrations of the inventiveness and richness of this realm of the visual arts today."
The exhibition opened at The Fowler Museum, UCLA, in September, 2016, traveled to the Racine Museum of Art and is now on view through the end of January  2018, at George Washington University (
https://museum.gwu.edu/boxproject
).  Additional works by each artist are included in the exhibition.  The Box Project was organized by the Cotsen Foundation for Academic Research with the Racine Art Museum and curated by Lyssa C. Stapleton and Bruce W. Pepich.