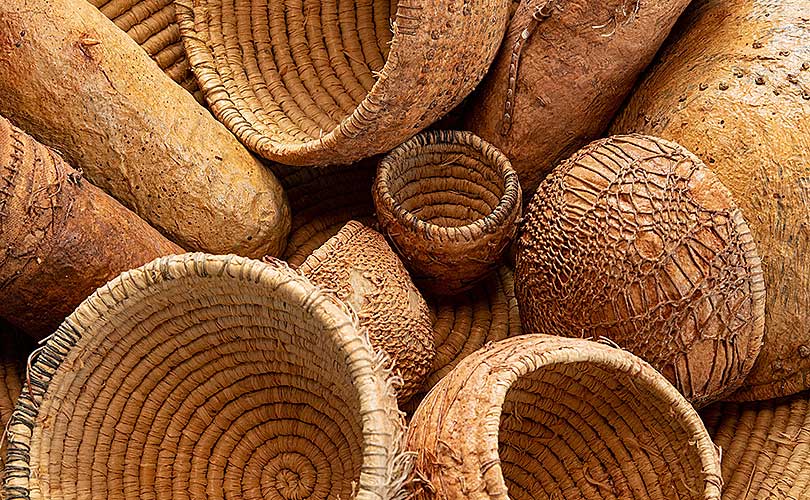 An Abundance of Objects, this Fall at browngrotta arts, will feature The Gathering, an interesting 1994 work made by Lissa Hunter, whose work we have not shown previously at the gallery. Hunter earned a BA in painting and an MFA in fibers at Indiana University. Choosing to work in both two and three dimensions has allowed Hunter to explore numerous materials and techniques and to push her art in many directions. "Lissa Hunter's choice of materials is modest, yet impactful. Raffia, paper, charcoal, clay, thread and an array of natural and found objects. These seemingly ordinary elements, devoid of intrinsic value or distinctive identity, serve as the foundation for her artistic process.Techniques such as coiling, drawing, hand building, sewing and mark making elevate these unassuming materials to a realm of significance,"explains Angela Truscott of FibreArts Take Two, in its recent video interview of Hunter.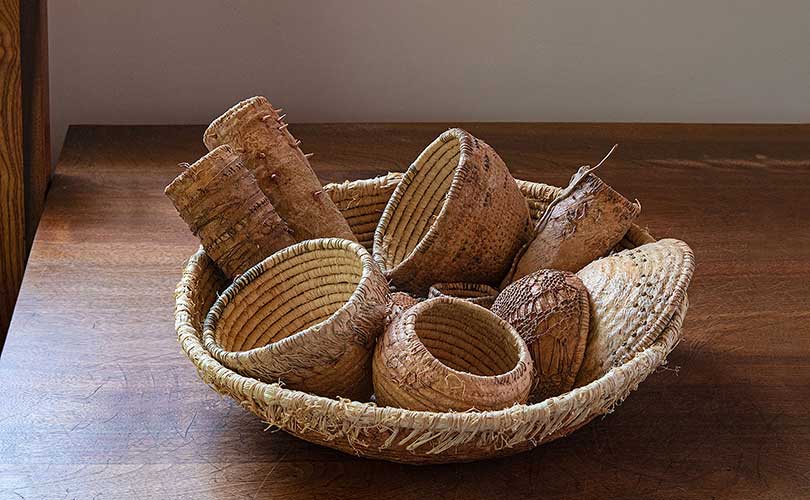 In the 90s, Hunter would create coiled baskets, then coat them with handmade paper, apply acrylic medium, "age" them with watercolor, and add decorative elements. The result were baskets that resembled ancient artifacts. Janet Koplos and Bruce Metcalf, the authors of Makers: A History of American Studio Craft, observed thatHunter "was looking for spiritual embodiment, and Native American objects seemed a good model. But she labeled her borrowings, so to speak, by applying a tribal pattern in crochet so it was clear that she was quoting rather than copying the traditions." The authors conclude that Hunter "demonstrates the satisfactions of making and repeating, the pleasures of materials and the symbolic importance of objects, charting a course between the Scylla of sentimentality and the Charybdis of illustration."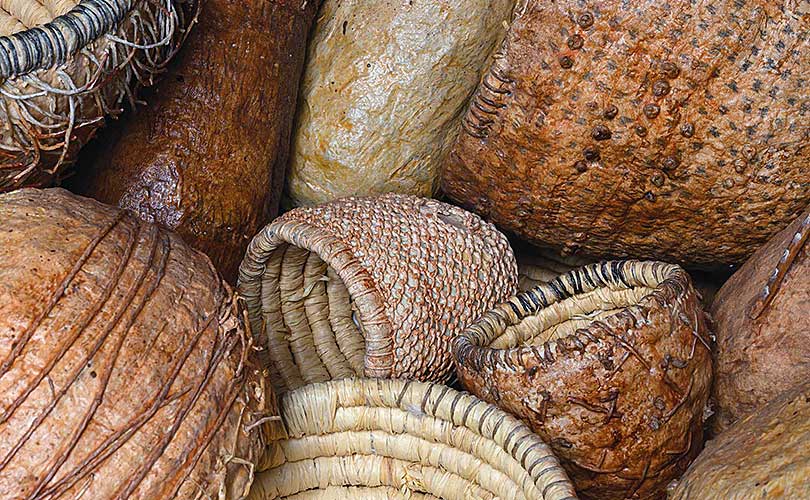 Hunter's work can be found in the collections of the Renwick Gallery, Smithsonian American Art Museum, the Museum of Arts and Design, Museum of Fine Arts, Boston, Racine Art Museum, Wisconsin, and the de Young Museum, San Francisco, California, among others.
See works by Hunter — and 30+ other artists — at An Abundance of Objects, part of browngrotta arts' Fall 2023 "Art in the Barn" exhibition, Vignettes: one venue; three exhibitions this October 7th through October 15th. Reserve a time to visit on Eventbrite.