Repurposing found objects in art has a long history. Long before recycling was a "thing," Robert Rauschenberg was created his Combine series, works in which he intermixed paintings with items he found on the streets of New York. The works incorporated newsprint, cardboard, sandpaper, ladders, bellows and fuse boxes among other items. With the Combine series, the Rauschenberg Foundation observes, the artist "endowed new significance to ordinary objects by placing them in the context of art."
Several artists that browngrotta arts represents or follows prove Rauschenberg's theory that nearly anything can be adapted for an artistic purpose. In their works, however, the unconventional material takes center stage — not just as an inclusion but reinvented as a primary material. For example, early on in his art career,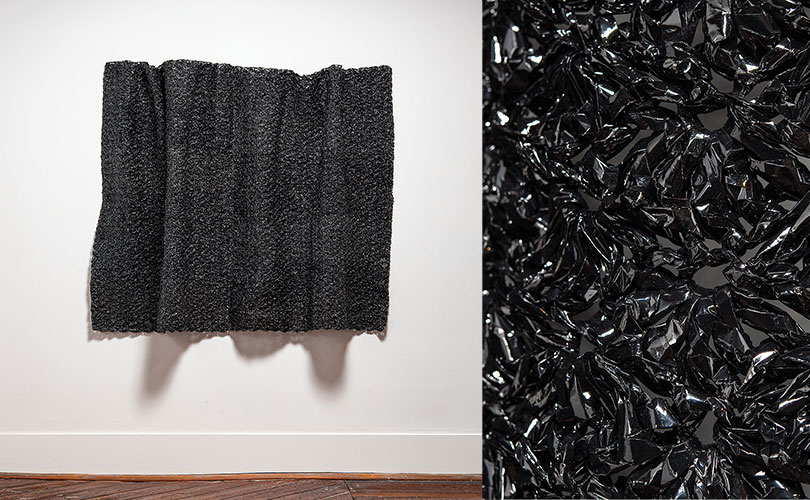 John Garrett began exploring alternatives to traditional fibers. Developing unique personal methods based on needlepoint and embroidery techniques, he created flexible components that he manipulated into dynamic forms. Materials he uses are found in thrift stores, flea markets, yard sales, dumpsters, curbside on trash days, roadside and in empty lots. Using the varied detritus of an affluent society, he creates artwork that presages less abundant times and focuses attention on the beauty of the discarded and overlooked.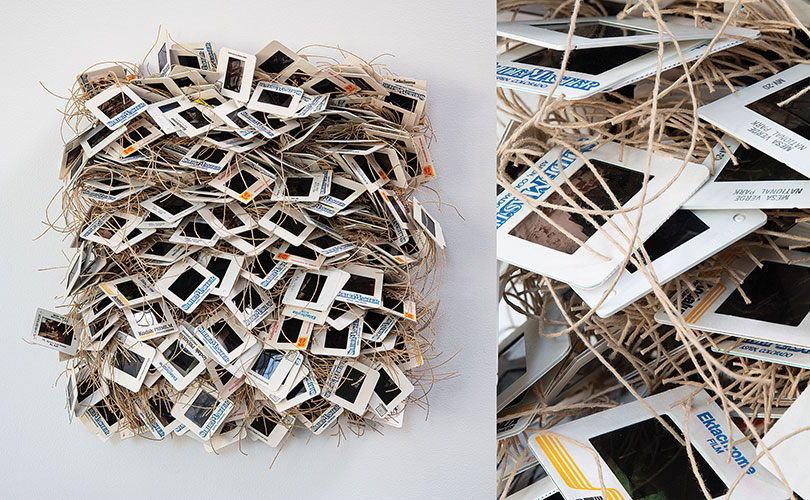 Most recently, he has turned to a surprising, and soon-to-be-scarce, material  — VHS videotape. "Once out of the plastic container," he writes, "the reels of tape leave behind their previous use. In fact, their stories are lost. They are there but can no longer be accessed. In my thoughts, this leads to a sense of mystery and melancholy, like finding an old photo album in the trash."  Lewis Knauss found a similar inspiration when he began to go through decades of slides he had taken of landscapes as he travelled. He had planned to simply discard them, instead decided to hold on to some to create a small piece, a "landscape of landscape images" that he had used as reference in his work.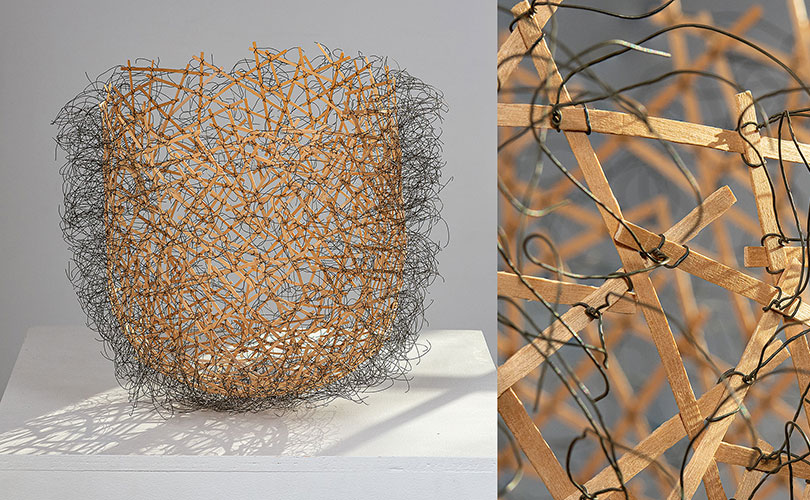 "All artists repurposing and upcycling materials challenge preconceived notions. When the eye recognizes a found object, it changes the meaning and the value of that object in the work. Whereas it may have been thrown away by someone else, it is now living a new life, no longer destined for the landfill but now in a place of preservation created by the artist, " write Lori Gipson and Brooke Garcia (Repurposing and Upcycling Found Objects in Art – #EarthDay50). Preconceptions are are surely challenged by Gyöngy Laky's Coffee Break, constructed of coffee stirrers and Fissures III,  by Karyl Sisson, made of nearly unrecognizable vintage paper straws, coiled in intriguing patterns.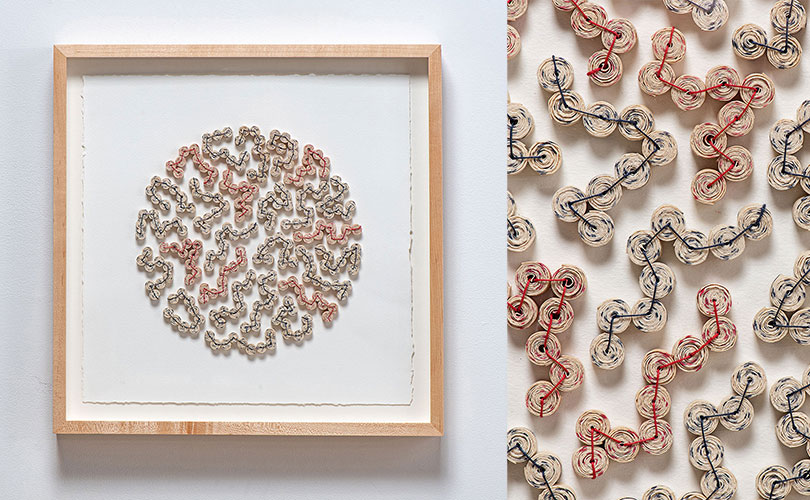 Plastic and metal are ubiquitous in landfills and our own trash. In Real, John McQueen draws attention to the problem of plastic waste. "Though we are not all that conscious of it, plastic containers are everywhere in our daily lives," McQueen writes. "We are burying ourselves in them without seeing them." The vertical, flat landscape in the work comes reflects the Chinese tradition of painting huge mountains with extremely small inhabitants almost lost somewhere in the composition, a contrast, he says, to the way the West believes humans rule the world and we believe we can do what we please.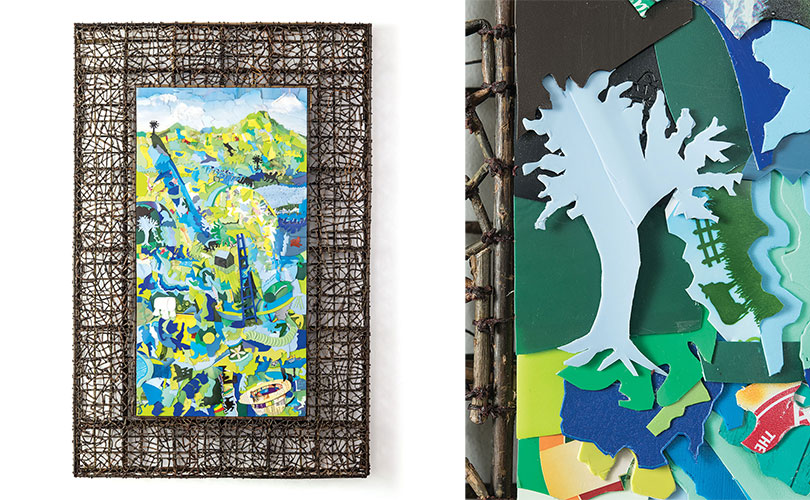 Harriete Estel Berman pulls ordinary material — in this case pre-printed steel from recycled tin containers — from the waste stream of society and recycles it, examining value and identity in our consumer society in the process. In her series, the Deceiver and the Deceived, Berman riveted together pieces of tin food containers, including SlimFast cans. The material looks plaited, quilted, or in the case of Figures in Fine Print, pieced. Through the text on the cans, the artist makes a potent statement about food and body image and the role advertising plays in our attitudes about both. Berman's work is featured in the most recent episode of Craft in America, Jewelry which you can view online.