It's that time of year again. Over the next few weeks, we'll offer a wrap up of books that the artists, clients and staff of browngrotta arts have been reading and thinking about this year.
Kiyomi Iwata recommends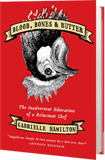 Blood, Bones and Butter by Gabrielle Hamilton. Hamilton is an owner of a restaurant called Prune in New York's East Village but she is a chef, writer and an artist. This book also comes highly recommended by collectors/family members Sandra and Lou Grotta. Kiyomi's second choice is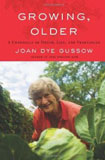 Growing, Older, A Chronicle of Death, Life, and Vegetables by Joan Dye Gussow, Chelsea Green Publishing. "Gussow is a pioneer of the 'Eat Local' movement," Kiyomi writes, " and a very honest and funny writer."
Dail Behennah admitted it was hard to whittle down her recommendations for books to read, but here goes: "The best book I have read this year is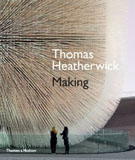 Making by Thomas Heatherwick and Maisie Rowe, published to accompany the exhibition at the V&A." The 600 pages of drawings and photographs show the work of the designer Thomas Heatherwick and his Studio, with beautifully written explanations of each project. Arranged chronologically, each project is headed with a question "Can a giant sculpture fit through a letterbox?" "Can straight pieces of wood make a curved building?" Heatherwick's enthusiasm for these problems is infectious, and he always comes up with an unpredictable solution which is elegant and deceptively simple. "I am sure," she adds, " that this is a book that I will return to over and over again." The book that Dail is eagerly awaiting is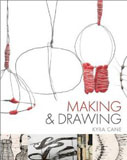 Making and Drawing by Kyra Cane to be published this month by A & C Black. "It promises to provide inspiration and an insight into the way other makers think." she writes. "Some of my favorite makers are included and I hope that it might change the way I draw. Some of my plans on graph paper are included in the chapter, "Drawing as Planning & Design."
A book that Gyöngy Laky predicts could be just the right gift for an art lover is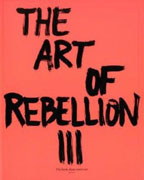 The Art of Rebellion III The book about street art by Christian Hundertmark. "I am intrigued by much of the free wheeling creativity and great skill I see in graffiti but also troubled by it – particularly when it is destructive, unwanted and messy, " Laky writes. "The front of our house got tagged one night with ugly, awkward, large, purple marks. We were not happy. In this book, however, the works go beyond just graffiti to surprising street art, clever and comic installations, thoughtful environmental art or engaging guerrilla works. There are numerous, creative, inventive, original, playful, funny, crazy and fantastic conceptual works that will delight and inspire the reader. These artistic expressions do present a perplexing problem; if they are wonderful events and brilliantly creative, but made illegally and clandestinely on private property or public areas where they should not be made, can we still love and appreciate them?"
Ane Henricksen wrote us about Dr. Jessica Hemmings new book,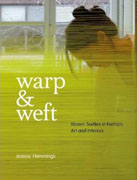 Warp & Weft: Woven Textiles in Fashion, Art and Interiors. The book has six chapters: "Threads," "All Kinds of Light," "Dynamic Responses," "Sound," "Community" and "Emotion." Described by its publisher as, "[a]n excellent resource for everyone with an interest in modern, woven textiles," this book features work by Nuno, Ane Henricksen, Grethe Sørensen, Lia Cook and many others.