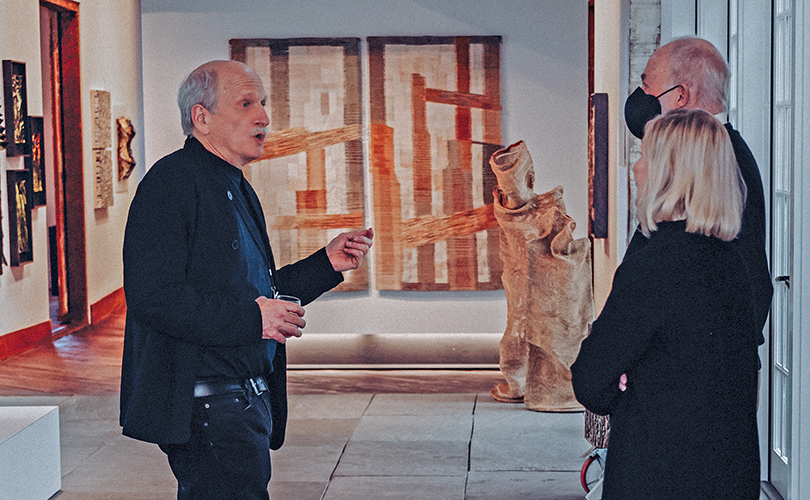 Despite some Covid cancellations, we're enjoying good attendance to our Spring Art in the Barn exhibition, Crowdsourcing the Collective; a survey of textile and mixed media art this week. We had visitors in line on Sunday morning. We have had artists stop by, including Dawn MacNutt, Norma Minkowitz, Wendy Wahl, Nancy Koenigsberg, Jeannet Lennderste and Kari Lønning. We are hoping to see Blair Tate and Christine Joy later in the week.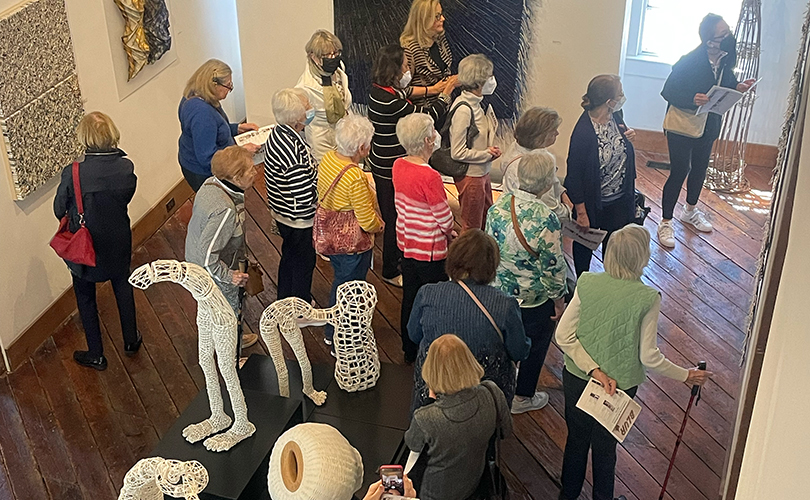 We've had visits from groups from the Wilton Encore Club and Westport MoCA and a curator from the Flinn Gallery at the Greenwich Public Library. We are expecting more curators yet this week.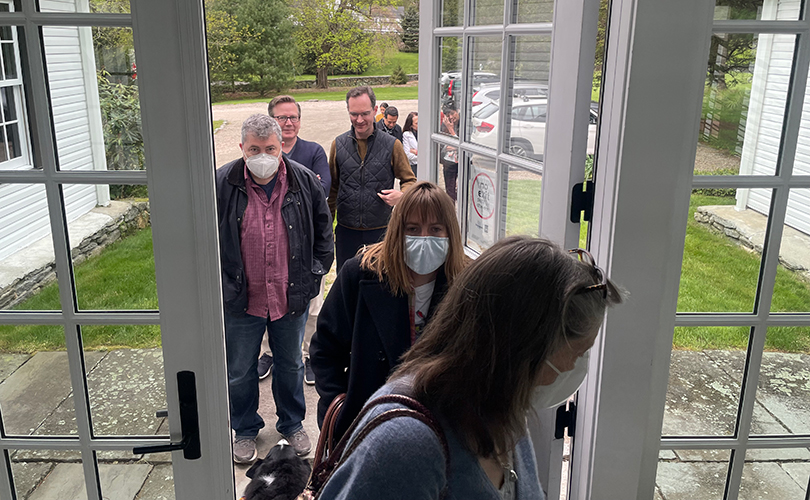 The inspiration for the works in Crowdsourcing is of great interest to those attending. Lia Cook's tapestries incorporate images of ferns from her California garden. Blair Tate experiments in visual layering based on frescoes interrupted by superimposed paintings and incised niches that she saw throughout Bologna. She rearranged separately woven strips to create windows on the wall — intentionally splintered, fragmented, unsettled as a reflection of our times. Dawn MacNutt's works of seagrass and copper wire, The Last One Standing and Interconnected, are the last two works remaining from her earlier series, Kindred Spirits.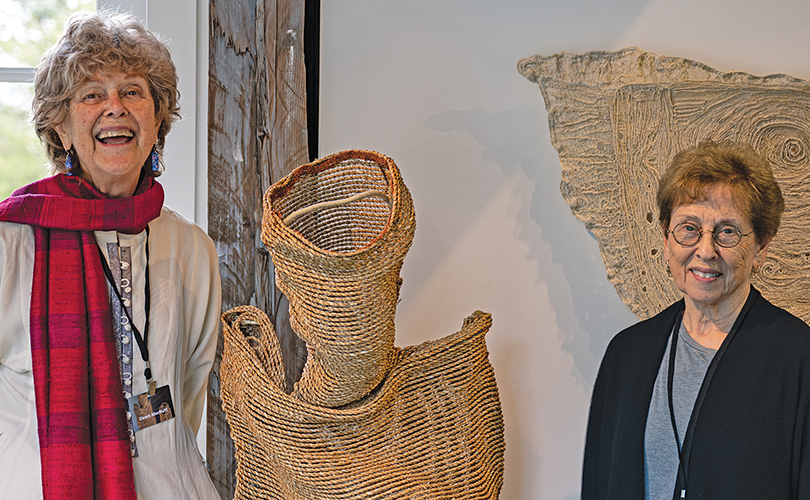 There are five days remaining — hope you can join us.
Schedule Your Visit Here:
Remainder of the exhibition
Thru – Saturday, May 14th: 10AM to 5PM (40 visitors/hour)
Final Day
Sunday, May 15th: 11AM to 6PM (40 visitors/ hour)
Address
276 Ridgefield Road Wilton, CT 06897
(203)834-0623
Safety protocols
Eventbrite reservations strongly encouraged • We will follow current state and federal guidelines surrounding COVID-19 • As of March 1, 2022, masks are not required • We encourage you to wear a mask if your are not vaccinated or if you feel more comfortable doing so. • No narrow heels please (barn floors)
Art for a Cause: A portion of browngrotta arts' profits for the months of May and June will benefit Sunflower of Peace, a non-profit group that provides medical and humanitarian aid for paramedics and doctors in areas that are affected by the violence in Ukraine. browngrotta arts will also match donations collected during the exhibition as part of browngrotta arts' 2022 "Art for a Cause" initiative. A portion of the artists' proceeds for certain works will also go to Sunflower of Peace: https://www.sunflowerofpeace.com/.