We are big supporters of STEAM — Science, Technology, Engineering, Art and Mathematics — education initiatives. STEAM adds the soft skills of the Arts to the harder Scientific, Technological, Engineering or Mathematical STEM studies to enhance critical and innovative thinking. As an example, STEAM encourages collaboration to understand STEM concepts. STEAM uses tools such as data visualization or fine art imagery to deepen one's understanding of science, math and technology. This kind of out-of-the-box thinking is what leads STEAM professionals to create new products using 3D printers or distill complicated data sets into easy-to-understand formats, such as infographics.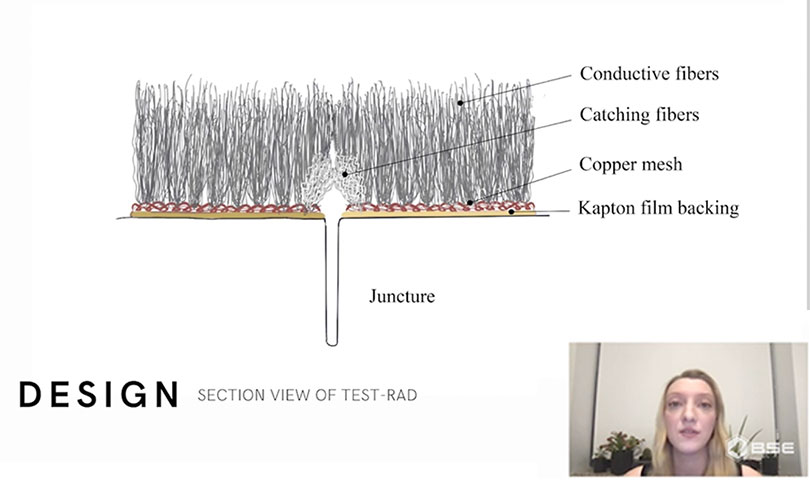 Projects that result from this collaborative approach can be exciting and out of the box — and some of them involve textile concepts. In an unconventional partnership, a team of undergraduates in design and engineering from Brown and RISD won Most Creative Concept in 2021 at NASA's Breakthrough, Innovative and Game-Changing Idea Challenge. The team was given $90,000 to create a solution for moon dust. Their solution to control moon dust, which creates significant problems for astronauts and their equipment, involved bundles of fibers, inspired by chinchilla fur, that carry a static charge. Dust that's not repelled by the charge is caught in the fibers. The design and prototyping lead of the project was Hannah Skye Dunnigan, daughter of bga artist Wendy Wahl and furniture designer John Dunnigan. As a designer, Dunnigan told The Brown Daily Herald, she was very proud that the team showed that "designers can be in the space as well, not just engineers." ("Brown, RISD team wins 'Most Creative Concept' at NASA Challenge Forum," The Brown Daily Herald, November 22, 2021). The Brown-RISD connection is potent, Christopher Bull, a senior lecturer in engineering and principal investigator of the project, told the Herald, because it "gets diverse people in the same room trying to solve the problem." (Here is a Youtube link of their presentation. https://www.youtube.com/watch?v=zQnJnzSlxBo.)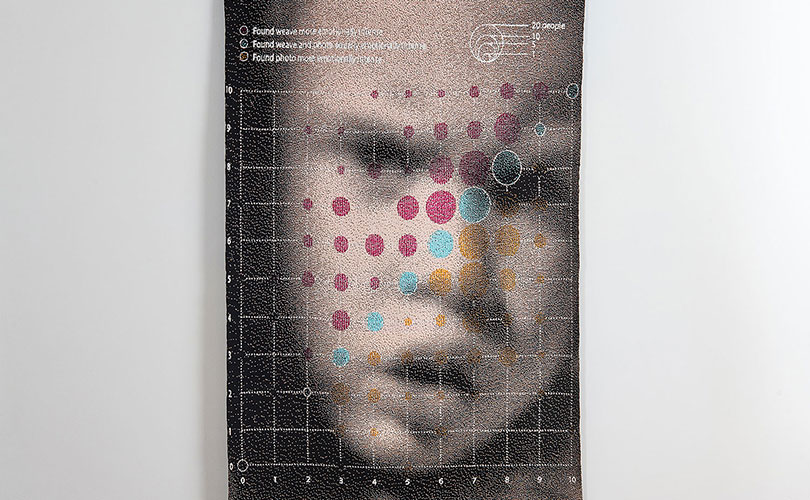 Lia Cook of California, has spent years in STEAM experimentation of her own, exploring the intersections of art, technology and science in her artwork. She is one of the artists in Radical Fiber: Threads Connecting Art and Fiber at the Tang Museum at Skidmore College, a celebration of interdisciplinary creativity and collaborative learning. As the Museum explains, Radical Fiber provides the work as at once fine art, process-driven craft, and scientific tool, complicating existing frameworks across fields. It asks questions: "Can a crochet hook and yarn uniquely explain the complexities of non-Euclidean geometry? How does the 1804 Jacquard loom relate to modern computing?" The exhibition reframes the histories of fiber/science intersections, asking not only how artists continue to engage in scientific inquiry through fiber, but also, how the medium can be used to improve our world for the future. Among the questions to be asked is one Cook has been exploring for some time: How do viewers' reactions vary when they look at a photograph versus her Jacquard weavings of a photo image  During the Radical Fiber exhibition, a study will be conducted by the Skidmore's Psychology Department in the neuroscience lab comparing behavioral responses to a series of woven faces by Lia Cook with with the identical photo of the same image. The subjects will be shown 10 digitized photos of the black-and-white photographs of faces and 10 digitized photos of the black-and-white, cotton-and-rayon, woven tapestries translated from the photos and asked to rate the intensity of the facial expression depicted in the image, from 1 (not at all intense) to 7 (extremely intense).
Cook has conducted her own studies of viewers' responses. To create Data Dots Emotional Intensity, Cook conducted an informal survey of viewers of a large childhood photo of herself and a weaving of the same image. She translated the data she collected into dots and superimposed them on a woven portrait — blue for people who felt no difference between the two; yellow for those more affected by the photo and red for those who found the woven image more emotionally affecting. The woven image won. Red dots predominate, an observable amalgam of art and science. "A visual pun is at hand," writes Deborah Valoma of Lia Cook's work."[D]igital technology is juxtaposed to digital senses, a reminder that no matter how technologically sophisticated the process, weaving is still a medium of touch and embodied thought….," Deborah Valoma, "Lia Cook: Seeing Touch," Lia Cook: In the Folds — Works from 1973-1997 (2007, browngrotta arts, Wilton, CT).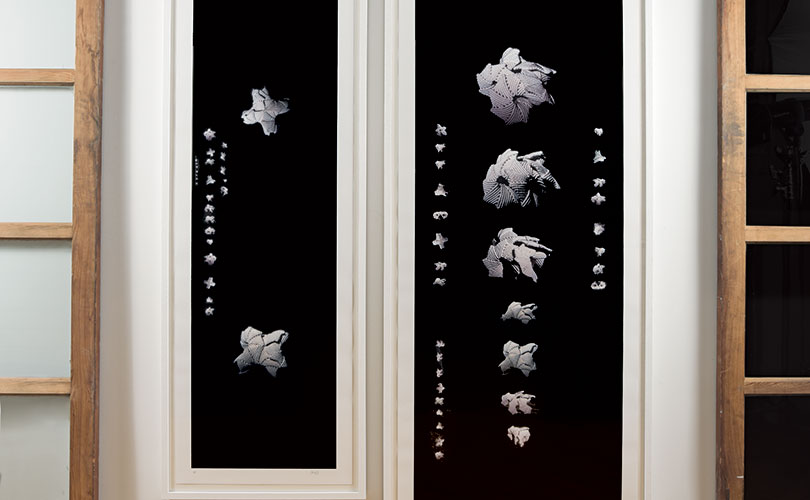 Italian textile sculptor, Federica Luzzi has created works born of conversations with researchers at the National Institute of Nuclear Physics in Frascati, Italy on concepts of dark matter, antimatter, nuclear, subnuclear physics, and an accelerator of particles. Various images of each side of three white sculptures are depicted; "gesture and matter are the terms of a relationship still waiting to be deciphered," Luzzi explains. Working in the opposite direction of the classic and traditional concept of sculpture as a "way of removing," the textile medium allows Luzzi to work around a void. Each sculpture, while having a mathematical initial scheme, is ultimately rendered with an element of mistake. "The final unexpected effect I interpret as an ideogram, a gesture, that presents itself as the work unfolds," she says. "The White Shell Tongue prints suggest a primordial voice, speaking in a language now unknown to us but original, a pure, reductive writing externality, with wrappings and emptied shells."

In Denmark, Grethe Sørensen has unpacked digital technologies to create her tapestries. She has developed her own technique, combining weaving and video, selecting and manipulating still images to create a poetic universe of pixels, headlights, traffic lights, neon shop and advertising signs meticulously rendered in cotton thread. She is fascinated by color gradation; dying on the warp before weaving, varying the colors by mixing threads of different nuances in the warp. For Out of Focus 1-9, the artist created an image of hard-edged pixels in basic colors blown up until they appeared "liquid." Pixels in basic colors are the starting point for her woven constructions. 

Another California artist, Sarah Rosalena Brady,  draws on her multiracial background as Huichol and Laguna Pueblo,  focusing her research on Indigenous scholarship and mentorship in STEAM. She describes her work as deconstructing technology with material interventions, creating new narratives for hybrid objects that speak on issues such as AI, aerospace technologies, and decolonial posthumanism. Her hybrid works operate between human/nonhuman, ancient/future, and handmade/autonomous principles to override power structures rooted in colonialism. Her solo exhibition at Blum & Poe, LA in 2021, https://contemporaryartreview.la/sarah-rosalena-brady-at-blum-and-poe/ featured AI-generated double-sided tapestries depicting satellite images of ice on Mars. 
Brady is Assistant Professor of Computational Craft and Haptic Media in the Department of Art at UC Santa Barbara. UCSB's is just one of the labs and departments around the US exploring the links between art and science. Another is the recently opened International Arts + Mind Lab at Johns Hopkins Univeristy in Maryland, which studies neuroaesthetics, the scientific study of how the brain responds to the arts and aesthetic experiences, and undertakes this study for the purpose of improving biological, psychological, social/cultural or spiritual outcomes for individuals or populations. "We're on a mission to amplify human potential," the Lab declares on its website. The Los Angeles County Museum hosts the LACMA Art + Technology Lab which supports experiments in design, creative entrepreneurship, adventures in art and industry, collaboration, and interdisciplinary dialogue. Another nonprofit endeavor, the SciArt Initiative,  encourages the connectivity and cross-disciplinary approaches needed for the 21st century. The organization notes that artists and scientists seek answers to the same fundamental questions: who are we, why are we here, and where are we going? Both art and science build models of human experience in order to extend the boundaries of human capacity. Despite this common ground, artists and scientists are too often separate in their endeavors. Through exhibitions and micro-grants, the Initiative aims to create more scientific and artistic exchange. 
Exploration into the merger of art and technology, science and craft, is in its early days — watch for more experiments and innovative works.