It looks as if 2014 will be the year that contemporary fiber art finally gets the recognition and respect it deserves. For us, it kicked off at the Whitney Biennial in May which gave pride of place to Sheila Hicks' massive cascade, Pillar of Inquiry/Supple Column. Last month saw the opening of the influential Thread Lines, at The Drawing Center in New York featuring work by 16 artists who sew, stitch and weave. Now at the Institute of Contemporary Art in Boston, the development of abstraction and dimensionality in fiber art from the mid-twentieth century through to the present is examined in Fiber: Sculpture 1960–present from October 1st through January 4, 2015. The exhibition features 50 works by 34 artists, who crisscross generations, nationalities, processes and aesthetics. It is accompanied by an attractive companion volume, Fiber: Sculpture 1960-present available at browngrotta.com.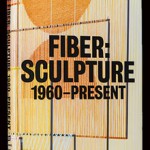 There are some standout works in the exhibition — we were thrilled to see Naomi Kobayashi's Ito wa Ito (1980) and Elsi Giauque's Spatial Element (1989), on loan from European museums, in person after admiring them in photographs. Anne Wilson's Blonde is exceptional and Ritzi Jacobi and Françoise Grossen are represented by strong works, too, White Exotica (1978, created with Peter Jacobi) and Inchworm, respectively.
Fiber: Sculpture 1960–present will tour nationally to the Wexner Center for the Arts, Columbus, Ohio (January 30 – April 5, 2015), the Des Moines Art Center, Iowa (May 8, 2015 – August 2, 2015) and the Contemporary Arts Museum, Houston (August 22, 2015 — November 29, 2015). You can also see Innovators and Legends, which has traveled across the country in the last two years, at 108 Contemporary, Tulsa Oklahoma in January 2015. And not to be outdone, browngrotta arts will open Influence and Evolution next April 24, 2015 in Wilton, Connecticut. Influence and Evolution will also celebrate experimenters in fiber while exploring how the use of textile materials and techniques has evolved, showing early works — from the 60s, 70s and 80s — by Sheila Hicks, Ed Rossbach, Magdalena Abakanowicz and Françoise Grossen, alongside work created after 2000 by both influencers like Ritzi Jacobi, Naomi Kobayashi and Ferne Jacobs and by a later generation of artists, including Stéphanie Jacques, Gizella Warburton and Naoko Serino. Influence and Evolution, will run through May 3, 2015 and will be accompanied by a full-color catalog.
Fiber: Sculpture 1960–present aims to create a sculptural dialogue, an art dialogue — not one about craft, ICA Mannion Family Senior Curator Jenelle Porter explained in an opening-night conversation with Glenn Adamson, Director, Museum of Arts and Design. On that score, we think it succeeds — go and see for yourself. Let us know what you think.
And watch this space for more about Influence and Evolution.